< Return to Product Page
Customer Reviews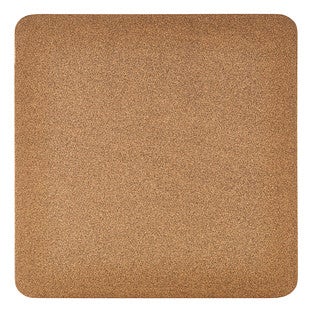 Umbra Large Thork Thick Cork Bulletin Board
Overall Rating:
Customer Reviews
Rated

4.5

out of

5

 by

6

reviewers.
Rated

4

out of

5
 by
corkman
very unique, has quirks
A very unique product using a blend of cork and styrofoam, making it very light, twice as thick as most cork boards, and rendering a metal or wooden frame unnecessary. 2 notes about the "keyhole" eyelets on the back for hanging the boards on screws: 1) The board is 24 inches x 24 inches, so you'd assume everything about the board conforms to English measurements. Nope! The two eyelets are exactly 30 centimeters apart. I checked all 3 boards I purchased and this was very consistent. Which means if you're mounting these on a wall you'll have to switch from English measurements to position the boards to Metric measurements to drill the holes. From a user standpoint, this is a pain. Somewhere in the design process Umbra failed to think this through. 2) An easy fix for this would be if Umbra provided a template for positioning your wall holes. Just a piece of paper with two circles saying "mark your wall here and here for drilling" but no such help is provided. Think about this Umbra!
March 13, 2016
Rated

5

out of

5
 by
ajdashdash
Great for Home or Office
While it looks like it should be super heavy, this thing is feather light. It was easy to hang and is large enough that we use it as an idea board in my office. It also looks nice since it's the thickness of a gallery wrapped canvas.
March 21, 2013
Rated

4

out of

5
 by
Ryno
Best that I found
I ordered 9 of these to put in my office as decor and function. I wanted really thick boards that could take long pushpins and actually hold items well. Once I got these on my wall in a 3x3 tic-tac-toe pattern with 2" spacing between, I liked the look so much I didn't want to clutter them up with stuff...which was the whole point of getting them in the first place, go figure. I would imagine hanging them how they were designedâ¿¿with two screwsâ¿¿ would be rather difficult and frustrating, not to mention they don't come with hanging hardware. I opted to use industrial strength velcro as my office walls are concrete/plaster, and that method worked perfectly and was super easy. It should be said though, it's not solid cork. It's some kind of dense styrofoam with a cork veneer.
May 21, 2012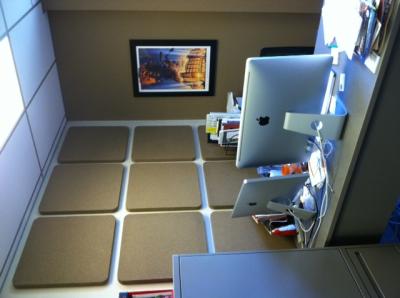 Rated

4

out of

5
 by
kaytee418
Corkboard, grown up
I love the design of this corkboard. Understated and versatile. However, be careful when taking it out of the packaging- I was not very careful and accidentally 'nicked' one of the corners.
April 9, 2012
Rated

5

out of

5
 by
cfvincent
We have been looking for matching corkboards for our office for a long time! We love how these look - clean, timeless, and chic!
February 24, 2011
Rated

5

out of

5
 by
lec9950
Very practical. Looks and feels different from the standard bulletin board. Stands out as quality.
January 17, 2011