< Return to Product Page
Customer Reviews
Bisley Collection Cabinet Drawer Inserts
Overall Rating:
Customer Reviews
Rated

4.4

out of

5

 by

14

reviewers.
Rated

5

out of

5
 by
Venus
Finally!
This morning I visited my local Container Store and while browsing the aisles, I noticed the Bisley section. I have had two silver 5 drawer Bisley's for over 10 years but the contents inside the drawers were never organized. Until now.... I bought a few to try out in different sizes and they fit perfectly. In reference to the below reviewer on how they don't fit her drawers well, you must put the liners in correctly. I had that same issue when I had organized half of the contents in the drawers, ready to put the drawers back in the Bisley cabinet only to have them not close. It's sort of a lift, press fit. Check the length and width of the drawer to make sure the liner insert in completely in. Hard to explain but you will notice that the ball bearing is stiff if the insert is not in correctly. Pull out and fix then its seamless. Worth every penny.
January 28, 2017
Rated

5

out of

5
 by
foxytrot
Love the stacking inserts-can organize so easily
The trays are light and quite sturdy and the 4- and 9-drawer trays stack beautifully! I glue fabric in the bottom of the compartments and keep my vintage rhinestone jewelry collection in them.
July 8, 2013
Rated

5

out of

5
 by
skirk94
Little Lego Parts
This small compartmentalized drawer insert is super brilliant for small Lego parts that come in the sets. We have the Bisley drawers and use them to organize (and find!) the smallest of parts. I also think these inserts are very strong and resist tearing and cracking over time and use. We've had our drawer inserts for over a year and they've held up to regular use.
January 10, 2012
Rated

1

out of

5
 by
kayw
Great idea, but poor fit
I ordered one (with 4 spaces) along with 5-drawer Bisley cabinet. It doesn't fit four of the drawers. That is, the drawer won't completely close with insert in place. It will only (barely) work in the bottom drawer. Disappointing.
January 24, 2017
Rated

5

out of

5
 by
Missbatteries
Bisley 16 compartment, deep drawer insert
I bought these inserts to help organize my bead stash. The insert fits perfectly into my drawers and is great for sorting my delica seed beads.
March 21, 2016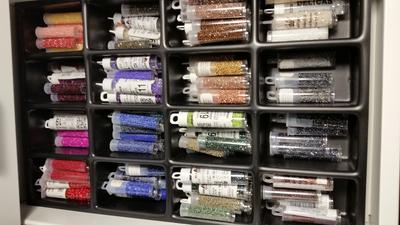 Rated

4

out of

5
 by
LoveTheBeach
shallow enough for my bathroom vanity drawe
Wish the dividers came with more than 2 sizes...But it is working and looks better than shoe box lids!
April 3, 2014
Rated

4

out of

5
 by
Robertk
Great and efficient holds a lot of little material.
March 15, 2014
Rated

4

out of

5
 by
RxnD
I like it, but the price is ridiculous
I bought the little 5 drawer Bisley file cabinet for my jewelry. I only purchased one insert because they're expensive. It works fine, but I need more inserts. They're having a sale right now (Inserts Reg $13.99 on sale for $9.99). These things work well, but they're just plastic & should not be this expensive. Couple that with the fact I don't have a store in my area & shipping is an additional $11.99. So, I like it, but it's very expensive. My overall rating is 4 stars because it's so darn expensive.
February 27, 2014
Rated

5

out of

5
 by
DoTell
Strangely useful!
My desk was overflowing with small things-- paper clips, white out containers, rubber bands, mechanical pencil leads, erasers, business cards-- the usual suspects. I found myself digging through that pile every day to find the one small thing that had evaded the top of the stack. This little flat tray keeps all the little stuff in its own place AND I can stack two so I can put less used objects underneath and still find them when I need them! Very cool dividers.
March 27, 2013
Rated

5

out of

5
 by
PhilNix
Perfect Drawer Organizers
I didn't know what to do with all the "little stuff" in my home office and these drawer inserts saved my life..! I have the 12 drawer Bisley cabinet and friends of mine know how OCD I can be about organization. Now I have all that little stuff off my desk and neatly organized, and out of sight..!
March 3, 2013
Rated

4

out of

5
 by
kmemho
Love the deep inserts - helps organize my beads
I use these in my bisley collection drawer system. I love the 4 compartment the best because it holds the standard 3" tubes of beads. I also like the 9 compartments because it holds many little tubes of beads
March 3, 2013
Rated

5

out of

5
 by
robinsta
Really helpful with organizing my drawers in my file cabinets
March 1, 2013
Rated

5

out of

5
 by
BONNYJEAN
great for jewelry
I needed a really thin drawer inserts and this was perfect for necklaces, bracelets and earrings!
February 20, 2013
Rated

5

out of

5
 by
Pawwas
Perfect Fit
Have purchased 3 total : 2 - 4 drawer and 1 - 9 drawer (all deep), they fit perfectly into the Bisley five drawer.
July 18, 2012