< Return to Product Page
Customer Reviews
Bigso Synchronicity Stockholm Office Storage Boxes
Overall Rating:
Customer Reviews
Rated

4.7

out of

5

 by

211

reviewers.
Rated

5

out of

5
 by
Rock23L
Contain Your Shell-f
I used the Stockholm Box as a container for my growing shell collection. I fixed clear lidded containers in the box and added some felt to the inside. It looks so nice on my shelf. As a staple in the Container Store's collection, I know that I can add to my collection at any time!
April 7, 2014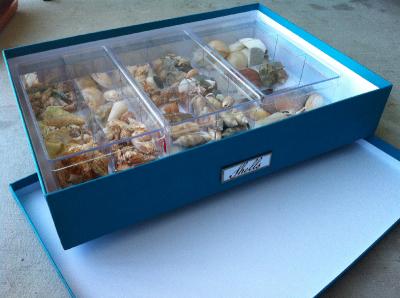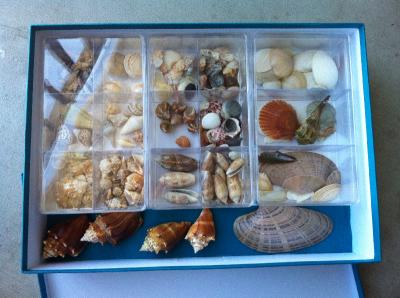 Rated

4

out of

5
 by
kelb29
Greay sturdy box
This box is great for storing journals and keepsakes. I only wish it was a little taller.
April 5, 2014
Rated

5

out of

5
 by
Artthoucontained
Exactly what I wanted
I bought these to store kids' artwork and keepsake papers from school. They're oversized so they're great for odd size construction paper and the usual elementary school "glued together" snowmen/scarecrow/etc (less folding and no stray arms & legs dangling out of the box). Opted for free shipping and was still pleased with turn around time.
April 2, 2014
Rated

5

out of

5
 by
LittlestBarista
Great find for tax season
I got the larger of these boxes after a frustrating day of trying to file my taxes. All the documents I needed were spread to the four corners of my apartment, I swear. Now with this box (and the matching folders I got, too), I can keep everything, all in one place and happily out of sight. I slide the box under my bed for safe keeping. On the days I do have to take it out, the bright colors make taxes seem a little less scary. Love it!
March 31, 2014
Rated

5

out of

5
 by
Motlo
Great box!
These boxes were a perfect fix for my built-in! I mixed them with some solids! It's so refreshing to see boxes where clutter used to reside!
March 20, 2014
Rated

5

out of

5
 by
BJfromthenorth
Love these!!!
Our kids are grown and we decided to downsize. We moved into a home that is half the size of our other home. In order to do this we needed different vertical storage options. I love to scrapbook so we have lots of photos!!! These boxes are a beautiful way to organize and store thousands of photos and protect them, as well. They are very sturdy and stack so nicely on the closet shelves. We bought eight of them and then brought them home and quickly filled them. We then went on line and ordered a bunch more! We got half of them scarlet and half of them grey to of course show our Buckeye spirit! :) It's makes me smile when I open my closets now!
March 18, 2014
Rated

4

out of

5
 by
Organizingnovice
Great Looking Storage Boxes For Any Room
My pink and green boxes are on a shelf on my buffet table. I keep coloring books and stickers in here for raining days or when I'm working and my seven year old needs to occupy herself. The boxes give her easy access to the materials without needing my help to get them and they look good.
March 7, 2014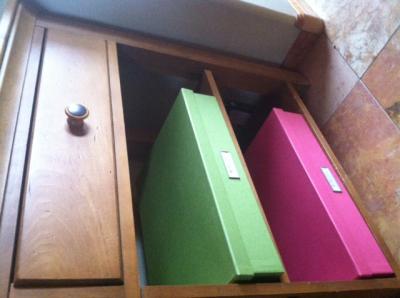 Rated

5

out of

5
 by
AZPatty
Bigso storage boxes
Love the quality. Looks great in my new office (a work in progress). Will be ordering more.
March 6, 2014
Rated

5

out of

5
 by
BusyMom04
Favorite Boxes Ever!
I love these boxes and use them for storing school paperwork and art projects. They are pretty enough to be seen and easy enough to store in a closet. I love them!
March 4, 2014
Rated

5

out of

5
 by
crab
Red Stockholm Storage Box
I have purchased products of this brand and I am pleased with the material and durability. This box is great for my larger documents!
March 3, 2014
Rated

5

out of

5
 by
hutch06
Makes the Office Fun
On those dreary cold and snowy days, I work from home. these Stockholm boxes brighten up my office. I use them along with the Elfa free standing desk and Beautiful files cabinets and file supplies.
March 1, 2014
Rated

5

out of

5
 by
abc123
Great product
This is a great product and fits nicely in my office. I like it so much i just order three more!
February 23, 2014
Rated

4

out of

5
 by
MBMOM
Great Photo Boxes
I purchased 4 of the smaller boxes (each color) and one large box (in turquoise) and I love them. I purchased them to serve as photo boxes. These were a huge purchase for me. I'm not usually one to spend $50 on a set of 5 boxes, but I wanted to add a little pop of color to my crafting space and it did the trick. The only thing I wish that this product had was acid-free lining so I knew my pix were safe and sound. I don't think the boxes will harm my photos but that little added reassurance would have been nice. The larger box is the perfect size to store our larger prints (up to an 11x17) and they are now in a safe place. Love the colors and the boxes are sturdy and the lids fit on snug. Great product! The one huge problem I have with The Container Store is the cost of shipping. I keep my eyes peeled when I get their emails about sales and events, but not once have I seen a free shipping day. The cost is astronomical and they could lower that cost or have one day/month that it's free. Just saying.
February 22, 2014
Rated

5

out of

5
 by
MNMama
Perfect solution for stencils!
I've been searching for something to store my stencils to keep them from getting damaged. Where else but The Container Store would I find the perfect solution? The Bigso Box was perfect! Stencils come in such a variety of sizes and shapes and some of mine cost up to $75.00 each. Finding something to hold them is a challenge. I purchased the 12-1/4" x 17-1/4" box and am amazed how many stencils it holds! I have to roll up the long border stencils, but the others fit laying flat. I have purchased three more of these and they fit perfectly on my closet shelf. I love the area to insert a label so I know which style of stencils are in each box and being able to print a label and have it look clean, not a randomly placed piece of paper on a container. Can be used for many different things. Can't wait to get others in various sizes!
February 18, 2014
Rated

5

out of

5
 by
Try2bOrg
Large storage box
LOVE to mix the white boxes with the colorful boxes for impact and design!
February 17, 2014
Rated

5

out of

5
 by
Try2bOrg
Colorful Storage Boxes
LOVE this box! It adds color while hiding stacks of "stuff"!
February 17, 2014
Rated

5

out of

5
 by
Flora
Ultimate Stackable Multi-media Storage
These boxes are beautifully-built. They have clean lines, and convenient marking slots that permit attractive, easy, and changeable labeling. The colors are classic and appealing, and while made of cardboard (which makes them very affordable), they are expensive-looking and elegant. I use them for photos, letters, but also little-used clothing items, like bathing suits or dressy tops that should be laid flat because they have sequins or beading. i also use them to take optimum advantage of high shelf space, where they organize light-bulbs, batteries, and so on. Another great Container Store item that combines great value with great looks.
February 14, 2014
Rated

5

out of

5
 by
simplelifeorganized
Great Way to Reclaim Clutter
I wanted to purchase simple boxes to hold all my papers, office supplies, DVD's, and cables. These were perfect for them and I simply labeled them and put them under my TV. Super functional and simple to do. Everything's so easy to find!
February 13, 2014
Rated

5

out of

5
 by
joltster
Bigso Bright Stockholm box
This box is nice and big to store papers in, but mainly, I use it as a stand to put my laptop on. It is strong and well made and can support a small laptop like a Macbook pro or similar.
February 1, 2014
Rated

1

out of

5
 by
Momof3inVA
So cheap!
I couldn't believe how cheap these were when I picked them up at the store after buying online. The top slid around a bit and didn't fit snug. The box itself was just a dressed up cardboard box that I could pick up at else where for a tenth the price. I can't believe the price for what it is. I took the items back.
January 17, 2014
Rated

5

out of

5
 by
7Zbug89
Great Purchase
Purchased for my recently renovated den/office room. These boxes look attractive on my bookcase. Quality and style are great.
October 17, 2013
Rated

5

out of

5
 by
1GirlTwinBoys
GREAT & PRETTY Boxes
I have bought several of these floral boxes and really love them. They're sturdy and look great on my home office shelves.
September 23, 2013
Rated

5

out of

5
 by
Shmegman
Great box
Very sturdy boxes. I was expecting something similar to the cheap photo boxes in most craft stores but was pleasantly surprised by how solid and sturdy these boxes are. The colors are bright without being overstated. I ordered these boxes as a way to store all my college textbooks and notes by class. Boxes were true to the measurements and were perfect for my for intended use. Will definitely be ordering more!
September 5, 2013
Rated

5

out of

5
 by
melindab
Perfect
True navy. Very sturdy. Packaged well so not to bust in shipping. Just what I was looking for.
September 3, 2013
Rated

5

out of

5
 by
Orangedaze
LOVE THESE BOXES
Love these boxes and the colors available. Even better was getting them on sale. They fit nicely on my elfa shelves. Great for paperwork you need to save but want it out of sight. Good construction.
August 27, 2013
Rated

5

out of

5
 by
ScrapbookerMichele
Just what I needed!
I had been looking for some "memory box" type of boxes for a long time. These boxes were perfect and in different colors!! Thank you!
August 13, 2013
Rated

5

out of

5
 by
curleighque
Great buy!
I bought one of these for each of my kids to store school papers and projects that are too large for a binder. Great colors and very sturdy. I'd definitely buy again.
August 3, 2013
Rated

5

out of

5
 by
BlueberryBagel
great for organizing!
These boxes are sturdy and colorful. I liked them so much I re-ordered. Dark grey for business, red for fun! (my magazine collection). I may think of reasons to get more :)
July 29, 2013
Rated

5

out of

5
 by
cornelius
great storage
Great new colors; these are a welcome addition to the red and grey boxes I already own.
July 28, 2013
Rated

5

out of

5
 by
OrganizedinWC
Great for School and Newspapers!
I am using the smaller boxes for school storage (old report cards, art, sport programs, etc.) and the larger ones for old newspapers that I want to save. I am also using the larger ones for theatre and concert programs, as well as playbills.
July 17, 2013