< Return to Product Page
Customer Reviews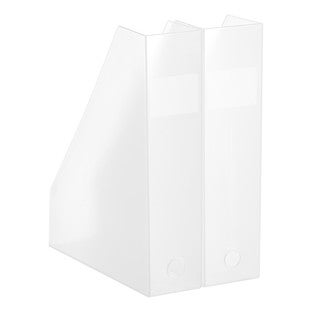 Like-it Magazine Holders
Overall Rating:
Customer Reviews
Rated

4.7

out of

5

 by

39

reviewers.
Rated

5

out of

5
 by
Pioneer51
Just What I wanted!
I like them because they are sturdy and don't have the extra piece on the bottom of the open side. I like to be able to just pull out what I want and not have to to take the whole file holder down. Also, they are inexpensive!! The first ones I bought at The Container Store in Denver.
April 3, 2016
Rated

5

out of

5
 by
LanaM
So many uses ...
I've been using these Like-It Magazine Files to store my 12"x12" scrapbook paper. It fits perfectly, and the open style (no "lip") means I can use these with multiple size items. I just reorganized my crochet pattern collection, and I'm using these to help separate them by type (yarn vs thread) and item (clothing, home decor, etc.). Sturdy, well-priced, great style that goes with everything. Will likely purchase more for other "upright" storage needs.
April 3, 2016
Rated

5

out of

5
 by
COKGB
Sturdy and functional
I have about 10 of these magazine files and they hold various letter sized papers and cardstock, as well as some magazines. I like that I can stand them upright or lay them on their side, depending on the height of the shelf I'm using.
March 25, 2016
Rated

4

out of

5
 by
SeekingContainment
Still Like-it
A few years ago, I bought four magazine files at the Container Store in the same style as other current Like-it desk items. The current Like-it magazine file is sold as a 2-pack, with one inside the other. I was surprised to find that the inside one is slightly narrower than the one outside. If your use requires careful spacing of the files on a shelf, or of the contents within each file, measure carefully! The current version has a finger pull hole, whereas the earlier one had a metal label holder with an integrated pull bar. The current one is completely open on the back, so contents can start to fall out when the file is pulled. This didn't happen with the earlier one because the back was closed for about 6 inches up from the base. The current one is made of a more rigid plastic. Can't recall the price of the earlier one, but think the current one is less $$$. I still like it, but not quite as much as the earlier version.
March 6, 2016
Rated

5

out of

5
 by
Lalla
All purchases are exceptional!
Every item ever purchased since Container Store opened is still in my home or moved on with my children! That's a long time!
February 11, 2016
Rated

5

out of

5
 by
Stampninklady
Perfect
I have been looking for these Magazine Files for a long time for 8.5 x 11" cardstock storage. They are perfect for my needs and will be ordering more!
December 28, 2015
Rated

2

out of

5
 by
FrogNYC
Flawed design
I have other Like-it products and have been impressed with their appearance and quality. But these magazine flaws have a flawed design. Because they are completely open on one side, whatever you put into them tends to fall out unless the file is jam-packed.
August 30, 2015
Rated

5

out of

5
 by
ShopGirl75
Great Product
These worked exactly for what we needed them for- to hold our surgery folders.
May 5, 2014
Rated

5

out of

5
 by
onehotmomma
Need more!
These are great for my magazine storage. I need to be able to see the volume and month on my magazines for quick reference and these holders are just what I needed. They hold a lot of magazines and look great on my shelves.
April 28, 2014
Rated

5

out of

5
 by
MNNana
Great for storing!
This solved my problem for magazine storage. This comes as a 2 piece set and is quite sturdy. The price was very reasonable.
April 11, 2014
Rated

4

out of

5
 by
Avatar
Awash in papers and magazines - mopping things up
As an independent contractor covering research in 4 areas, I have to have printouts and journals of articles. My method, stacks, worked for a while. But after 14 years, I found myself awash in papers and journals. Laying flat on the floor the titles are not visible. I couldn't find important articles and the stacks accumulated dust and cat fur. Like-It Magazine Files are my new life-saver. My floor is clear and because they are too, I see the titles of magazine and folders. My home office is clear, too, and so is my thinking. I will be buying more to keep on hand as I win more contracts due to my increased productivity!
April 1, 2014
Rated

5

out of

5
 by
Mostgirlicious
Wonderful!
I subscribe to several magazines and some of them I want to keep for reference (Arts, History, Travel) . My magazine stacks were out of control and I started looking for some sort of way to organize them. These organizers are a great choice! They are sturdy, lightweight, well-made and translucent so you can see what you have. Labels are included if you want to use them. I bought 13 sets (!), so I have 26 of these organizers. Another reason for buying these is that they don't add visual clutter to my office area. You will be happy you chose these organizers!
March 28, 2014
Rated

5

out of

5
 by
lmay
great great great
the best overall product I have bought so far to clean up my bookcase. I used this to arrange my shopping catalogs and my vacation books. Would I do it again--- YES! YES! YES!
March 4, 2014
Rated

5

out of

5
 by
neatandtidy13
standing tall
Good quality, plenty of length for tall magazines. Very sturdy
February 26, 2014
Rated

5

out of

5
 by
Tuzette
Just what I needed
The smoke version worked beautifully as a neutral color magazine file to blend in with a library of brown covered bound volumes. The finger hole in the spine works well in handling the files.
March 7, 2013
Rated

5

out of

5
 by
JoanLady
Well Constructed
The files are very sturdy and great for storing different types of letter size paper. The solid end is the perfect place to label the content of each file.
February 27, 2013
Rated

4

out of

5
 by
Teenerwest
Great item
I am always in the market for a good magazine/folder file. In my quest for organization in my office at home it's a great way to keep things contained.
February 27, 2013
Rated

5

out of

5
 by
momkidder
Love them
The only problem was that I didn't order enough! No more messy book cases from my kids little reading books.
August 23, 2012
Rated

4

out of

5
 by
wornstones
Great for iPad and MacBook
I have looked high and low for a magazine file that doesn't have the lip on it that keeps the magazines from sliding out. Without that lip, I can set this on the long spine and just slide my iPad and MacBook in and out, and the cord being attached doesn't even present a problem. I put rubber stick-on feet on it, so it wouldn't slide when I pushed the device into place. I can have both items next to my chair and they take up almost no room.
June 25, 2012
Rated

5

out of

5
 by
PaperHoarder
Superb Bargain to Contain Extensive Collection
No hardware sticking out, can be used vertically or horizontally, The Set can be used to make a box! These are being used to hold scores of sheet music scores. The translucent material allows us to see the spines of the contents. No other product is as durable and as versatile for our needs
May 7, 2012
Rated

5

out of

5
 by
reDesign
My favorite magazine files
These files are so clean and simple, like the rest of the Like-It system. I have the spine facing the wall, and the magazine edges facing out, so I can easily pull out a magazine without pulling out the whole file. This also gives the look of the magazines just being tidy on a shelf, not obvious that they are being held in any containing device. I also love that these come 2 to a pack.
May 1, 2012
Rated

5

out of

5
 by
LoveToOrganize472
great product
exactly what I needed to keep all of my husbands beer making magazines in one place, instead of scattered throughout the house.
April 19, 2012
Rated

5

out of

5
 by
KCasey
Mag File
Good design for empty files to nest in each other.
April 17, 2012
Rated

3

out of

5
 by
songofjoy
functional but could be sturdier
The open-end access is a nice feature for sliding documents and folders and in out. The sides of the files bend a bit too easily and had to be clipped to the sides of adjacent files to try to restore their shape. They should be sturdier and less prone to bend.
April 15, 2012
Rated

5

out of

5
 by
OrganizedSTL
A Pair that's Priced Perfect!
If you've ever purchased corrugated magazine files and gone crazy dealing with the annoying hassle of assembling them (if you don't rip them in the process) and hoping they don't fall apart- try these. They're a really economical solution if you have tons of magazines, and it's nice that you can see the entire spine of the publication- not just the top. Highly recommended!
March 19, 2012
Rated

5

out of

5
 by
oldtimer
They worked
I bought these to hold my paperback cook books that were forever falling over in my pantry. Now I can remove items from the pantry without the cook books falling on the floor .
March 19, 2012
Rated

5

out of

5
 by
Verified Reviewer
A Real Keeper!
I purchased six sets of two smoke magazine holders. These are the best. I have thrown away or donated so many over the years. These holders are tall and much sturdier than any I have seen. They will be used in my husband's "man cave" for his manuals, etc. I expect them to last for many years.
March 15, 2012
Rated

5

out of

5
 by
Organizationist
Easy pull-out magazine file
I purchased this magazine file in their grey smokey color along with the chocolate Bristol magazine file and both look very nice together. I put them on my dark cherry wood desk and they are perfect for the desk.
March 14, 2012
Rated

5

out of

5
 by
Wulee
Great Buy
Very nice. Sturdy and clean lines. Won't break or bend when you grab the file. The perfect organizing system for magazine hoarders.
March 13, 2012
Rated

5

out of

5
 by
maggiemaggz
great to use either upright or on side
I presently use these to access files I need regularly. They are so handy because you can set them upright or on their side.
March 10, 2012