< Return to Product Page
Customer Reviews
OXO Good Grips 24 oz. Water Bottle
Overall Rating:
Customer Reviews
Rated

4.3

out of

5

 by

12

reviewers.
Rated

5

out of

5
 by
sunblast
surprise water bottle
I just walked in the store and grab a water bottle without any attention but when i get home and start to use it it really surprise me!! first the water bottle contain the volume scale so you can easily record the water you taken in per day second the cap is removable and you can use it as cup!! i found that out by accident and its a really cute and easy clean product although it might a little pricy but it works really well and it didnt leak love it so much
March 25, 2014
Rated

5

out of

5
 by
Olja
Good design
The bottle is perfect for someone who wants to drink water - not sip, drink. It has a perfectly sized bottle neck for drinking - not too big, not too small, even my 4 year old can drink from it without any spills. It is very easy to wash, it is lightweight, it can fit in my car cup holder.
March 24, 2014
Rated

5

out of

5
 by
Bmak
looked high and low
After shopping many stores for the perfect way to bring my own tea to work everyday, I found it in this. It is easy to grip, and has two openings- one for ice and one for drinking. Brilliant design. Must have been a woman. :)
March 11, 2014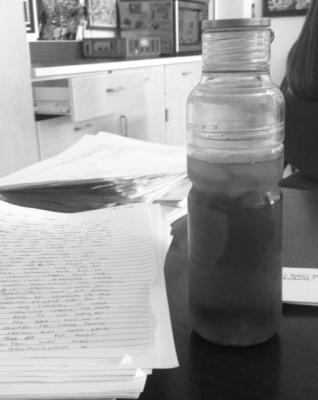 Rated

5

out of

5
 by
JJStevens
Great Water Bottle
I purchased this Good Grips bottle in both clear and gray, and I can say it has been a pleasure to use. The larger opening allows for easy filling, and the smaller opening is good for drinking. I might wish it were a tad smaller, but it works great. I returned for the gray one because my husband had to have one too. The fact that the complete bottle and top is dishwasher safe is a real benefit. I highly recommend this as an easy way to integrate drinking more water into your daily routine.
January 7, 2014
Rated

4

out of

5
 by
Jaycee33
Perfect to take to work
It's a great size, easy to drink from and refill. I love that I can put it in the dishwasher. The rubber seals come loose in the washer every once in a while, but they are easy to push back in with a spoon. The only time I've experienced leaks is when one of those was not fully in place. 4 stars for the price - knock a couple bucks off and I'd give it 5!
March 19, 2013
Rated

5

out of

5
 by
writergirl12
Great Purchase
I was looking for a drink bottle that I could bring shakes to work in. I needed something ~16 oz. and everything else on the market was too small or too big. This one is just right. It's a heavy duty plastic, so lightweight, unlike some of the glass options. I love the two tops - plenty of room to shake my shakes in and the wide bottom opening makes it a breeze to clean. Very happy with this purchase! Thank you, Container Store - you never disappoint!
March 18, 2013
Rated

1

out of

5
 by
NATUREGIRL
Though it would be good but
it leaks! Can't get a good seal no matter how hard I try. Lean it sideways and I have a drippy mess... I am returning this one!
February 20, 2013
Rated

1

out of

5
 by
daigoro
Disappointing
Pros: Simple, minimal design with unnecessary embellishments. Cons: It leaks. Purchased the bottle specifically for my bicycle. En route to a bike trail, the (two-thirds full) bottle tipped over in my car, spilling most of the water on the floor. A well designed product for me=thoughtfully considered for the intended purpose+aesthetically pleasing. For the record, the two openings were closed as tightly as possible. This wasn't negligence on my part (I'd admit it). This is a product I'd really like to recommend (as I've had only good experiences with other OXO products), however, a water bottle--at the very least--needs to contain its contents....
July 22, 2012
Rated

5

out of

5
 by
NYDASH
Good Bottle
This is a good product with dual ways to access the bottle part. Easy to clean and slim compact size, so it fits in my bag or car holder.
June 19, 2012
Rated

5

out of

5
 by
griff12
LOVE!
This water bottle is awesome. I love the two openings. It makes it much easier to clean and add ice to. Everyone has been asking me where I bought it. Such a good buy.
March 8, 2012
Rated

5

out of

5
 by
ThePerspectiveEffect
It's A Keeper
I'm always trying to find a water bottle, it seems, and it wasn't until just now that I noticed I had ceased the hunt. I owe it all to this bottle. About 2.5 months ago I purchased this bottle on a whim with my dad - who bought one, too. Come to find out, after a quick research call to him, we both give the bottle rave reviews. It's incredibly easy to clean, put ice in, drink out of (it's large opening is good for big gulpers like my dad), assemble and disassemble. It's also leak proof! As I discovered this fact about how widely exemplary this bottle is, I had the epiphany that I'm going to give it as a stocking stuffer. Everybody needs a bottle like this.
December 12, 2011
Rated

5

out of

5
 by
OCDDBA
Good Design!
Good design, easy to use, functions as stated. Looks nice on my desk, not like "cheap" plastic.
December 7, 2011