< Return to Product Page
Customer Reviews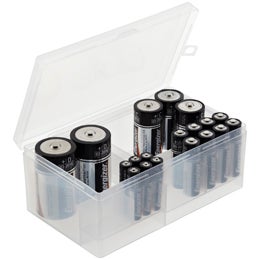 Multi-Battery Storage Box
Overall Rating:
Customer Reviews
Rated

4.7

out of

5

 by

47

reviewers.
Rated

4

out of

5
 by
lb213
smart storage
This is a much more streamlined solution than my old junk drawer. True, there is no spot for 9 volts, but I don't use large batteries like D or DD, so I just put my 9 volts in there. I keep this handy little guy in my fridge door to preserve battery life. Like so many Container Store products, I wonder why no one thought of it sooner!
March 20, 2012
Rated

5

out of

5
 by
Lindy1234
Battery storage
Love these plastic storage boxes! Easy to see how many batteries you have on hand.
January 8, 2017
Rated

5

out of

5
 by
Gunnar
Super small organizer box
Purchased 2 of these. One for rv and one for battery draw. Keeps a small but sufficient number of batteries at hand neatly placed where you want them.
August 31, 2016
Rated

4

out of

5
 by
Princess78
Holds a variety
This nice, clear container hold a variety of different batteries. I only wish you could substitute different sizes in the different compartments.
January 11, 2016
Rated

5

out of

5
 by
ddtt
Compact and holds alot
Surprisingly holds a lot of batteries for it size, mostly c, aa, aaa, and even has narrow spot for the little round batteries too. I had a shoebox mess that now fits safely in this tidy small box.
November 28, 2015
Rated

5

out of

5
 by
Annie2013
Good Organization Box
The box suits battery sizes perfectly. For large amount of batteries I wish you would also make a bigger box with double the quantity of this one.
April 17, 2015
Rated

5

out of

5
 by
restlessmike
A simplier way to organize and find batteries
We had a plastic washtub full of batteries, but you had to dig thru them to find and test the good batteries each time. Now I can find and test the batteries once, put them in this organizer and know the batteries will be good when I need them. Better to pick up at store as the they used a poor shipping box.
January 6, 2015
Rated

5

out of

5
 by
NEppel
Multi-Battery Storage Box
This is amazing! Before I bought this, i had all of my batteries in a basket and would have to dig through it only to find out i didn't have any that i needed. Now, i am able to easily see when i need to buy more of any size. It also has an additional area that i am using for batteries for things like watches and my 3D TV glasses. It is also a great compact size and stores easily in my hall closet.
April 25, 2014
Rated

5

out of

5
 by
WordLover
An organization tool I didn't know I needed...
...until I got one. Now my junk draw is a lot less junky with all of my batteries stored in this container. I'll call that a major win!
March 13, 2014
Rated

4

out of

5
 by
traceyaf71
Great solution for batteries!
I have to say I wish I would have bought one of these years ago when I was in The Container Store! It's so compact and holds a lot of batteres (no 9volt though). I am loving how it allowed us an extra half of a kitchen shelf ! Had them in a shoebox plastic container before with all the packaging and it finally fell out of cabinet and broke. This is great! Lid doesn't like to stay closed all the time, but I can live with that.
January 31, 2014
Rated

5

out of

5
 by
KnittingKnut
So convenient!
If you're like me, you have a kaboodle of batteries stored in a great big bucket - and when you need only a couple, you must drag out the huge bucket, dig through it and find the size you need. This storage box is just the right size to put (quite) a few of each size in one handy place. When I need a couple, I can find a couple easily. Don't get me wrong! I still have the kaboodle - I just fill the storage box as I emply it! Love it!
December 26, 2013
Rated

5

out of

5
 by
happy2organize
Good product
I always hated that I never seemed to have a way to properly contain all of our batteries in my otherwise organized junk drawer. This product took care of that issue.
October 18, 2013
Rated

4

out of

5
 by
hedge
battery box
It is useful to have all my spare batteries in one place. The battery slots are different depths to allow for the batteries to be about the same height. This prevents some use of the space if you don't use that size battery. Overall I really like it, however there are two cons: no space for 9 volt batteries (not enough to remove a star I knew this before purchasing) and the lid on mine doesn't like to stay shut, a better fitting lid would have given it 5 stars.
September 4, 2013
Rated

5

out of

5
 by
CabingirlWI
Great storage box
Love the fact that you can store all sizes of batteries in here. My cupboard is a heck of a lot lest cluttered- yipee! No more batteries rolling around and half open packs taking up precious shelf space. My only wish is that it was bigger and you could store more batteries. Just might get a second one!
August 2, 2013
Rated

4

out of

5
 by
SolutionSeeker
Taming Junk Drawer Jumble
There's a small drawer in my kitchen designated for batteries, extension cords, adapters and anything power related. Seems organized, right? You'd think nothing could get lost in there, and yet there seem to be multiples of batteries bought because we didn't know we already had the right sizes, especially the odd types for our security system. Store packaging is bulky, awkward, and not very conducive to efficient use of space. It gets in the way of order and finding what you need. So after taking inventory, I ordered this multi-battery storage box, and one for just D-size batteries since there were more of those (and I utilized the D section of this container for odd-sized batteries). Everything fits well in the drawer now, and I appreciate that these containers are see-through enough to tell at a glance what sizes I already have, and exactly where they are. Love that.
April 24, 2013
Rated

5

out of

5
 by
sunflower752000
a must for any organizer!
Very practical and affordable... I love the way it has a different compartment/ section for various types of batteries
March 31, 2013
Rated

5

out of

5
 by
Dublingal
So organized now!
Love these battery cases. I bought two. Now my batteries are neatly organized, not strewn all across my office. Love them!
March 28, 2013
Rated

5

out of

5
 by
pmm4000
A thing of beauty
the perfect solution to battery storage. no more gallon ziplocs or shoe boxes. container fits perfectly in fridge door too!
March 27, 2013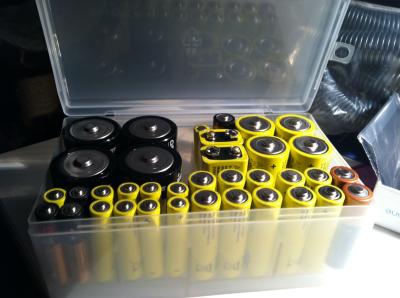 Rated

4

out of

5
 by
Noid
Good construction
I needed to get a handle on the many batteries in drawers at our house.. This product fit the bill.
March 8, 2013
Rated

4

out of

5
 by
OCMan92626
Great Battery Box
This is a good battery box. Like that it is see through.
March 7, 2013
Rated

5

out of

5
 by
littlej
Glad I bought this product
I no longer have batteries rolling around in my drawer. So nice to see what batteries I have all contained in a space efficient container.
February 28, 2013
Rated

5

out of

5
 by
GInging
Great little storage!
Do we have....? Easy to know with this great little box. I know what I have and what I need to pick up at the store at a glance! Also has a little slot for those flat disc batteries. If you have a lot of one size, you might rather get the ones designed for single size storage.
February 14, 2013
Rated

4

out of

5
 by
Verified Reviewer
Good organization box for batteries
My husband wondered why I bought this, but it works like a charm to organize the variety of batteries we use in the house. It is conveniently sized and fits all my "D", "AA", and "AAA" batteries.
February 6, 2013
Rated

5

out of

5
 by
kbkv
A much needed organizer for batteries
This thing is great to keep batteries organized and in one place. No one likes a drawer full of half opened battery packages clogging things up, this product helps to maintain some organization!
January 16, 2013
Rated

4

out of

5
 by
SWest
Perfect
Exactly what I needed, works great, stores batteries just find.
January 7, 2013
Rated

5

out of

5
 by
TCSJunkie
Great storage box
This battery storage box makes finding the batteries I need easy. I used to keep the batteries in a plastic shoe box container, but then I had to dig through the mess of batteries to find the size I needed- sometimes only to discover I was out of them. Now I can easily find the right size and see at a glance which ones I'm running low on.
January 7, 2013
Rated

5

out of

5
 by
MrsSloski
Great organization tool
What a great idea. Quick glance lets you know what you have and what you need. Batteries are all in one place.
December 31, 2012
Rated

5

out of

5
 by
Hanoriad
Good storage box
I bought 5 of these and filled them with batteries as Christmas gifts. They were well received.
December 29, 2012
Rated

5

out of

5
 by
Katie2
LOVE IT!
I don't know why I waited so long to buy this! Love it ! It is a great way to store batteries, know when you are running low and get rid of all the package clutter that comes along with batteries at times!
June 29, 2012
Rated

5

out of

5
 by
CLuciana
Simple and Functional
This battery organizer does just what I need it to. The quality is good and it fits mostly anywhere.
June 7, 2012