< Return to Product Page
Customer Reviews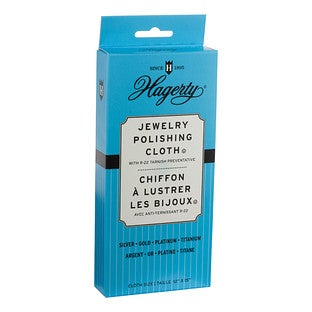 Hagerty Jewelry Polishing Cloth
Overall Rating:
Customer Reviews
Rated

5

out of

5

 by

9

reviewers.
Rated

5

out of

5
 by
neatlady58
Great product
These polishing clothes are hard to find. This is great size and will last awhile. Great price. Ordered online and picked up in store, process very easy and saves time.
January 19, 2015
Rated

5

out of

5
 by
slyvella
Unbelievable
I didn't think my silver jewelry was that tarnished, but I couldn't believe what a difference this cloth made. My earrings and necklaces and rings sparkle like never before. Using this cloth is addictive; you can see the black tarnish accumulate on the cloth, so you really feel like you've accomplished something.
April 4, 2014
Rated

5

out of

5
 by
42nut1
A Good Investment
Since I started shopping at The Container Store, I have been on a ⿿Get Organized⿝ kick, starting with my closets, then chests, dressers, cabinets, and now even my jewelry box. That aged Chinese lacquered case sitting atop my dresser had been neglected for some time. It was hoarding a rather dingy collection of semi-precious, Native American and costume jewelry, most of which I thought should probably be discarded. Instead, I ordered a Hagerty Jewelry Polishing Cloth and went to work. Oh my, what a difference. Now, everything in that box shines. I even discovered that the vintage items are rather valuable, some of which I sold, and I have been inspired to more carefully preserve the others. That cloth turned out to be a very good investment.
March 4, 2013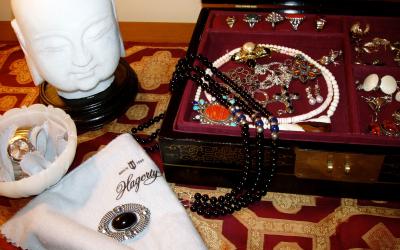 Rated

5

out of

5
 by
Ribbit
There's nothing like this
I've used jewelry cleaners where you have to rub on a paste, but there is nothing like this cloth. It's the most awesome cleaner I have ever used. I used it on a ring that I was about to throw away and glad I didn't. The cloth made it look brand new. I bought two more for gifts.
February 22, 2013
Rated

5

out of

5
 by
LizzyStitch
Just What I've Been Looking For!
This cloth is recommended for cleaning jewelry, but my mother and I always enjoyed polishing her silver with cloths like this. She'd remind me of where old pieces had come from and the people who used them. Her polishing cloth was just about black from the cleaning, but it was used over and over again. I am so tired of the pastes, etc. that have clogged the ridges of silver pieces and the job it does on my poor fingers. So, I was delighted to see this cloth offered for such a reasonable price. NOW, I will tackle the silver polishing with more joy. And I will have sweet memories of my mom. Probably should order a few more so my grandchildren and I can polish together and keep the stories going for another generation! In addition, I plan to purchase the bags that are made out of the same material. I have many small silver items that could fit into one or more of these bags, so I plan on purchasing more cloths to wrap several small pitchers, cups, etc.and will be able to fit several pieces into the larger grey bags. I know the silver bags will prevent tarnishing, but the cloths will be soft and prevent any scratching. Plus, the cloths will be right there to touch up any tarnish that appears. These products will help preserve some family treasures that will most likely get more regular use on special occasions. Thanks for making these available!!!
December 10, 2012
Rated

5

out of

5
 by
MaryDee12
FABULOUS and fast!
This two-sided cloth works miraculously. I polished a ring with a filigree band and was amazed how well it worked. If I had used a liquid or cream polish, I never would have gotten the residue out, but the polishing cloth probably removed 95% of the tarnish in the filigree area, and 100% elsewhere. For the cost and minimal time spent, it was just amazing!
July 24, 2012
Rated

5

out of

5
 by
reviewer28
Easy to use
This works well. Every few weeks I go through my jewelry and clean everything. Keeps silver shiny!
March 24, 2012
Rated

5

out of

5
 by
speedie
Great for Jewelry
My jeweler gave me one of these with a Silver purchase years ago, and I've been using them ever since. Once the white cloth gets used on both sides, it CAN get messy by leaving residue on your hands (not mess-free at that point), but easily washed off. It's time to buy another when the white portion is dirty. Works great on Silver service pieces as well, espcially intricate patterns.
May 29, 2010
Rated

5

out of

5
 by
imafan
Works Great
This was recommended by a friend and worked great. Quickly cleaned up several tarnished pieces of jewelry including a necklace with very fine links.
March 3, 2010