< Return to Product Page
Customer Reviews
reisenthel Nestbasket
Overall Rating:
Customer Reviews
Rated

4.7

out of

5

 by

25

reviewers.
Rated

5

out of

5
 by
TeacherMom7
perfect skinny laundry basket!
We needed a skinny little laundry basket for our mudroom and this was perfect. Once it fills up, it's easy to carry to the basement to do the laundry. It's beautiful, modern and easy to clean!
August 11, 2013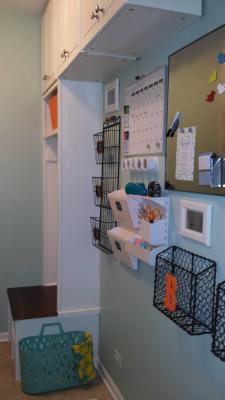 Rated

5

out of

5
 by
Janimal
Best multi-use basket ever!
I can't say enough about the functionality of this basket. I use it for so many things I purchased a second one. I especially like it to hold my knitting but also use it for shopping, carrying tools for projects, and cleaning supplies as I move from room to room. It is large and sturdy. I am going to purchase more as gifts for friends and family.
July 27, 2013
Rated

2

out of

5
 by
MamacitaC
handle broke
I have used this as a pool bag and have loved it, however the handle just broke. The Container Store was great about replacing it but I was not thrilled that the product didn't hold up under normal use.
July 4, 2016
Rated

5

out of

5
 by
FabShopper
Loving the Nestbasket so far
Currently using the Ice Blue color basket in my daughter's closet as a hamper. I figured this is enough to hold a week's worth of baby laundry. Love that it is great for small spaces, has handles, is ventilated, and the top is open so I can just throw her stuff in there. I wanted a cute practical hamper that wasn't too big and I think I found it!
May 3, 2016
Rated

5

out of

5
 by
purpleiris
really great !
Beautiful color, perky style, love it ! It will be great for so many uses, I probably will use it over and over. The color is pretty, the handles easy to use to carry it, and it is roomy yet not too big.
April 1, 2016
Rated

3

out of

5
 by
NYCBargainShopper2015
Beyond Thrilled Until the Handle Broke
I fell in love with the Reisenthel nestbasket (Translucent) on first sight. Immediately, I knew its purpose: replace a non-water proof tote bag for transporting things (i.e., swim cap, goggles, fins, toiletries, towels and underclothes) to / from the apartment and the basement pool. For 3 weeks my nestbasket served this purpose well on average of 3-4 times per week for my swimming workouts. I was thrilled that I had finally found a practical beach type tote after a long periodic search and did not have to worry about placing it on the wet floor. On Monday of this week, out of the blue, one of the handles on my Reisenthel nestbasket broke as I was leaving the pool area. I was stunned! Up to then I had not read the reviews on the nestbasket since I was so pleased with my purchase. Of course now I⿿m wondering if others had similar experience? However, I was delighted to see that there were no reports of similar handle breakage and moreover, all reviews were very positive. So, my thoughts then was I had gotten a ⿿faulty nestbasket⿝ and would simply return the broken one to the store with my purchase receipt for an even exchange and walk out with a new basket. Well, it didn⿿t go as planned. There were no Reisenthel nestbaskets in the 58th St. / Lexington Ave. store or the next nearby store on 6th Ave. The Store Associate in the sales area said the computer showed them on backorder but could not tell when or if they would be getting any in the stores, which often indicated a seasonal item. A double disappointment indeed, no current nestbaskets and uncertainty about the future, further exasperated by the fact that I wasted a 20% off coupon! Thus, I walked out the store with a purchase refund to my credit card (positive) and I⿿m again using my non-waterproof tote bag to transport my things to the pool and searching again to replace it (not so positive). I hope other purchasers are still enjoying their Reisenthel nestbaskets but two items are worth mentioning here: 1) when I inquired if any of these baskets had been returned for problems, the Store Associate at the Return / Exchange Counter commented that another nestbasket had been processed for a similar reason but the handle break was in a different location. 2) Upon hearing this I took a closer look at the handles and observed for the first time that the top edges were splitting as well. Prior to then I had only looked at the point of breakage on my nestbasket. Let⿿s hope these returns were isolated manufacturing defects and not epidemic quality issues that need to be addressed on what is otherwise a very attractive and useful product.
September 19, 2015
Rated

5

out of

5
 by
AboveBored
Perfect for intended use
I bought this to hold my recyclables and store under the kitchen sink next to the garbage can. Perfect for my husband to take to the basement recycle bins.
July 2, 2015
Rated

5

out of

5
 by
lindylou
great baskets!
I bought these in hopes that they would save my sanity and keep my plastic bags contained. They look adorable and do just the trick! I love this basket!
October 12, 2014
Rated

5

out of

5
 by
Sabmo
Really nice baskets
Very stylish and of high quality. A great way to store my knitting and yarn in a stylish way!
July 13, 2014
Rated

5

out of

5
 by
Naturelina
nestbasket by reisenthel®
I have 2 of these. They are very practical and look nice in my contemporary home. I use one for storing hand bags and the other for hats.
May 10, 2014
Rated

5

out of

5
 by
Essee
Strong
Bigger than I pictured it although I read the dimensions. Useful, I like it.
April 28, 2014
Rated

5

out of

5
 by
Brookesomer
So adorable to display
This was the cutest way to hold all my magazines and store it in the corner of my bedroom. It's not an eyesore and it's so complementary to my decor. I chose the aqua color and love midcentury modern.
April 25, 2014
Rated

4

out of

5
 by
conqueringclutter
cool nest basket
stylish baskets - bought them for toy storage and for versatility, because they're attractive and useful enough for other purposes if I ever find another place for all the stray toys cluttering my apartment!
April 11, 2014
Rated

5

out of

5
 by
ginnyw
Great for knitting storage
Wanted a "totable" solution for storing yarn for knitting. These are perfect for holding everything and they are easy to store in cabinets where they can be grabbed and taken wherever!
April 5, 2014
Rated

5

out of

5
 by
btransatlantic
versatile and sturdy!
I bought the clear basket to store wet-weather things in our entryway and it's perfect. I wanted a container that had ventilation so that everything inside could continue drying out WHILE being out of the way, and so far nothing's gotten smelly :) at the moment, it's holding a pair of duck boots, a pair of wellies, and two umbrellas - it's full, but that's really exactly what we need!
April 3, 2014
Rated

5

out of

5
 by
Macey
Fantastic Idea
I really love this one and I got the red color as its my fave color. I put all my handbags into this and it looks so organized right in my living room. I could also use this one when I go to the beach or to the park. Just put stuffs in. It's not bulky or uncomfortable or heavy.
March 17, 2014
Rated

5

out of

5
 by
Dondra
Nestbasket by Reisenthel
I picked one of these up a couple of weeks ago. It lives on the passenger side floor of my car and catches all my purchases. I then haul them in the house and leave the basket near the front door for items going back to the car. My life just got easier. I love this basket.
March 17, 2014
Rated

5

out of

5
 by
gatorsil
nestbasket
Really sturdy basket, I use mine to go to the beach. Easy to clean and tote. Very useful!
March 13, 2014
Rated

5

out of

5
 by
MariMarti
Great little laundry hamper for the nursery
I bought the turquoise basket to use as a laundry hamper/basket for my baby girl's room (expecting any day now). It's the perfect size for baby clothes that get soiled often, and it fits perfectly in her little closet. Plus the handles make it easy to carry to the laundry room.
February 25, 2014
Rated

4

out of

5
 by
Roth
Very Sturdy
Bought this to store my burlap fabric. It does not fall over at all, and would probably hold a lot more than I have in there. Love the red color too, its bright. This is a great modern version of a regular basket.
February 18, 2014
Rated

5

out of

5
 by
ArtsyApril
Unique Storage Option
Used these as, should I say, "out of the basket" storage option for top shelf in my pantry. The light weight and size works perfect for corralling less often used and odd shaped seasonal/party items. I can see what's in them and they are easy to manage on and of the high shelf top.
November 5, 2013
Rated

5

out of

5
 by
sweetchai
Versatile
I needed a laundry basket, but didn't want a traditional hard-sided basket. This works great and fits neatly in my closet!
October 8, 2013
Rated

5

out of

5
 by
sbee
nestbasket
I love it! Light weigh yet sturdy. I use it to carry pool toys, goggles, kick boards, etc. back and forth to the pool from our apartment for my kids and grand kids. Neatly keeps all the pool accessories in one place. Great price too!
September 5, 2013
Rated

5

out of

5
 by
parentofcollegekids
quality
Constructed from soft yet durable material -- the basket can be used for a shower or beach tote. It is comfortable on the hands, too.
August 29, 2013
Rated

5

out of

5
 by
bch123
Very handy around pool and for shopping
I use one to keep my pool things in - towels, etc. Water doesn't hurt it of course. I keep the other one in my car for going to the grocery store.
July 2, 2013