< Return to Product Page
Customer Reviews
SlapLit LED Band
Overall Rating:
Customer Reviews
Rated

5

out of

5

 by

10

reviewers.
Rated

5

out of

5
 by
JennyV512
Street safety at a low cost
I like to run early in the morning, generally before the sun comes up so no one can see my red face and sweaty hair. Plus, I like the quiet. The problem is, going out that early can be dangerous, especially since part of my route is on winding road with no sidewalk. I bought the SlapLit about a year ago and am very happy with it. The light is still going strong and it is very comfortable to wear. I like the fact that it has the LED lights but also the reflective print on it, and it truly is visible from a very long distance. I wear mind on my wrist but it is big enough that I could wear it on my ankle. Thanks for another great product, Container Store!
September 24, 2016
Rated

5

out of

5
 by
PacificNorthwestWalker
Stay safe at nite with the Nite Ize SlapLit Band
Nite Ize Slap Lit LED slap wrap is a product I saw in The Container Store catalog this past autumn, and one that I immediately had to try. I walk for fitness throughout the year, and it gets very dark where I live--even with street lights. The lightweight (1.2 ounce) device goes around one's arm and will fit at any point (even over layers), due to the expandable bracelet design. It has two types of lighting, accessed by a single push button: regular bright light and a continuously flashing light. My husband and I both have red ones--and he has actually received a "thumbs up" from a motorist for being so visible on a dark winter's night! We never go out on walks without them. A bonus for those who live in the rainy Pacific Northwest is that they are not affected by torrential rain! Great find.
January 21, 2017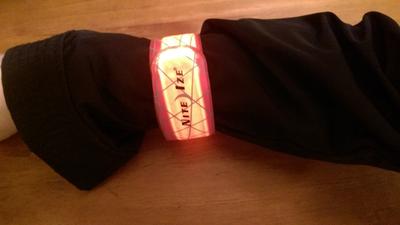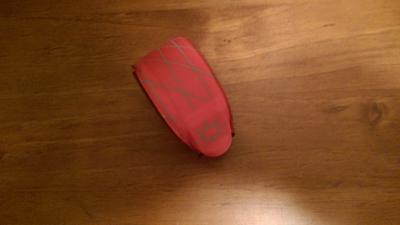 Rated

5

out of

5
 by
PCGg
Coveted gift
This was a birthday gift for my brother in law. We live in FL in a senior community and accidents involving bicycles and vehicles are frequent. He loved the gift and then his daughter came to visit and she loved it so much he gave it to her when she asked and then asked me where to find another. She ended up giving it to her husband and purchased another for herself. Everyone who sees it wants one!!
November 21, 2014
Rated

5

out of

5
 by
Rover2
SlapLit LED band
This is a must for those who walk or run or walk their dog early in the morning or late in the evening. My husband said he could see me coming from blocks away. So far so good.
November 4, 2014
Rated

5

out of

5
 by
FelineLover
Made great gifts!
Gave as gifts to family & friends - everyone loved them!
January 11, 2014
Rated

5

out of

5
 by
JKW1
works like it says
I appreciate having this for my walks, since I'm almost always out after dark. The red is intense and definitely draws attention. I like that you can make it a steady glow or flashing. You can't really "slap" it, per se, but it coils securely around the wrist. There was a straight, rigid bit at the end near the battery that annoyed me until I realized that I was meant to wrap that to the inside, and now I like it fine.
December 22, 2013
Rated

5

out of

5
 by
k9fan
Perfect!
I usually walk our 3 dogs at 4:45am on weekdays, so it's always dark. My husband worried that passing cars wouldn't see us, but not now that I wear my SlapLit on the wrist closest to the street. I love that I can wear it over any jacket or coat, and that it's easy to put on and take off!
November 24, 2013
Rated

5

out of

5
 by
specialkl
Great item
I bought this for myself as I am always running or walking the dogs after dark. It works great. It's easy to use and the battery seems easy enough to change whenever I will need to.
January 29, 2013
Rated

5

out of

5
 by
CarynL
Great for exercise
I use while running and cycling, great, comfortable, easy to use
December 12, 2012
Rated

5

out of

5
 by
txsgirl7
BE SEEN!
I got these for walking the dog for the last time of the day...they work great. I bought 2. I put one on my wrist and the other on my opposite ankle.
November 19, 2012