< Return to Product Page
Customer Reviews
The Watering Hole Dog Bowl
Overall Rating:
Customer Reviews
Rated

4.4

out of

5

 by

11

reviewers.
Rated

5

out of

5
 by
2Shadow
Great water bowl
This is the best water bowl for walkiing dogs. It is compact and easy to clean. She loves it.
June 15, 2016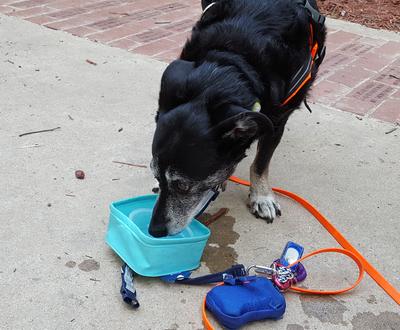 Rated

5

out of

5
 by
tpop
Only bowl my service dog likes
I had tried many travel bowls for my service dog (a lab) before this one and he didn't like to drink out of any of them. This one he loves. So do I. It dries quickly, holds enough for quick drinks when we are out for the day and is lightweight and compact.
May 6, 2015
Rated

2

out of

5
 by
Lovestream
Lovestream
Unless you have a tiny dog this is not a good product. The bowl is to small. I have two golden retrievers and it is hard for them to get their nose in the bowl
August 4, 2014
Rated

4

out of

5
 by
Jhym0330
Great Product!
This product is excellent. we buckle it to a backpack strap and take it with our puppy to the park or the pond. She loves it! (Occasionally she tries to pick it up and walk away with it but that's because she knows it's hers) The only reason I didn't put five stars is it doesn't quite have the shape of the picture (wide open), but that is somewhat nit-picky.
June 24, 2014
Rated

5

out of

5
 by
epric002
best travel water bowl ever
this bowl is so much better than the larger travel bowls available. if you do a lot of walking/hiking/running with your dog(s), especially in hot weather, this bowl is a lifesaver. we buckle it to the dog's harness so it's always there whenever we go for a run. the bowl doesn't keep it's shape, even when filled with water, so we just fold the top rim down and then fill it up and it works just fine. so much easier to carry around than the larger bowls!
June 19, 2014
Rated

5

out of

5
 by
happyshopper77
Great on the go
We take the dogs walking and this bowl works out great on the long walks. It is very easy to store and clean. Dries fast. No issues.
May 4, 2014
Rated

3

out of

5
 by
ashastagirl
Good idea...one issue
Good idea, bowl itself is nice, but because its folded it wants to go back to its folded state, even with water. Also, could be bigger. All in all it will work when there is nothing else.
December 11, 2013
Rated

5

out of

5
 by
Shuey
Came back and bought a second one
I walk dogs at a local no-kill animal shelter. Bought this bowl to use on my walks. It is great. The snap is strong and stays on the dog leash handle. Sturdy bowl. I liked it so much I went back and bought one to use when I walk my two dogs. I'm glad I found this at The Container Store.
August 16, 2013
Rated

5

out of

5
 by
jojomama
So awesome!
I always have a hard time remembering all of my dog's gear when we go to the beach, etc. This is one less thing to carry around or forget!
March 23, 2013
Rated

5

out of

5
 by
ScrappyWyf
Perfect on-the-go dog bowl
I am very impressed with this portable dog bowl. It is a perfect size, wraps easily around the leash and stays put, and is easy to open and fill. It's easy to fill up on our long daily walks and has been a great purchase.
June 12, 2012
Rated

4

out of

5
 by
hindsight2020
handy for on-the-go use
This item is nice to have when out with the dog for a long walk on warm days. Even better, I can fill it from my re-usable water bottle, water fountain, or public sink.
February 15, 2012