< Return to Product Page
Customer Reviews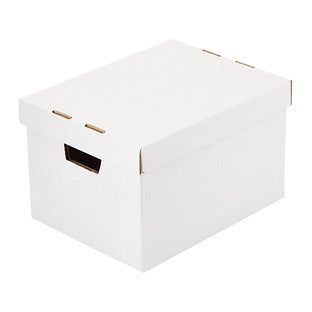 Our Best Box
Overall Rating:
Customer Reviews
Rated

4.8

out of

5

 by

52

reviewers.
Rated

5

out of

5
 by
Limerent
It's called Our Best Box for a reason
I used the Best Box for boxing up dishes recently--it's a heavy box as a result, but the size makes it very manageable to carry and transport. The built-in handles are very robust. I also plan to use the Best Box for boxing up books. The extra cost of buying these versus using boxes sourced for free from the grocery store is well worth it to me, as they are very sturdy and will hopefully withstand being stacked on top of each other without buckling, even if they are not filled 100% to the top. An added benefit is the visual cohesion and modular convenience, as they are uniform in size. Furthermore, the outside is plain, bright white, with nothing printed on them to distract from my Post-It labels. I would suggest to the company to make this box in several other colors, which will be useful for "color-coding" according to one's needs. It's a fast visual cue of what type of items are stored inside (e.g. kitchen, books, tools, etc), if used in such a manner.
May 16, 2016
Rated

5

out of

5
 by
Disorganizedgirl
Best box, Really!
I have purchased 100's of these over the years. It is my go to storage/ moving box. I love that there isn't any glue to attract bugs. They break down flat after using. You do not need to tape these boxes for them to be secure for moving. They are really strong for very high stacks. If you storage is small this is your ideal vertical box for storage. Truly the BEST box, ever!
January 8, 2017
Rated

5

out of

5
 by
Disorganizedgirl
Tax organizer
I love love love these boxes. You can stack them 12 or more high and they stay balanced and strong. I really love that at a glance I can see what year I have to review taxes. Or keep sakes from that year! The best box just got better.
January 8, 2017
Rated

5

out of

5
 by
omaT
Just right
I bought 3 of the 2015 boxes on clearance for extra storage and will now buy a few 2016 boxes. Not only for myself but also for family. Easy to assemble, great for stashing + the price is right. :-)
September 14, 2016
Rated

5

out of

5
 by
Boxtroll
First and best purchase of the year
I started buying the Year Box a couple of years ago. I use one to stash gifts and special ornaments and mementos I collect during the year. I no longer have to wonder where I stuck something. Its in The Box. I also use a second box to store important papers for that year. It makes everything easy peasy and if it doesn't fit in the box, I probably don't need it, so it helps me weed and minimize clutter by year end.
January 8, 2016
Rated

5

out of

5
 by
ThereAreWorseAddictions
My "go to" for sorting and storing
One of the BEST TCS purchases. They are sturdy, hold a lot and can easily be transported with the handles. These boxes are also stackable. Easy to label. Economical and the most durable I have found.
July 13, 2014
Rated

4

out of

5
 by
tennispro
sturdy box
this box is very sturdy and will hold anything you need to store.
May 31, 2014
Rated

5

out of

5
 by
SalesLuvr
Great Sturdy Box
I needed something affordable to organize my small studio and found these boxes at the Container Store. I was delighted that they are white, have lids, and are easily moved. Also, I try to be "green," so the fact that they are made from 100% recycled materials was the clincher. They are great for storage, hold a good amount of weight, and look better than most storage boxes, since they have no writing on them. I highly recommend these for affordable storage or moving purposes.
April 29, 2014
Rated

5

out of

5
 by
SHope
Great box for moving/storage
I used this box to pack up my boyfriend's apartment. It was easy to put together and very sturdy!
April 21, 2014
Rated

5

out of

5
 by
MsBebe71
Love the 2014 Box
I am so glad I bought this 2014 box. It'll help me keep everything (i.e. paperwork, receipts, etc.) in order by year. I hope the container store will have one for 2015.
April 1, 2014
Rated

5

out of

5
 by
LeavingRaleigh
How to move books
Great box. Perfect for storing books of all sizes.
March 25, 2014
Rated

5

out of

5
 by
BIRS
Perfect File Boxes!
I've been keeping file boxes by year for a long time, but after the year is up they seem to disappear into the closets and it's really hard to find the right one when it's needed. This design with the year ALL OVER it and it BIG numbers is perfect! I keep last year's and this year's in my office closet and just with they'd go back to about 2000 with these! I'd like the retro versions!
March 6, 2014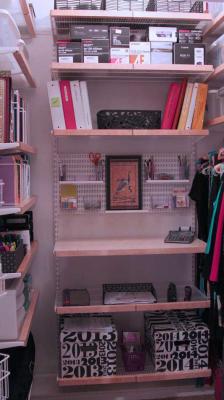 Rated

5

out of

5
 by
dogmomx3
Fun Filing
These boxes are just as sturdy as the banker's boxes from an office supply store but much more fun.
March 3, 2014
Rated

5

out of

5
 by
Jbbb
Awesome idea
These boxes are great for storing old bills, paperwork, taxes and kids memorabilia by year. The labeling makes finding them in the attic much easier
March 3, 2014
Rated

5

out of

5
 by
MaryOJ
Affordable & Cute
I bought both the 2013 & 2014 boxes. They were exactly what I was looking for to store kids school papers, photos and Christmas cards. Sturdy, affordable and super cute!
March 1, 2014
Rated

5

out of

5
 by
Weaver18
Great Idea!
When I saw these boxes, I thought what a great idea. I always keep records, etc. that are important by each year. Now, I have a box that actually shows the year, so it is easy to spot. Thanks again.
February 27, 2014
Rated

5

out of

5
 by
SabrinaM
IT REALLY IS THE BEST BOX !
Years ago my husband purchased a case of these boxes for our move from apartment to first house. I was very vocal in my opposition of buying boxes for moving as we could get boxes free at the grocery store. I've had to eat my words for over 20 years every time we remove items from storage in these awesome boxes. TIP: Number your boxes and keep an index of stored items on a card or address book or on your computer or smartphone. Then when the box is used for something else or items are added or removed, the list may be updated instead of writing all over the box.
February 24, 2014
Rated

5

out of

5
 by
Organizingguru
2013 & 2014 Box
Best purchase ever because even if it's sitting in the middle of the floor it looks organized and neat!!! Cost effective!
February 24, 2014
Rated

5

out of

5
 by
Kimbo0309
Awesome Idea! 2014 Box
I have always had a "yearly" box that I labelled myself & threw things in throughout the year... cards, movie tickets, memorabilia of all types... when I saw this in the store, I had to get one! This is PERFECT & I will be getting one for every year from now on!
February 18, 2014
Rated

5

out of

5
 by
NDallasShopper
perfect file box
Love these! Not only can you buy individual boxes vs. having to buy a bundle at the office supply store but the year graphic makes it fun and easy to organize your receipts and find them once stored away.
January 31, 2014
Rated

5

out of

5
 by
lcjlondon
Brilliant Idea!
These "dated" banker boxes are fabulous for storing annual recipts and tax info or for memorabilia. I hope you make them for every year going forward, forever! I will buy them. I would even buy years going back in time and would re-box my annual tax receipts. I love that the print is BOLD and it is VERY clear what Year's information the box contains. Brilliant product!
January 30, 2014
Rated

5

out of

5
 by
FancyNan
Great boxes to store tax records or memorabilia!
Love these boxes-sturdy, but not too heavy; B&W bold colors are easily visible! Would be great to store tax records or memorabilia for the past year(2013) and to start a box for 2014- again with tax records, memorabilia, or to store gifts for the future! Hope you keep producing in the consecutive years...2015, 2016. etc. Fairly priced at $3.99 each-the paper is not glossy, so care should be taken not to store them in damp or wet environments-i.e. keep off basement floors!
January 28, 2014
Rated

4

out of

5
 by
linlin
best box, solid buy
Good, simple design, easy to pile,very good alternative to ugly plastic boxes.
July 12, 2013
Rated

5

out of

5
 by
ChaoticMoon
Sturdy!
We bought a case of Best Boxes to organize our employees' belongings while we rearranged the setup of desks in the office. The instructions printed on the flaps made it easy to have each employee assemble his own box, the lids made the boxes stackable, and we were pleasantly surprised at how much the boxes held. We especially appreciated the flaps that fold in to create the handles; having the extra cardboard layer helped keep each box together as well as protecting our fingers from the raw edges when we picked the boxes up.
June 17, 2013
Rated

5

out of

5
 by
KellyS
Boxes great for teachers!
My husband is a teacher which means each year we have to pack/unpack his collection of books & supplies. These boxes work fabulously well! The plain appearance is aesthetically pleasing and the ability to fold them flat throughout the year is a great asset. We also use the identa-labelâ¿¢ Pouches with these.
May 28, 2013
Rated

5

out of

5
 by
EsideLa
Exactly what I was looking for
I really needed to organize my closets. Ultimately I would love to have an Elfa system but since I am a broke grad student, I had to come up with a cheaper solution. These boxes were perfect! They look way better than the plastic drawers and mismatched crates I have collected over the years of moving and they fit my budget. I also plan on using these for future moves :) They were quite easy to put together and are really sturdy. I also bought white erasable labels and my closet looks pretty darn good.
April 5, 2013
Rated

5

out of

5
 by
Urbanus
Durable, Attractive Reusable Storage Box
I've been using the Container Store's classic Best Box with removable lid for years. It's white form without distracting writing (except on the underside) allows a tall bookcase (their excellent Skandia) filled with these boxes to hold a lot while still looking tidy and attractive enough for a den, office, and even an informal family room. An especially nice system if you have to move fairly often and dread repeatedly unpacking/repacking. The boxes are very sturdy and do a great job of protecting whatever is inside thanks to the 2-3-wall construction in most places. The boxes also can be disassembled, stored, and reused. The only thing I would suggest improving is somewhat easier-to-break connections between panels when setting up; some of the jagged cardboard break points can leave a slightly messy appearance. And a longer and slightly taller version of the Best Box (ideally 24-26" long and 12" high) with the otherwise same construction quality/sturdiness and removable lid is needed. The previous longer, lidded version that Container Store sold years ago was not nearly as rigid or robust.
March 25, 2013
Rated

5

out of

5
 by
songoflove
You can store so much misc stuff
I used to store t-shirts, socks, and other misc stuff, then I typed a label and place on each box, looks so neat and I know whats in each box, no more searching the labels works great!
March 20, 2013
Rated

4

out of

5
 by
Momto3boys
Sturdy but instructions poor
This box is more sturdy than boxes I have bought from other stores, however the directions are lacking. Once you start putting the bottom together, you can no longer see the instructions. There are no instructions for the lid. If you have put similar boxes together, you should be able to figure it out.
March 18, 2013
Rated

5

out of

5
 by
PeggyK
Best Box is Best box EVER!
I bought several of these boxes for set dressing for a play. during the play they got thrown about and stood up to the abuse. We now use them for prop storage and 4 plays later they are still strong.If I ever need boxes again I will defiantly get these
March 18, 2013