< Return to Product Page
Customer Reviews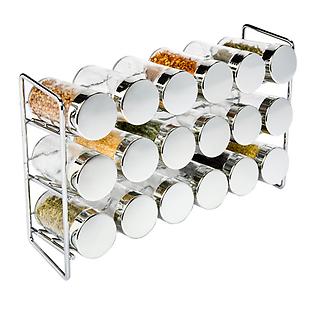 Polder Chrome 18-Bottle Spice Rack
Overall Rating:
Customer Reviews
Polder Chrome 18-Bottle Spice Rack
is rated out of
5
by
45
.
Rated

2

out of

5
by
ReginaPA
from
Compact, but.....
I have about 90 spices in my kitchen pantry and wanted a compact rack to be able to fit them on 2 shelves in a corner cab. The design is perfect and compact and would allow multiple racks on a shelf. However, the size of the lids is not a standard one for avery labels that can be sent through a computer unless you want clear ones. I want my labels standardized so hand lettering them was not an option. I made the mistake of trying to re-position one of the labels and all the coating of the lid also peeled off. These are NOT chrome lids as advertised, but cheaply coated plastic. I am not happy. TCS needs to change the description and also to provide computer ready sheets.
Date published: 2016-12-31
Rated

4

out of

5
by
BrooklynMama
from
Great little spice rack
This is a nice little spice rack. I needed a space saving way to keep my spices handy in my NYC apt and it does the trick. I must say that the labels are a little tacky- I didn't use them. I used a label maker with clear tape and they look great. My sister has been envying my spice rack so I bought one for her for Christmas.
Date published: 2016-12-01
Rated

5

out of

5
by
callalily9
from
I Got 2
I bought 2 of these . 1 for regular everyday spices and the 2nd for holiday baking spices. Look nice on the countr yet fit easily into cabinets
Date published: 2016-11-20
Rated

1

out of

5
by
NYCUWS
from
Inconvenient and cheap
This product comes with circular labels that appear to go on the front of the chrome lid. I stuck one on and when I gently pealed it back to re-adjust the alignment, the chrome facade came off with the label to reveal an ugly translucent plastic. In addition, these jars are quite small so I am left with nearly empty 2 oz bottles of the left over spices.
Date published: 2016-08-10
Rated

2

out of

5
by
ChiTownSara
from
Just Ok
The actual jars are great, but the holes on the sifter are too small for a lot of our spices. It would be better if the box came with a variety of sifters.
Date published: 2016-07-11
Rated

5

out of

5
by
Sussi
from
Space Saver
I really like the spice racks (I ordered 2). They look nice, were perfect for my space and now I can find the spice I need without having an avalanche of spices! I do wish they came with labels though.
Date published: 2016-04-10
Rated

3

out of

5
by
Ubatuba
from
Reasonable
They look nice stacked on the counter but the chrome is not the best quality, being a bit unstable and tippy.
Date published: 2015-12-14
Rated

1

out of

5
by
tzaffi
from
Disappointing Purchase
The description makes it sounds like the caps are made of chrome metal but they are not. The caps are plastic with a shiny chrome color. But for this price, I expected a much higher quality than what arrived. The rack is also very wobbly and uneven. No care instructions were included so that I do not know if the bottles are dishwasher safe.
Date published: 2015-09-10
Rated

4

out of

5
by
TammyH
from
I've always wanted this
This spice rack looks so nice on my counter and cleaned the clutter in my cabinet. I only wish itt had a pour side to the dispenser, not just shake. If it did I would give it 5☆.
Date published: 2015-04-04
Rated

5

out of

5
by
stormrise
from
Great product
I cook a lot of Asian/ Indian/ Middle Eastern food, and as a result, I have a LOT of spices to find places for! Sadly, my house was built back in the 80's and the kitchen design, as far as cupboard space goes, is woeful, so all my spices end up cluttering up what small counter space I have. These have helped tremendously, and all that would make these better for me would be for then to be two tiers higher! A word of warning though; make sure that you wash the jars and the lids thoroughly as I found powdered glass grating in the lids of several of the jars. Other than that- great spice racks.
Date published: 2014-12-28
Rated

4

out of

5
by
Crazyleo
from
I love these!
I have two of these racks that sit on my kitchen counter, I've been using them for at least 6 years now -- I wanted something easy to see, nice-looking, and compact, and these fit the bill quite well. As others have said, the lids are pretty cheap plastic, but mine have held up pretty well, no issues on the outside. The "chrome" does need to be wiped/polished every now and then, at least in my messy kitchen, splatters happen and they show up on these fairly obviously. I used a label maker to add clear labels on them, it works well for me. If I could change anything, I would make it so they can be stacked on top of each other, or make units that have more rows. As they are now, they cannot stack, and I have a lot of spices -- I still have a few more that I wish I could fit on them!
Date published: 2014-11-17
Rated

1

out of

5
by
Gruenegal86
from
Don't Buy
Make sure if you buy this product that it's not bent. All of the spice jars fall out if I place one on the opposite side. Terrible!
Date published: 2014-05-28
Rated

4

out of

5
by
breakrow
from
Makes finding my spices much easier
Although I have a nice riser type organizer for my spices, I am constantly spending time moving one bottle or another to find what I am looking for. This spice rack is a nice clean way of storing spices and makes them easy to spot. Now my spice cabinet looks like a picture out of the container store! Good price for the bottles and rack. Bought the labels separately
Date published: 2014-02-02
Rated

1

out of

5
by
flintstonechick
from
Not a good purchase
This rack is cheaply made as are the jars. The lids are cheap plastic and not threaded well so they are difficult to get on.
Date published: 2013-11-22
Rated

5

out of

5
by
MEB5
from
Perfect Rack!
Fits into my cabinet perfectly, easy to label and easy to use..what more do you need!
Date published: 2013-10-26
Rated

4

out of

5
by
JuliasMom
from
Love these spice containers
We love this spice rack. It comes with labels to easily identify the various containers. It doesn't take up much space and actually fits in the lower shelf of one of our upper cabinets. My only complaint would be that it's not easily moveable with all the spices staying on the rack. I'm always worried they're going to fall all over the place when I want to move it to clean.
Date published: 2013-04-04
Rated

4

out of

5
by
LM88
from
Kitchen Must
I love this spice rack! Before I purchased it I had a spice drawer and was always sorting through a jumble of things. This rack holds 18 spices and comes with all the bottles, lids, and labels. All you have to do is transfer the spices and stick a label on each lid. No more searching!
Date published: 2013-03-18
Rated

4

out of

5
by
SusieQ34
from
Best value
I needed something affordable but with plenty of jars for my collection of spices. This worked out great for my small apartment kitchen and I got plenty of jars compared to more expensive ones with few jars.
Date published: 2013-02-25
Rated

3

out of

5
by
90coyotes
from
If only it had lids that fit and seal well...
Beautiful rack that fits well on a countertop or inside a cabinet... and nice-looking, decent quality glass bottles are a good size. BUT... the lids are made from a thin, low-cost plastic with a thin silver coating. The silver coating would likely chip and flake over time. The edges also tend to be somewhat sharp / can cause paper cut type cuts. Main issue: I tried 2 racks with two sets of bottles (36 total) and none of them seal, which is particularly noticeable if you hand-wash the bottles. If you put a small amount of water in a bottle, close the lid, and set it on its side or shake it, the water will leak significantly. This isn't good for keeping your spices fresh or for keeping the scents of all of the spices from mixing together or infiltrating nearby items or a cabinet. Tried to find replacement metal lids with airtight seals... no luck, even online. Also called Polger (manufacturer) to ask about replacement lid options. They have great customer service but could only offer more of the same leaky, thin, plastic lids. Other option was to purchase a set of replacement bottles with sealable lids... expensive and a waste of a set of good bottles because of poor quality lids.
Date published: 2013-02-04
Rated

4

out of

5
by
tsaria
from
Almost Perfect
I like this spice rack a lot! The jars are a great size, and I love that they are glass. The rack takes up very little space. I don't use the sifter lid things but it's nice to have them JIC. The reason I took one star off is that the lids are plastic. If they were metal I would have given 5 stars. It does say "chrome plated" in the description, but for some reason I was still not expecting bendable plastic. While I'm on the subject of possible improvements, these are not currently stackable. If they were that would be the icing on the cake, because it turns out I have more like 36 spices to put in jars...
Date published: 2012-12-29
Rated

5

out of

5
by
JessDawne
from
Love it!!
I have been coping with a very messy spice cabinet for years! My spices were usually just shoved into a plastic shoe box-like container and shoved on top of the fridge, making it very difficult to find and free the spices that I need. This spice rack is PERFECT and just what I needed! It came with 18 glass spice jars, no labels though, which was fine, I was able to buy the ones I prefered. I may end up ordering a second one! :) Overall, highly satisfied!
Date published: 2012-10-18
Rated

4

out of

5
by
mmgapeach
from
Good but where's the labels
These are very nice looking and hold a lot of product, but I'm use to having some type of label on my products. I ended up taping paper to it so I know what it is.
Date published: 2012-08-17
Rated

5

out of

5
by
Teddy001
from
Perfect!
I am so pleased with the spice rack. Clean lines. Sifter spouts. The only negative would be the absence of the labels. Perfect size for my spice spots, thanks to the excellent customer service.
Date published: 2012-08-17
Rated

4

out of

5
by
KRon
from
Great space saver
I bought this spice rack to replace a "stadium seating" style multi-tiered rack that was taking up way too much of my limited counter space. I also bought the spice funnel and label pack. It would be nice if they were included for the price, since the rack isn't nearly as useable without them. But it was worth it anyway since now I can keep my coffee maker out on the counter.
Date published: 2012-05-03
Rated

4

out of

5
by
Organizer35
from
Satisfied with Purchase
I purchased this spice rack about 2 years ago. 18 jars is a good number for me, and the rack fit well in my space. It keeps my spices organized and still looks great. The one drawback is that the holed in the covers are a little small for some spices. When you encounter that issue, however, you can just remove the plastic to pour and then replace it.
Date published: 2012-04-30
Rated

4

out of

5
by
FrankG
from
Almost perfect
I really like this product. The footprint is very small, and the height is a perfect size to fit under my bar top. I love that there are dozens of stickers to label the spices, with a few blanks to customize your own. The only issue I have is that it's difficult to keep clean. Don't keep it out on the counter if you don't want it to get sticky and dusty!
Date published: 2012-04-27
Rated

5

out of

5
by
EWUeagle
from
Great spice storage
Love the product! Looks great and takes up less space in my cupboard.
Date published: 2012-04-14
Rated

2

out of

5
by
Mistress
from
Flimsy
I needed a rack that would fit into a small space and I thought this would be perfect, but the rack is a little too flimsy for my liking. As other reviewers mentioned, the bottles fall out easily. I was worried one might fall out and break. Also, one of the lids on a jar was already peeling. Not high quality.
Date published: 2012-03-20
Rated

4

out of

5
by
Uncontainable
from
Organize with Spice
Love the way this spice rack looks clean & organized. The jars can be labeled on the lid which is even more handy and makes my spices easily accessible.
Date published: 2012-03-20
Rated

5

out of

5
by
Bubu
from
Great Product!
Love, love, love this product! I have so many spices i had to buy 2 racks, but they are wonderful for saving space and keeping my spices in order.
Date published: 2012-03-19