< Return to Product Page
Customer Reviews
3 oz. Glass Spice Bottle
Overall Rating:
Customer Reviews
Rated

4.5

out of

5

 by

41

reviewers.
Rated

3

out of

5
 by
feminaprovita
Lid is nowhere near airtight -- otherwise great
I was looking for glass containers with metal lids in order to keep my spices as fresh as possible! These were the only ones readily available to me, and they're perfectly fine containers, BUT the lids are nowhere near airtight (some of them are quite loose, in fact). So: They're ok. Until I find something better, I guess I'll keep buying them, but I'm not over the moon about them...
March 10, 2016
Rated

3

out of

5
 by
TaylorT
Too small
While these are called 3 oz spice bottles, they aren't big enough to hold all of the spice from a standard size spice container like you buy at the grocery store, which is between 1.5 to 1.75 oz usually. I wanted to transfer all of my spices to these so they match but I have to return because I don't want to be wasteful. It just doesn't seem realistic in the long run. Disappointed these are smaller than advertised.
March 3, 2016
Rated

4

out of

5
 by
mstv
pretty good product
These are pretty sturdy jars. The lids are not too sturdy and if the lid breaks you can't buy a replacement from the container store (I've checked). I like the size and the fact that you can buy as many or as few as you like. The white plastic lids fit snugly on top but can be a little tricky to close at times - have to make sure the threads are lined up just right.
December 30, 2015
Rated

5

out of

5
 by
noram
Fit My Needs Perfectly
My husband has made a spice rub for meat, fish, poultry, potatoes that has people asking for the recipe. We have given it as a hostess gift before. This year I ordered a dozen of these spice jars so that we can fill them with the mix for a small goody basket for Christmas gifts. I also ordered the metal spice funnel as the plastic ones have a static charge that causes fine spice particles not to want to slide through.
December 1, 2015
Rated

5

out of

5
 by
GailBout
Great!
Had purchased some bagged spices that were making a mess of my cabinet, now all is neat. I was glad that I had labels. It would've been nice if they came with a label.
November 22, 2015
Rated

5

out of

5
 by
Lilygrace
This is my 3rd Order for these spice bottles.
I made a set of 2 dz bottles to fill with my own fresh grown herbs & spices as well as spices from our local Health Food store. Buying them there, I know they are fresh, 2 scoops fill a bottle and I have all the spice and herb varieties I cook with. My husband made a spice drawer in the kitchen so all bottles are slanted. I get SO many complements. I made a set for my youngest son when he got his first apartment by himself and with this order. Now I am making a set for my oldest who has his own apartment now. By the way, the herbs at your health food store are a fraction of the price you pay at the grocery stores.
November 17, 2015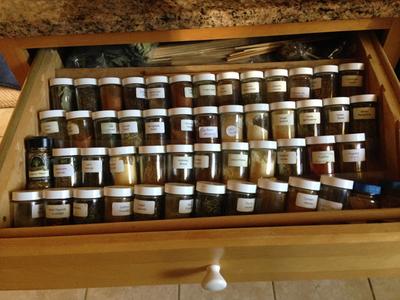 Rated

2

out of

5
 by
TreeDoctor
Near Miss
My criteria for spice bottles were straightforward: 1) suitable size, 2) ability to form an air tight seal to preserve freshness, and 3) ergonomic design. This seems so simple, yet so hard to satisfy. Flip-top caps are not acceptable, as they don't seal. These bottles come close, but will seal only when the plastic shaker top is in place to serve as a gasket. I don't want these, though, as they are useless except for powders... and even then, I would rarely use the shaker. It's just an added inconvenience to remove and reinstall with each use. (ergo non-ergonomic). I've been experimenting with gluing the shaker caps permanently into the lid with epoxy. This works, but is time-consuming, and tricky to get aligned. Also, with the shaker caps permanently installed you can't simply screw on the lid, as some downward pressure is needed to snap it on before twisting to tightening. If these caps came with a simple wax-coated cardboard gasket, they would be perfect. Back in the day, before things became "new and improved", I probably could have gotten them this way. If these details don't matter to you, then you'll be fine. After all... They're just glass bottles. One more comment for people ordering a large quantity, I ordered 20 bottles at $2/pc. It turns out, though, that The Container Store Sells an entire spice rack with 20 identical bottles for $36 ($1.75/pc) or 18 bottle rack for $30 ($1.67/pc). I could have saved money by purchasing the kit and thrown away the rack. As this would be wasteful, wouldn't it be better if they would offer a quantity discount?
September 27, 2015
Rated

5

out of

5
 by
Shar523
Bottles for spices
I bought the glass bottles with metal caps. I was delighted to find they come with inserts with holes. I didn't need them for every bottle, but it was great to have them for spices that should be sprinkled.
September 4, 2014
Rated

4

out of

5
 by
amandajclark
Nice little bottles for all kinds of spices!
I got these bottles to go with the 3-shelf iron spice rack in pewter. They fit perfectly and I was impressed at the quality - both the glass bottles and the chrome lids. I also liked the sifter/filter piece that snaps on so you can shake the spices out of the bottles. I removed it for spices like bay leaves, and red pepper flakes, but they work well for all others. Love the look of these too, and plan to label them for easy identification. A great choice for a new spice rack!
June 27, 2014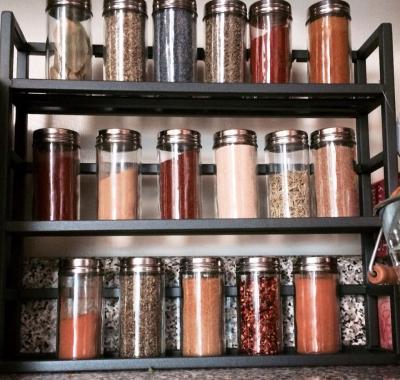 Rated

5

out of

5
 by
kelisk8s
Chrome looks classy
I love the chrome topped spice jars! They look so polished in my spice cabinet. I was trying to get my spices in the same size containers and this made them look very fancy :)
May 3, 2014
Rated

5

out of

5
 by
Craftyone
Great jars
These jars are perfect for my spice rack. Not as bulky as the small containers from the grocery stores. I can now buy my spices and herbs in the bulk section.
March 17, 2014
Rated

5

out of

5
 by
Tracey1972
Very good value!
Very nice product. Better than I expected! The only thing that I didn't like was that each individual jar had a sticker that had to be removed and it left sticky residue on bottom of jars so I had to use goo-gone. Extremely happy with the product itself. I originally purchased 45 bottles and just received a second shipment of 20 more. The stickers on the 2nd shipment were far easier to remove.
January 27, 2014
Rated

5

out of

5
 by
hathor
A wonderful find
We recently remodeled our kitchen. One goal was to organize our many spices. The remodelers added a narrow pullout that seemed perfect, until I discovered the interior dimensions -- slightly too narrow to fit in two rows of standard spice jars on each shelf. I researched thoroughly and could only find these jars that are slightly smaller in diameter than average. They work perfectly. It looks like I planned it this way! I do have some leftover spices in the jars they came in, but that isn't the fault of my new jars. Smaller jars can't hold as much. (There are some spices you can buy in smaller quantities, but that wasn't what I had on hand.# I just put the extra into storage. Now that it doesn't take forever to find spices #we bought 80 of these jars, labeled them on top, alphabetized, and put them in order on the pullout rack), our lives are much easier.
January 12, 2014
Rated

4

out of

5
 by
Nadah
Spice jars
Nice glass jars that fit into cabinets very well. Clear glass makes it very easy to see the contents.
July 2, 2013
Rated

3

out of

5
 by
LadyL
Handy Size
For my purposes this is a good size. Most glass spice jars with shaker tops are 4 oz. or larger. I would love to find an even smaller size, (2 oz. ) glass spice jar with a shaker top. That said, I am happy to have found these.
April 30, 2013
Rated

1

out of

5
 by
PeninsulaLiving
terrible quality
Very excited to get the big box of 60 bottles so that I could completely revamp my herbs and spices. Of the first 8 bottles that I unpacked, the lids would not screw back onto three of the bottles after being unscrewed. The quality was just terrible. I didn't bother to unpack the rest and will just sent it all back. Very disappointed.
April 28, 2013
Rated

5

out of

5
 by
Odornd
Simple and Elegant
I have about 20 of these spice jars that are on rack, displayed in the kitchen. I like that they are glass as it keeps the spices well. The tops can be written on with acrylic paint to label your spice and it easily wipes off when you want to change it.
April 23, 2013
Rated

5

out of

5
 by
Deedee13
Great spice holders
I have purchased two in the past and decided to have all my spices in these bottles.
April 21, 2013
Rated

5

out of

5
 by
bakinggirl
Simple but perfect spice bottles!
I decided on these spice bottles because they were economical, simple, clean and modern looking. I redid all of my spice jars, filling them all in these bottles, labeled them with my label maker and wonder why I didn't get around to doing this sooner! I know exactly what I have and my spice cabinet looks beautiful for the 1st time since I can remember!
March 29, 2013
Rated

5

out of

5
 by
RV84
Amazing !
Bought like 10 of these for all my spices..they look amazing and also are excellent for storage! A MUST BUY!
March 29, 2013
Rated

5

out of

5
 by
SmartSulu
This Spice Girl loves them!!
Just bought 12 and washed and filled them out. Loved the look, size and how they feel. I cook a lot and will buy more of these today!!
March 26, 2013
Rated

5

out of

5
 by
MarcyL
Simple and attractive
These jars are the perfect size for any spice rack, the lids fit well and the shaker top means you can put a spice blend inside and just shake it onto your food. I buy them by the dozen to give blends to my friends.
March 19, 2013
Rated

4

out of

5
 by
SamSawyerMom
multiple use spice bottle
I purchased 12 bottles to use for a craft with my 3rd graders to make oil diffuser perfume bottles. I only needed 9 of the bottles and they worked great for the project. The only complaint is that the bottle does not seal enough with the cap on to hold liquid in without leaking. So, not the best choice for a liquid use. I used the remaining 3 bottles for extra spices, and so far they are working great and keeping the spices fresh.
March 18, 2013
Rated

5

out of

5
 by
MarisaI
Great for spice storage
These are great to store spices! Makes it easy to see how much is left of your spices. Labels fit perfectly on the container. And if you use it for all of your spices, it creates a nice neat look in your spice drawer or rack.
March 18, 2013
Rated

4

out of

5
 by
samp
works for me
Always looking for the perfect storage containers.... found it.
February 19, 2013
Rated

4

out of

5
 by
AlyMN
Beeyooootiful spices!
I just replaced my hideous mass of mismatched spice bottles, bags, and jars with a set of 61 of these lovely glass spice bottles. I added the Linus acrylic risers and some labels, and now I have a perfect solution totally customized to my space. What was a disorganized, ugly mess is now beautiful -- easy to find, easy to use, and no longer embarrassing when I open the spice cabinet in the presence of company. And I'm going to save money in the long run -- I will no longer have 3 containers of Allspice because they get lost or aren't visible. The glass is great too -- I hate plastic, and that makes it easy to see the spices in the containers. Highly recommend. My only minor complaint (hence 4 stars) is that the lids seems just a tad weak, but not enough to cause me great concern. Lovely product -- my spice cabinet finally feels under control. What a good feeling.
February 18, 2013
Rated

5

out of

5
 by
doglover1619
3 oz glass spice bottle
Best purchase for all my spices. Terrific! I can't wait to put all my spices in them. They stack well, much better than little cans and they look really nice.
January 21, 2013
Rated

4

out of

5
 by
Divasmith6
Nice design, funky lid
These spice bottles has a wonderfully slim profile but the lids don't always want to thread on properly. For the price I don't consider the lid a deal breaker.
November 12, 2012
Rated

5

out of

5
 by
Wisconsin
3oz. Spice bottles
Love how my spice shelves look with these bottles!
July 15, 2012
Rated

5

out of

5
 by
SherryinLB
Perfect
I love to cook for my family and friends. I buy many of my spices from an online source so I need a container to make them easily available for use. These jars are perfect for the job. They have a shaker top for easy dispensing and a tightly fitting cap. Thanks Container Store!
March 3, 2012