< Return to Product Page
Customer Reviews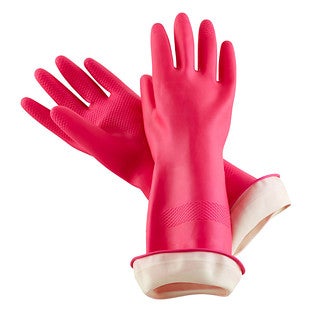 Casabella WaterBlock Gloves
Overall Rating:
Customer Reviews
Rated

2.8

out of

5

 by

21

reviewers.
Rated

4

out of

5
 by
oldenoughtoknow
Good gloves, poor sizing
These are outstanding gloves -- durable, pliable, nice and long. However, even the warning on the website about the gloves running small fails to capture the fact that a Large is not much bigger than a Medium. In their old incarnation, I was surprised to find that a Medium fit me. Then the gloves were no longer available for awhile. When they came back on the market, the sizing was and is problematic. I mistakenly ordered a Medium of the "new version," followed by a Large when the Medium was too small. The Large is still uncomfortable, and the gloves have not stretched much with 5 or 6 uses. If you have large hands (mine are size 7 1/2 or a bit more), be very careful.
August 29, 2016
Rated

1

out of

5
 by
Lacie4460
No Longer Good Quality
These gloves used to be the gloves I raved about and drove 10 miles for...when I didn't need anything else. Now I use generic, store brand...the ones I never would have purchased before, and for less than half the price. I believe Casabella's sales must have suffered by now and that based on that, they would make the changes necessary.
August 13, 2016
Rated

2

out of

5
 by
THEmaid
can we accommodate larger hands
I wear a size 8 leather glove and the large gloves are too small (are hard to get on and off). Can The Container Store request that Casabella carry an x-large.
April 9, 2016
Rated

1

out of

5
 by
Andy14
Casabella Changed These Gloves for the Worse
I used to love these gloves and did not mind paying the extra $ for the quality. They changed manufacturers in the last year (probably to save money) and the new and improved ones are awful. Gloves you can buy at the grocery store are far superior to the current Casabella WaterBlock Gloves. Do not waste your money on them. I plan to return the several unopened packages I have. I will buy a competitors brand for a fraction of the price and at least be satisfied.
April 6, 2016
Rated

1

out of

5
 by
Texaslynn
Why did they change the design?
I have used and loved these gloves for years but Casabella has changed the design. The wrist opening is much smaller than it used to be and I almost couldn't get my hand in and out of the Medium size that I've always worn. I tried buying the Large size and I can still barely get my hands in and out of the gloves. I won't be buying these anymore.
March 10, 2016
Rated

1

out of

5
 by
organizer08
Out of Date Reviews
Please note, these gloves used to be the best ever. Then, in 2015 they were re-tooled. The result is a thinner very tight glove. The Container Store should remove the reviews for the product given before mid-2015. I waited patiently for the re-tooled gloves to emerge. What a disappointment. They are only for people with narrow hands, in all sizes. I sized up as some have suggested but they are still not right. They go on fine. The problem is getting them off.
January 14, 2016
Rated

1

out of

5
 by
BadGloves
Casabella RUINED the best gloves ever
I loved these gloves and I waited patiently until the company brought them back. Much to my disappointment, they changed the factory (and country) in which they are manufactured and the result is appalling. Difficult to get on and off Size is smaller After 6 uses, the gloves are sticky and I think breaking down Not worth the money or the long wait!
January 8, 2016
Rated

3

out of

5
 by
TMc913
Why are they smaller???
These have always been my favorite gloves - bar none. But now that they are (finally) back in stock, they run small. I've always bought the Large size and now even those are tight and really hard to get off. Please please fix the sizing!
October 23, 2015
Rated

1

out of

5
 by
JoyceDana
Terrible gloves
Unfortunately, these Casabella pink gloves are not the same as the older ones I had purchased a few years ago. The gloves are too small (my hand size is 7, so I bought a large), and they are too thin. I'm planning to return mine. I do not recommend these at all and I'm very disappointed to say the least, because they were once a really good glove.
August 3, 2015
Rated

5

out of

5
 by
bzie
So glad these are back!
I couldn't wait till these returned; they have been away for a few years and I have surely missed them. No product on the market compares with them. I will say that I have always ordered a medium and this particular batch seems a bit snug in the hang this time, but but but.... still love my Casabella gloves. My five year old ones looked sooooooo sad in the basement by themselves!
July 27, 2015
Rated

4

out of

5
 by
2iceblest
Good Gloves
Beware. They run small and narrow. I usually take a medium in other gloves with plenty of room, but even the large is tight in these.
July 26, 2015
Rated

1

out of

5
 by
pglad
Not what they used to be - disappointing
I have used Cossabella gloves for years and been devoted to the brand due to their comfort and durability. I backordered 3 pair and was relieved when they finally came in as I am on my last old pair. I eagerly picked them up today and was dismayed to discover that the lining has changed. These gloves used to have the most comfortable lining of any rubber glove and were easy to get on and off. Due to skin problems I need rubber gloves and have been so grateful for their comfort. However, the new pair is sticky on the inside just like cheap gloves from the hardware store. And I had to pull them inside out to get them off, also like cheap gloves from the hardware store. Very disappointing.
July 20, 2015
Rated

5

out of

5
 by
JoanieD
Best Gloves Ever
Water Block gloves are the best gloves I ever used. Hope you will continue to sell them. Hands do not get sweaty. These gloves last a lot longer than other brands. The color is terrific too.
July 10, 2015
Rated

4

out of

5
 by
kittykatz
nice these gloves, but...
Love these gloves and I used them for many years. I have been waiting for them to be in stock for 5 months. BUT the medium size is smaller than the medium purchased over the past years. Too bad.
July 5, 2015
Rated

1

out of

5
 by
princess955
Buyer Beware
I previously had bought these gloves and LOVED them. They were my favorite gloves. Then they ran out and I had to wait for the company to resupply them. I appreciate that they kept people informed as to when the gloves would be back in stock. What I don't appreciate is that I tried to post my review of the new gloves on their site and it seems that they are picking and choosing which reviews to post. I believe they don't want people knowing that these gloves are different and not the same quality as the originals. What a disappointment. They actually seem very similar to other name brand gloves on the market. 1. the inside no longer seems to have the flocking they had. if any does exist, it's minimal and the gloves stick to your hands, making it difficult to put them on or pull them off. 2. These gloves run smaller. I ordered the largest size they have and it feels like I am wearing a small. I originally had given these gloves an average review but my review has yet to be posted. If you go on their Facebook page you can find people saying similar things about their new gloves.
July 1, 2015
Rated

3

out of

5
 by
Dec08Baby
Not the Same Casabella Gloves I've Loved
I love the Casabella "WaterBlock" Gloves and have used them for years. They have become increasingly difficult to find, so when I saw them on here, I was so excited I bought several. These, however, are not the Casabella gloves I've loved. The rubber is thinner and stickier, and the "waterblock" cuff does not fold over the same way as the old ones. I'm not sure why the company has changed their tried and true design, but if you're looking for the originals, these are not them.
June 28, 2015
Rated

5

out of

5
 by
BarbLynn56
Love these!
My sister in law gave me a pair of these many years ago and I have loved them ever since. They are durable and last about 2 years per pair for me. Highly recommended!!!
June 28, 2015
Rated

2

out of

5
 by
ConCon
Quality not as good as before
I have purchased these gloves in size med for several years at a local hardware store. When they discontinued carrying them, I found that The Container Store carried them I ordered 4 pair. They are not the same quality as in the past. The medium was too small and there was no lining (some sort of flocking) which made it easy to put on. I kept 1 pair because I opened the box and like the long cuff and reordered 3 in large. Hopefully, I will be able to put these on without any trouble (skin sticking to the rubber when putting them on/off). Hope this review helps when considering ordering, order 1 size up.
June 25, 2015
Rated

3

out of

5
 by
WarmSunnyDay
These are not the same Casabella I remember
I have looked for Casabella gloves from other retailers for years. I stocked up and didn't have to buy any until this summer. A little internet search showed me that The Container Store had them for the cheapest price. But, when I received these gloves from Container Store, I put them on and right away realized they were tighter and thinner than Casabella gloves I've purchased in the past from other retailers. After four days I realized they were less durable; after four uses they already have a little leak in one of the fingers.
June 25, 2015
Rated

5

out of

5
 by
badxmpl
Best gloves!
These gloves are terrific! They are comfortable and of very good quality. They are very hard to find right now as the manufacturer seems to be behind on distribution or something (per the manuf. website)...
January 9, 2015
Rated

5

out of

5
 by
IndShopper
Best Rubber Gloves EVER!
Due to an unfortunate Thanksgiving injury - I sliced the base of my thumb with my mandolin (which I have thrown out) I had my had bandaged with gauze and needed to keep it dry. To do that and continue with Thanksgiving prep, I bought a pair of these rubber gloves. They saved the day. The gloves are comfortable, breath, and easy to wear while cooking, cleaning, and anything else you need to do. They even worked on the touch screen of my iPad which is where all my recipes were stored. I would recommend them for any and all situations a rubber glove is helpful. Previously, I would only have used a rubber glove when cleaning. Now I will use them any time I want to protect my hands - including cooking and keeping wounds dry! I am a bit accident prone when it comes to sharp objects! The neon pink is a happy color and the cuff works. What's not to love?
November 28, 2014