< Return to Product Page
Customer Reviews
Cork Self-Adhesive Drawer & Shelf Liner
Overall Rating:
Customer Reviews
Rated

4.3

out of

5

 by

21

reviewers.
Rated

3

out of

5
 by
charmae
Cork Self Adhesive Liner
I recommend this product ONLY if you plan on it being there FOREVER! It will bubble if any debris is left under it..including the little flakes that fall off from the cut edge. It also is impossible to wipe clean.
August 9, 2016
Rated

3

out of

5
 by
Patsy123
Difficult to work with
I bought a couple rolls of this to use on a pantry shelf, which required making a template first. Once I cut it out and started peeling off the back, the cork started to crumble regardless which end or area I tried peeling. The instructions say to use a hair dryer if you have problems, so out came the dryer. That softened it up some, but then the adhesive on the cork started separating. I finally got the backing off--the entire backing in little pieces, and the project completed, but it was extremely frustrating. It looks ok, but what should be one nice long application, is in sections because it needed to be pieced here and there where it had crumbled.
September 19, 2014
Rated

2

out of

5
 by
Jordac
Works but adhesive may damage your cabinets
This cork liner works nicely for the most part, but after having it installed for 5 years, it did not come out of the cabinets without a serious fight. Particularly where the heaviest pans had been sitting, the adhesive was basically permanent. We had to struggle to peel this off, and most of the adhesive was left behind on our cabinet bottoms. I literally had to sand off the adhesive with my palm sander (we were renovating the kitchen and painting the insides of the cabinets anyway) and it took an entire day.
March 28, 2014
Rated

5

out of

5
 by
Red20011
My cabinets look amazing
We revamped our kitchen and I used the solid easy white liner on the upper cabinets (which will have glass doors) and the cork adhesive liner on the bottom cabinets and drawers (which will have solid doors). The adhesive was easy to use and I was able to adjust a bit if I had to. Cutting was also pretty easy as there are guidelines on the back (this was hugely helpful). And the end product looks AMAZING! Softens noise, keeps things from shifting as drawers open and close, etc. Really happy with this purchase!
February 24, 2014
Rated

3

out of

5
 by
Soccergirl
Depends what you want it for
Very thin. I was using it to line the back of a photo frame so it was perfect but it is very delicate... cracks easily. I am sure it is fine for a drawer liner.
February 19, 2014
Rated

5

out of

5
 by
RavineLiving
Love this stuff!
We just updated our kitchen and these liners were one of the last pieces, AMAZING! I do agree with another post, could become expensive with a massive amount of drawers. *Easy to install *items do not shift in drawer *dampens noise *looks great
November 6, 2013
Rated

5

out of

5
 by
Kelly4sure
Love, Love, Love this stuff!!!
The things I like about this cork liner are as follows: *Items don't slide when drawers open & close *Makes drawers quieter because things don't bang around *Re-positionable when you are first working with it, but sticks once you really press it down. *Protects wood shelves if your glassware or dishes are not completely dry when coming out of the dishwasher *Looks like it was factory installed-very professional I have only had this for a few weeks and can't speak for how it wears over time or ability to clean. I had a kitchen renovation and the cabinet rep was out and saw the liner and thought it was a great idea and product. If you have a lot of drawers and cabinets to line it can be a bit pricey. My suggestion would be to do a little at a time as you can afford it, because it seems to be worth the cost. Installation note: If you are a sewer or hobbyist and have the rotary cutting system use an old blade and the installation of this liner goes much quicker and looks more professional.
September 30, 2013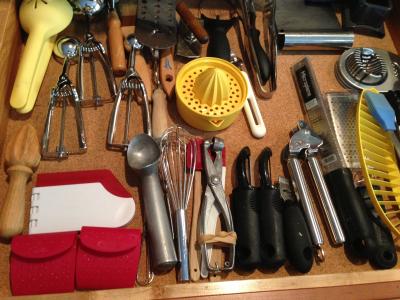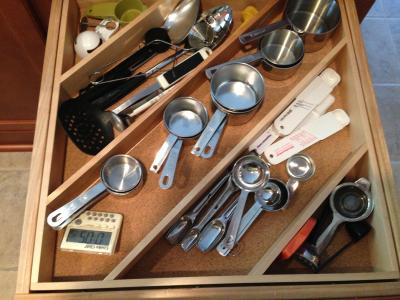 Rated

5

out of

5
 by
allmappedout
Great craft project resource
I actually use these cork rolls to serve as the protective backing on ceramic coasters that I make (decoupaged with vintage maps). It is easy to cut and work with and the self-adhesive aspect makes application a breeze. You can also apply stamps to them and they show up great (I put my business name on them). I can think of many other uses for these rolls as well, outside of the drawer or shelf. Great multi-purpose craft supply to have around!
March 18, 2013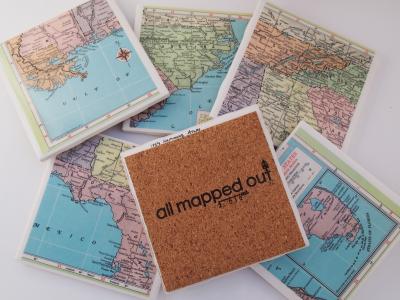 Rated

5

out of

5
 by
Freemoose
Nice look and feel!
I got tired of my old shelf liners lifting or bunching up when I pulled dishes from my cabinet. So, I installed these cork liners and am very satisfied. They gave new life to my old cabinets and provide a solid surface that will not move. You have to make sure that the shelf is well cleaned before installation or the adhesive may not stick well. The liners have cutting grids on the reverse side to help achieve a straight cut.
October 26, 2012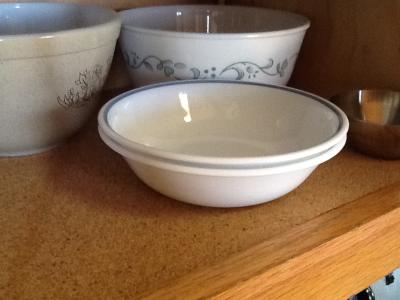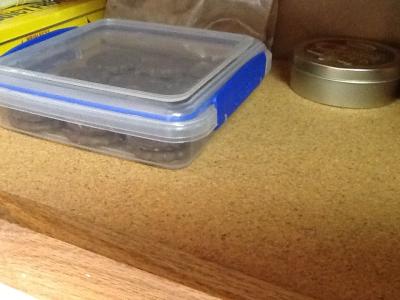 Rated

5

out of

5
 by
Xiep
Beautiful and real
Came quickly. Went down/on easily. Is beautiful and functional.
October 5, 2012
Rated

4

out of

5
 by
MaryO
Alright Purchase
I like the look of the cork however it does not stick very well to my wood shelves. After using rubber cement to attach corners the liner looks great!
September 7, 2012
Rated

3

out of

5
 by
beejherm
Happy with all but one thing...
After doing the math I purchased three rolls to cover the inside of 4 drawers. After maticulously measuring and cutting, the cork didn't fit squarely into the drawer not once, but twice. I finally realized that the grid on the backing of the roll wasn't square because it was wrinkled and simply placed unevenly. One entire roll wasted. After figuring that out I had to mark the correct square pattern on the backing made hard by the confusion caused with all the preprinted uneven lines already there. Other than that, it is decent quality although thinner and prone to crack or tear on the edges when inserting. Additionally, I suppose the adhesive was made to be easily removed, but I found it to be not strong enough causing slips and bubbles.
May 15, 2012
Rated

4

out of

5
 by
Boolittlek
good investment
I got tired of seeing the beaded grip liners in my kitchen bunch up like crazy and stick to items in cabinets. I got the cork liner and used it for my drawers and upper cabinets. It's a huge improvement--it looks and performs great. I bought 12 of the smaller rolls and 1 of the larger ones. There was no tearing at all with the smaller rolls and only slight tearing with the larger roll. Be advised that there are no grid lines on the smaller rolls (and their paper backing has a waxy coating that makes marking a little difficult). I would definitely recommend these.
May 6, 2012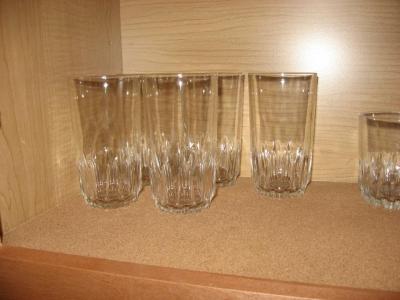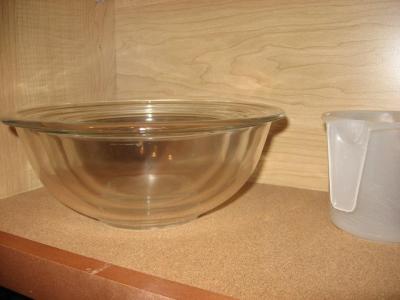 Rated

5

out of

5
 by
NanaJoyce
wonderful sound dampening and they look awesome!
I put these cork drawer liners in the kitchen drawers and have found that the noise of the stuff in the drawer is nearly nonexistent, they create a softening effect and they look so awesome! I LOVE them! they were very easy to cut into shape and then place in the drawers and I'm so glad I got them. I'm putting them in my craft room drawers and in the cellar storage drawers too! Best drawer liners I've ever had!
April 27, 2012
Rated

5

out of

5
 by
Michel1
Best for kitchen
Never heard of a cork shelf and drawer liner before, but now I swear by them in the kitchen. These absorb any residual water from the dishwasher easily. My only complaint is I prefer the tacky-backing where you don't have to peel and stick.
March 22, 2012
Rated

5

out of

5
 by
MRPC
Has other uses
I used it to make a cork board of my own for my boyfriend's office. I wish they had a thicker version but this worked great.
March 13, 2012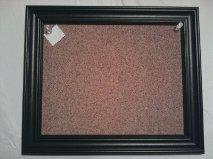 Rated

4

out of

5
 by
coffeemom
Nice shelf liner
This shelf liner arrives in a roll like most liners. It was easy enough to install. My only complaint would be that as you unroll the cork it does tend to split or tear. But I like that it is mold and mildew resistant so that I can put clean glassware away without worry.
February 15, 2011
Rated

5

out of

5
 by
Crosstitch
Great for pots and pans
This is a great solution to the noisy shifting of pots and pans. My previous liner (rubber) bunched up and became a nuisance. I've started to replace all kitchen drawer liners with cork. And my husband is now using it in his tool drawers. Previous post about using scraps for smaller applications is a good idea.
January 30, 2011
Rated

4

out of

5
 by
Dita
Clatter free drawers
cork liners keep knives from sliding around, keep things neat and quiet. A little on the thin side, with a tendency to tear, still a great product and easy to apply.
January 7, 2011
Rated

5

out of

5
 by
bearmike
Cork Self-Adhesive Drawer & Shelf Liner
The container store was the only place I could buy the amount I needed for our kitchen remodle. Adds class, keeps items from sliding around, quite and easy to work with.
October 15, 2010
Rated

5

out of

5
 by
DucksGirl
Great Drawer Upgrade
This sheet cork is perfect for renewing old drawers. Because of the cutting lines on the back paper, it was easy to cut and laid down really nicely. It looks fabulous as well. I am saving the scraps to put on the bottoms of lamps to keep them from scratching table finishes.
September 6, 2010