< Return to Product Page
Customer Reviews
Klip-It Lunch Cube-to-Go
Overall Rating:
Customer Reviews
Rated

5

out of

5

 by

6

reviewers.
Rated

5

out of

5
 by
HMac
Love this snack pack
No excuse not to do food prep now! I hate ziploc containers and having a million boxes and bags for my lunch not to mention snacks at work. Problems solved now! There's plenty of room for snacks and lunch in this and it allows me to still be healthy at work while not spending a fortune at the break room each day.
June 10, 2015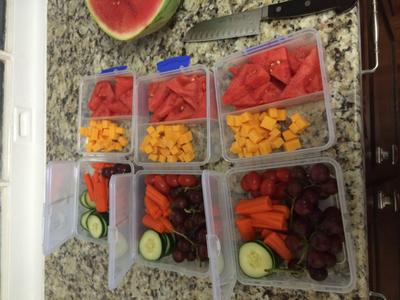 Rated

5

out of

5
 by
LisaN1
Great lunch keeper
I have a high school age son. This container works very well for him. I can make him 2 sandwiches (on sandwich white, larger slices are a tighter fit but doable), a snack, and a few cookies. If you like a thicker sandwich with more fillings you will only have room for one. I like that I am no longer buying the individual wrap chips and cookies, and have even ditched the brown paper lunch bags. They are not liquid safe, so you will need to put an additional container if you want to include a dip or hummus. Container store does sell a small 4pc round set that fits, you do have to search for one that is not too tall if you want to put it inside the container itself.
March 19, 2015
Rated

5

out of

5
 by
Merry1
Just what we needed
Like another commenter stated, I too was looking to decrease the number of plastic bags and containers I was using. I liked that this had multiple compartments and is all one piece. It is also very easy for my first grader to open. One thing I've been doing for him is making homemade Lunchables, putting meat and cheese in one of the small compartments and crackers in the other. The flip side gets a treat and some fruit. He loves it! And I can control the quality of the food and especially, the salt. I would definitely recommend this product.
September 4, 2013
Rated

5

out of

5
 by
DawnF
handy, works great!
perfect size for my son's school lunch. easy to fill, close and toss in the lunch bag. good construction.
April 26, 2013
Rated

5

out of

5
 by
fernif
Great for kids lunches
I searched a long time to find a good system for my kids' lunches. One was starting kindergarten and the other preschool. I had a few goals in mind: 1. Minimize the number of containers in my kids' lunch boxes to make it easy on them and so they don't loose any 2. Minimize any potential spills 3. Easy for them to open 4. Enough space for a main and a couple of sides This cube does all of the above- it's perfect! I bought four of them so when two were drying after being used, I could pack the other two for the next day. It's a great size for kids and adults alike. A full size sandwich can fit in the large compartment and the two smaller compartments are great for anything. I've put cut up fruit in one and it didn't leak into the other compartments. I have nothing bad to say about this product- it is great!
April 2, 2013
Rated

5

out of

5
 by
TheBadGoGo
So Handy
I recently returned to the work force after a long medical hiatus, and was looking for something to make healthy lunch-packing clean and easy. I really like the lunch cube's design. The sandwich compartment has a hinged separator which seals lightly, keeping its contents from commingling with the others. The whole cube seals tightly, keeping your foods smells well-contained and not permeating the communal fridge. Easy cleaning and storing. I pack 5 at a time so I can just grab a Cube and go in the morning.
February 16, 2013