< Return to Product Page
Customer Reviews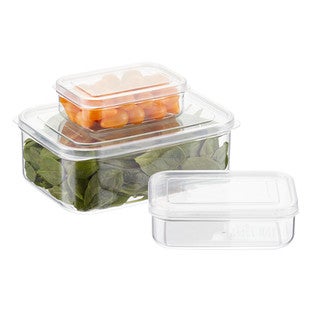 Crystal Clear Rectangles
Overall Rating:
Customer Reviews
Rated

4.4

out of

5

 by

9

reviewers.
Rated

5

out of

5
 by
FlowerPower
FlowerPower
Well, I have to admit that I thought the lids on these containers were green... because of the celery in one of them! My bad. I still love them, they're just the right size, the lids are flexible and easy to use, and there is a little "tab" on every corner of the lids so it doesn't matter which direction you put them on. Trust me, for someone picky like I am, that matters.
July 24, 2014
Rated

5

out of

5
 by
HornyToad
Excellent Container
I bought the 22 ounce size a couple of years ago and discovered it is perfect for storing cream cheese. The container is a little taller than most so the lid is not too close to the top of the cheese. The lid is crystal clear unlike most other brands so you can see the contents. The store did not carry these for a long time afterwards but thankfully they have them back in stock. I bought several more.
June 13, 2014
Rated

5

out of

5
 by
spider926
great product
Excellent products! Looked for something that could go from refrig. to microwave safely and also be used for storage. This product fit the bill. Saved me time by finding the products online and having them shipped directly to me.
June 9, 2014
Rated

5

out of

5
 by
Shadowangel
NUMBER ONE FAVORITE PRODUCT-WORTH EVERY PENNY!!
I thought that my favorite thing would be that they are clear (which is why I chose this product to try) and this is one of my favorite things but the number one thing is I CAN'T believe how FRESH they keep your vegetables!!! It's amazing. I have tried numerous products and nothing ever keeps my vegetables this long, or this FRESH I'm NOT kidding you!! If I could afford to fill my entire refrigerator with these containers, I would! The other thing I love is that right away I can see what's in the container. The container is just overall made well but I think that above looks and the clear see through part that keeping you're food fresh for as long as possible is the most important thing, who wants to throw money away on food!
April 25, 2014
Rated

1

out of

5
 by
Orgnzr
Seal Fails
I washed these before I used them (dishwasher, top rack) and now the lids don't seal tightly. I know I could return them, but I like the way they look, so I will use them carefully, but I won't buy them again.
October 9, 2013
Rated

5

out of

5
 by
klutterbusterkim
Love these Containers!
These containers are excellent because you can see what's inside them! This means: - left-overs are more likely to be eaten - easy to see contents. - reduction of "science experiments" in the refrigerator (we use labels with dates too!) The containers also nest well -- though I prefer to keep them sorted by size. Do not put the covers in the microwave. They disform (it says that in info, but took us wrecking a few to realize the issue). Containers do fine in micro and dishwasher. (tops OK in dishwasher too.)
March 19, 2013
Rated

4

out of

5
 by
rarehare55
I like it but.....
I gave this product 4 stars because the lid to this item is thin plastic. That surprised me because the container is much heavier plastic. I haven't used it long enough to comment any further. The container size is perfect for small leftovers and I like that it's clear.
November 4, 2012
Rated

5

out of

5
 by
Brooklein
Great storage container
Really pleased with these - my husband uses the middle size to take his lunch to work because it slides easily into a briefcase. I like the smaller size for leftovers. They're sturdy, they nest beautifully, and so far they're not discoloring from use.
May 5, 2012
Rated

5

out of

5
 by
Verified Reviewer
great for bathroom storage
i bought a bunch of these and use them to organize products in my bathroom.
February 15, 2011