< Return to Product Page
Customer Reviews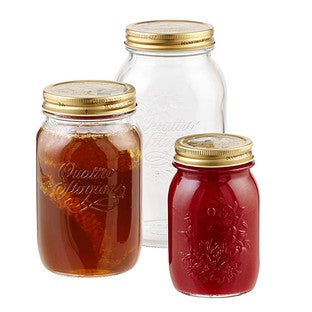 Quattro Stagioni Glass Canning Jars
Overall Rating:
Customer Reviews
Rated

4.8

out of

5

 by

41

reviewers.
Rated

5

out of

5
 by
SunshineState
Great Jars for Smoothies!
I purchased these for the large capacity, wide opening (easy to clean) and because they seemed sturdy (they are). Wasn't sure how I'd feel about the solid lid, but I love it -- we've had several for more than a year and with daily use, no leaks yet. The 34 oz jar is great for drinking large smoothies with a straw. I also store carob powder and shredded coconut in a few of these and keep them in the fridge. They look beautiful.
December 6, 2011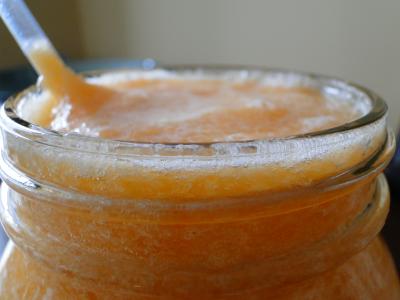 Rated

5

out of

5
 by
FlowerPower
FlowerPower
I use these caning jars for sauces, nuts, and even snacks like olives and pickles. That's the great thing about these, they come in various sizes and you can put wet or dry food in them. Attached is a photo of how they look in my VERY well organized frig... thanks to the Container Store (I also included this photo on my review of the 34 oz. Quattro Stagioni bottle).
July 24, 2014
Rated

5

out of

5
 by
jendickinson
Great for Lunches
I pack salads in the 34oz jars for lunch (dressing on bottom, toppings in layers in the middle, greens on top). It is the perfect size for an entree salad and saves loads of money versus fancy takeout salads. The glass jar and tight closing lid keeps them fresh for days.
July 17, 2014
Rated

5

out of

5
 by
Jihene
Good
affordable, easily cleanable wide mouth just started cabbage culture in it so far so good
July 3, 2014
Rated

5

out of

5
 by
Julianne
Great Purchase!-Multi-purpose product!
My sister recently bought a new home and I wanted to put together a fun, creative and useful DIY housewarming gift. I saw this craft on Pinterest and set off to gather the supplies. After searching high and low for a mason-jar-esque looking vessel, I knew that the Container Store would have everything I needed and more. I purchased 4 of these canning jars to begin. The housewarming gift turned out beautifully! It is functional and charming and dare I say thoughtful! I love the Container Store because there are mix and match items that you can purchase for your own individual needs and inspire you to create and organize a space to make it your own.
April 28, 2014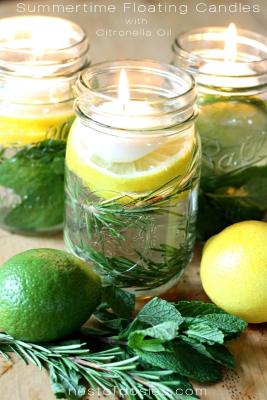 Rated

5

out of

5
 by
alpal924
Perfect Little Jars
I don't do any true canning, but I love these little jars for storing beads and art supplies. Since the jar is a twist on lid, items are secure.
April 25, 2014
Rated

5

out of

5
 by
Holiday009
Perfect
I was looking for a beautiful glass jar so that I may place spices bought from Provence, France in it. I bought Herbs de Provence and Lavender and Thyme from AIX and Nice, France. These jars are perfect! They keep the spices fresh. I can see myself using the jars for other things after the spices are all done: for homemade jam, for drinks.
March 26, 2014
Rated

4

out of

5
 by
myreviews
Good Storage
Love it! Great for storing my sauce. The reason I gave it 4 stars instead of 5 is because the cap or lid does eventually leave rust spots. They can inexpensively be replaced however, just an inconvenience. I would feel my food is safer if they would come out with a lid that doesn't turn.
March 18, 2014
Rated

5

out of

5
 by
PinkPlanet
Just what I was looking for
These are great lids. I believe they fit most Mason jars, large & small, and are BPA free. They are each one piece, not the two piece lids used in the canning process, making it more convenient to store food & drink.
March 15, 2014
Rated

5

out of

5
 by
Stef3
Great!
Used the container for a valentine's day present! It was perfect for what I needed.
February 24, 2014
Rated

5

out of

5
 by
sherrell
great jars
I love these jars. Nice and heavy. Food tastes so much better stored in glass. Because of the raised embossed design on the outside, they are easy to hold, even when wet.
January 1, 2014
Rated

5

out of

5
 by
SeasTheDay
Beautiful and Functional Jars
I love these jars. I have every size. I use them mainly for storage: Flour, Rice, Spices, Nuts, Pasta, etc - basically anything I want to keep as fresh as possible for as long as possible. Love the beautiful designs on the jars and lids are very well made. Looks beautiful in my pantry. Love that they are made in Italy.
November 27, 2013
Rated

5

out of

5
 by
gigiC
Love the one piece lids
Most canning jars come with a 2 part lid, so that part of it can be reused the next time. For the most part that is fine, but when giving a gift I especially like to use a lid that is only one piece and these fit the bill! The Quattro Stagioni jars are also beautiful and come in a variety of metric based sizes.
September 16, 2013
Rated

5

out of

5
 by
CapeGirl
RECENT ORDER AS GOOD AS ORIGINAL
Ordered Quattro jars for storage of bulk baking ingredients - chips, nuts etc - and pasta. Had purchased some of the Quattro bottles several years ago [for juices]. Unlike so many products these days , the quality of this recent purchase is EVERY BIT AS GOOD as my original Quattro buy. Sturdy jars and lids that will serve my purpose perfectly. SOAPBOX ALERT: My dad always said "Only rich people can afford to buy junk..." Never a truer word spoken. When will merchants and manufacturers realize that most people WANT QUALITY and are generally willing to pay a REASONABLE price in order to ensure that they won't have to buy the same item again in a month or a year? I hope Container Store will continue to deal with manufacturers like Quattro who maintain a high level of quality in their products from year to year.
September 14, 2013
Rated

5

out of

5
 by
JBananny
Great Products
I LOVE these jars. They keep everything fresh so that I'm not wasting my money on food.
July 24, 2013
Rated

4

out of

5
 by
Charlene78
Jar
Bought this because it is similar to a Mason jar that my Husband wanted. Tried it out and it serves the same purpose as a mason jar, except that the top does not have a hole to insert a straw. Would've purchase more, but need them for entertaining purposes.
July 24, 2013
Rated

5

out of

5
 by
speedie
Classy Cheese Shakers and More!
I discovered that a well-known brand of shredded/grated cheese has lids that will fit the smallest size jar! Looks much nicer and cheese stays colder/fresher. You can use these for fresh-grated, store-bought, or anything else you'd like to shake on food. I use all other sizes (including the Spice Jar, #10014857) for storing dry goods in my vintage glass canisters. I can still use my old canisters for display (which have NO seals and are not air-tight), by keeping contents safely inside these glass jars. No more worries about breaking my vintage canisters while washing since using these jars. I keep spares of each size to handle any overflow storage for pasta, rice, etc. Great for just about anything, and pretty with the design on front. I like how there are 2 lid sizes (and replaceable!) that will fit the 4 sizes of these jars. Some food items can retain smells, so it's a plus that new lids can be purchased for the same jar. I use CS's Erasable Food Storage Labels (#454090) for expiration dates on the lids or on the back. Easy to see and remind you of freshness. The possibilities are endless with the jars!
May 5, 2013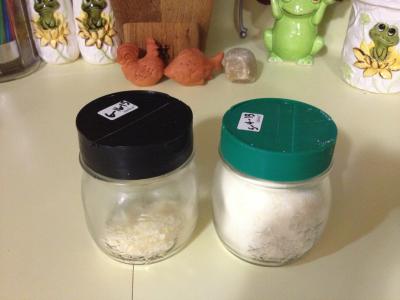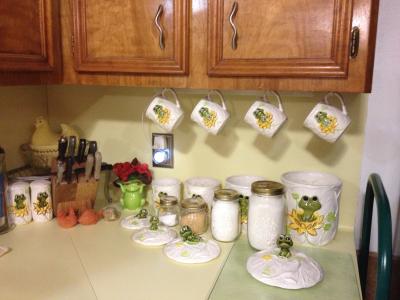 Rated

4

out of

5
 by
CaptChaos37206
practical and adorable
perfect for countertop containers. the large i use for granola. the one that is similar to old milk bottles i use for nondairy creamer and sugar, and they sit next to our coffee maker. the smaller i use for bee pollen, also next to our coffee maker. friends rave that it not only is cute but also different. i love that it's affordable and not made in china!
April 27, 2013
Rated

5

out of

5
 by
Gr8Ant
Great Looking
Purchased the largest jars for my dry goods (beans, rice, popcorn, etc). Look great on the counter and keeps items fresh.
April 26, 2013
Rated

5

out of

5
 by
Mario
Pretty for homemade food gifts
I purchased these at Christmas to hold spiced pecans that I made for friends and neighbors. The jars were pretty and came in different sizes. I tied a festive ribbon around the neck and attached a gift tag to the ribbon. Voila! An instant holiday gift!
March 22, 2013
Rated

5

out of

5
 by
Radoj
Can't beat these for your home pantry!
Everyone wants to save money these days. Buying in bulk and then storing in Quattro Stagioni Jars the way to go! I have them in all different sizes for beans, popcorn, pasta, grains, etc. They are beautiful and ecomonical. A must for the modern pantry!
March 20, 2013
Rated

4

out of

5
 by
Adrob
Serve their purpose
These jars fit their need for me which is to use for homemade pesto sauce. I don't use them for traditional canning. I have attempted to seal with them for the sauce but a bit of the sauce leaked out when heating, perhaps because of the nearness of the sauce to the top. This also allowed some water into that jar. Since I don't do canning this was probably my fault and I'm not sure Pesto Sauce is a good item to try and seal like this. Regardless, the jars are a nice way to package the sauce as gifts to others.
March 18, 2013
Rated

5

out of

5
 by
Nina007
Great assortment of jars
I love how this brand/collection has almost every size you could need. I also like the lids don't get rusty in the fridge, and they are made in Italy, so they are high quality. Super affordable!
March 2, 2013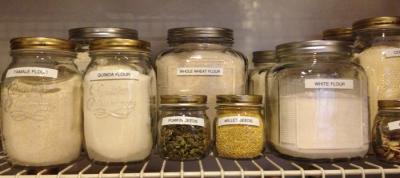 Rated

5

out of

5
 by
Pavalav
excellent purchase
These are solid, air tight jars with a nice curved shape and well sealing lids. They are worth the price for something that is high quality and can come in so many sizes. If you get the labels, they stick well but can be moved if needed.
December 1, 2012
Rated

5

out of

5
 by
Divasmith6
Love them!
Great little storage jar for my open pantry. I need something that looks neat and clean and these jars do the trick!
November 12, 2012
Rated

1

out of

5
 by
ShellG
Rusts After A Few Uses
Love the container store. But these jars are only good for DRY FOODS. With all wet and liquid foods, the lid rusts after a few uses and is useless. I dont want to put food in a rusty jar. I will try the hermetic jars next. I received these as a gift.
June 2, 2012
Rated

5

out of

5
 by
Organized12
Great XMas Gifts
Every year I give away jars of my homemade granola. Friends and family love the Quattro jars (and my granola) that I use. They tell me that they have a collection of beautiful jars which they continue to use for other things. (I have yet to get one back filled with tasty treats.)
April 27, 2012
Rated

5

out of

5
 by
MAC357
Great Vanilla Sugar Canister
I made some Vanilla Sugar for my Creme Brulee - this container was perfect for it! I am definitely a huge fan of the container store now!
April 27, 2012
Rated

5

out of

5
 by
DarciD
Awesome jars
I bought about 15 of these jars to keep all my nuts organized on the kitchen counter. I eat a lot of different kinds of nuts! These jars seal tight and look great.
April 25, 2012
Rated

5

out of

5
 by
hucklebeary36
Glass keeps nuts fresh
Bought these for storing nuts that I buy in bulk. Keeps them fresh plus it"s easy to see what's in these clear glass jars. They come in several sizes so you can use the right size for whatever quantity you have. They fit in a deep drawer we use for snack items. A much neater and safer solution than plastic bags. I like these much better than the jars with rubber rings. They are easier to open and there are no rings to deterioate.
March 16, 2012