< Return to Product Page
Customer Reviews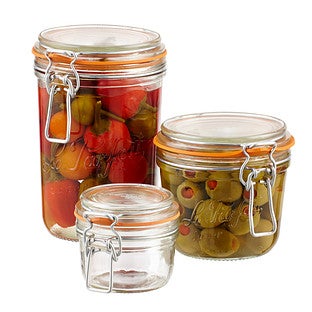 Le Parfait French Hermetic Glass Terrines
Overall Rating:
Customer Reviews
Le Parfait French Hermetic Glass Terrines
is rated out of
5
by
53
.
Rated

5

out of

5
by
kristenkkazn1
from
Cute little storage jars!
I love using these jars as a cute way to store things on my counter. I bought one in every size because I just couldn't decide! They're perfect for coffee beans, ground coffee, rock sugar, etc. for my tea and coffee habits. They seal really well. The 3 biggest jars look great together since they all have the brand name across the side. The 3 small ones do not have the brand name across the side, but they still match the larger jars in appearance.
Date published: 2016-01-15
Rated

5

out of

5
by
KarlS
from
Excellent
These are heavy glass, and they are air-tight and water-tight. The build quality is absolutely great and I would recommend them to anyone.
Date published: 2015-11-24
Rated

5

out of

5
by
SuezEQ
from
Awesome!
I love these jars. I have two of each size and I'm going to order some more of the larger two sizes. They work great for storing your leftovers in, or salads, ect. Plus they don't take up much room, and they seal tightly for great keeping power. I don't think I will ever use anything else. So now gotta go clean out cupboards and get rid of some stuff, I won't need any more!!! ,-)
Date published: 2015-07-27
Rated

5

out of

5
by
DelawareToys
from
The Perfect Solution
These jars are the perfect solution for storing my homemade sauerkraut. They arrived in perfect condition and fit nicely in my fridge. They are sturdy and the lids seal tightly; I tested them by turning the filled jars upside down for a bit - no leaks! The wide mouth made them easy to fill and the flat top allows me to stack something else on top during those times I need that extra space. My next project using these jars...homemade yogurt.
Date published: 2015-05-10
Rated

5

out of

5
by
Andre3000
from
3 G's
This product is great. I really like the old fashioned feel and look. Makes me and my kitchen feel very traditional. Great Seal, Great Buy, Great Product. Thank you
Date published: 2014-04-08
Rated

3

out of

5
by
Heezer
from
Good looking jars
I really like the old fashioned look of these glass jars and use them to store nut mixes for my family. The only negative is that you have to be careful closing the jar as the latch can catch your finger.
Date published: 2014-03-02
Rated

5

out of

5
by
YvonneL
from
Ultimate sourdough starter containers!
I purchased 2 of the 34 oz Le Parfait for my wild yeast starters. I'm about to purchase 3 more! These jars are made for starter. They have such a wide top which makes it so simple to feed and/or clean. They are aesthetically pleasing and so well made. I will be recommending them to all my bread geek friends!!
Date published: 2014-02-28
Rated

5

out of

5
by
Cmac
from
Love glass, not plastic.
Have only had them a few days, but they look great, feel sturdy. I love glass for storage. Keeps coffee fresh with just enough room to keep scoop inside jar with wide mouth. Packaging was great, shipping a little slow. Overall happy with purchase.
Date published: 2014-01-21
Rated

4

out of

5
by
NeededThisJar
from
Great Jar
I got these to make some pickles -- was able to pour the hot brine right into the jar and the seal is good so you don't smell anything after you cool it and put it in the fridge. took out one star because wish it came in a larger size!
Date published: 2013-11-26
Rated

5

out of

5
by
Scribbles
from
Exactly what was needed
Recently my dog was diagnosed with EPI and I wanted an air-tight glass container to store the necessary enzyme she needs with all meals. These jars are perfect for keeping the contents dry. And I love the wide opening which makes dipping in and getting out so easy. Plus they look good. I will be buying more to use for other stuffs.
Date published: 2013-11-17
Rated

5

out of

5
by
ItalianQueen1
from
Fantastic Jars
I am impressed with this product. I've ordered other types and they don't come close to the quality of this product. I love that these can go in the freezer! Wish the jars came in a square shape but ya can't have everything. I will be ordering many more as they go on sale.
Date published: 2013-09-27
Rated

4

out of

5
by
Anne121
from
Storage for RVing
The containers will be perfect for keeping coffee, flour, sugar, etc. in the new RV. I ordered 12, different sizes, and were well wrapped, but box had collapsed. No damage though. I didn't receive any instructions on how to place the seals though. I'm sure that I'll figure it out.
Date published: 2013-08-10
Rated

5

out of

5
by
Lymie
from
A Classic
I've had a couple of these jars for decades. When I needed some in a different size I went to the Container Store and picked these because I knew they were high quality and would last. Another factor in my decision was the shape. There were other, similar jars in the size I needed, and they were less expensive, but they would have taken up more space in the refrigerator due to their shape.
Date published: 2013-08-07
Rated

5

out of

5
by
Ceme
from
Timeless ...
I was looking for this jar to house raisins, figs, dried cranberries, pineapples, papaya and coconut chips in for my granola station. Perfect as the dried fruit adn stackable. These also remind me of my grandmother's kitchen. She kept flour, oatmeal, cornmeal, sugar, etc. in this kind of jar and displayed them on a corner hutch. Loved them all those years ago, still love them now.
Date published: 2013-06-04
Rated

5

out of

5
by
3leaves
from
French Hermetic Glass Terrines
These are attractive, high quality jars. The straight sides allow removing the contents easy.
Date published: 2013-05-05
Rated

5

out of

5
by
HolisticHealthConsultant
from
Seals in oil
I love these French hermetic glass containers. I use them to create salt scrubs for Christmas gifts. They never leak, are easy to decorate and completely reusable.
Date published: 2013-04-26
Rated

5

out of

5
by
kimkw
from
makes a difference
Used the largest sizes of these glass terrines to replace plastic containers for sugars, couscous, quinoa, nuts etc. on a shelf in my too-small pantry. I have the same number of containers but these stack and apparently have a smaller footprint than what I was previously using. Now there is room in front for smaller items. I can now see what I have and see exactly what I need so I am not buying duplicates of items. Bought a few extra just in case and they hold soup and keep crackers fresh. Keep finding new uses for them. And they look great.
Date published: 2013-04-26
Rated

5

out of

5
by
Adpromo
from
Love these
These airtight glass terrines are wonderful. I use a lot of spices and these are so great to store them. The wide mouth makes it so easy to use measuring spoons. I'll be picking up more next weekend!!
Date published: 2013-04-26
Rated

5

out of

5
by
ladybug1022
from
great quality
I love the old fashioned style of these glass jars! They seal very well and look great in the pantry. Also, they are pretty to use on kitchen counter to display candy, pasta or even Christmas balls.
Date published: 2013-04-07
Rated

4

out of

5
by
Relynn
from
Nice Product
Love these terrines! They hold a seal nicely and are just wonderful for keeping homemade pomades and salves. A little shaky with the metal clasps, but otherwise an overall brilliant product.
Date published: 2013-03-29
Rated

5

out of

5
by
dorotheexploro
from
Great buy!
These airtight glass containers are heavy duty and will keep whatever is contained inside super fresh. I use these for loose leaf tea/ground coffee and it is still tasting great after several months of storage. Price is affordable. Cute design. Worth the purchase.
Date published: 2013-03-18
Rated

5

out of

5
by
Anonymous
from
Best Containers Ever!
I have bought many containers before that were not airtight and don't really "contain" (I learned the hard way with either liquids spilling out or a trail of ants marching inside), but these containers are AWESOME and have a tight seal and appeal! Our kitchen is happy we got them!! :D
Date published: 2013-03-18
Rated

5

out of

5
by
MBJewels
from
LOVE these for storing everything!
I cook from scratch, make my own bbq sauce, ketchup, dressings, even homemade body butter and sugar scrubs ~ Love these jars for storing everything!
Date published: 2013-03-06
Rated

5

out of

5
by
Christelleny
from
Le Parfait jars at a fraction of the price!
Those "hermetic glass terrines" are actually Le Parfait canning jars! Those jars have been used in French kitchens for generations and are as popular as ever. There's a reason #or rather many#: they're well made, resistant, incredibly durable, multipurpose, competely hermetic #the trick is to pull slightly on the tab after closing them# and thanks to The Container Store, affordable too. You would have to spend 2–3 time as much to get them anywhere else. What a find!
Date published: 2013-02-24
Rated

5

out of

5
by
jstewart
from
More than food storage
I was looking for the perfect container to hold a homemade gift for my girlfriend...this immediately jumped out as such a cool, classic jar. It looks beautiful! On my way home, I slowed down and it rolled off the front car seat and hit the ground pretty hard. It was completely unharmed. It's solid! And the closure and seal are so well-made that I can't imagine they'll ever go wrong. My girlfriend loved the gift and keeps saying how cool the jar is. True functional beauty!
Date published: 2013-02-18
Rated

5

out of

5
by
mtrochez
from
Wonderful Terrines!
My husband purchased this product to store our Keurig K-cups in. It definitely keeps our coffee fresh and the kitchen coffee-smell free. Great Buy!
Date published: 2013-02-15
Rated

5

out of

5
by
Darowe
from
Well worth the purchase
I recently purchased the small jars to store spices and cookie decorations after having a difficult time finding the perfect size that won't take up too much room in my pantry. I fretted over the cost at first, but I must say they are well worth the price. They've kept my spices cookie sprinkles fresh plus they look very nice in my cabinet.
Date published: 2013-01-02
Rated

5

out of

5
by
HomeschoolMomInNC
from
Great quality storage jars
These jars are among the very few kitchen items I remember my mom having when i grew up in the 1970s that are still of the same great quality as the ones she owned. The clasps are very strong and the lids close securely.
Date published: 2012-12-17
Rated

5

out of

5
by
zazzle
from
love them
These are great...Used everyone I ordered. Waiting for a need to order more.
Date published: 2012-11-25
Rated

5

out of

5
by
hertreeness
from
excellent jar
I was so surprised to find a straight-sided jar - perfect for my needs. I bought it for the design, but I love that the glass is substantial. I was also pleased that the seal is very tight. Just what I was looking for. Thanks.
Date published: 2012-09-03