< Return to Product Page
Customer Reviews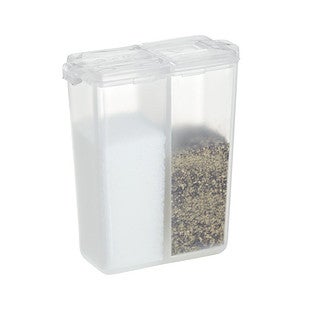 Pocket-Size Salt & Pepper Shaker
Overall Rating:
Customer Reviews
Rated

4.8

out of

5

 by

13

reviewers.
Rated

5

out of

5
 by
MWhite1
Just what I was looking for to keep salt and pepper at work.
January 22, 2017
Rated

5

out of

5
 by
nsgoodbody
Very handy
Keep just enough for on the go use. Very compact easily fits in the smallest pocketbook or console of vehicle. Great stocking stuffer, or "just a little something" gift for those on the go family and friends.
December 30, 2016
Rated

5

out of

5
 by
LizzyP
Could not get more convenient or compact than this
Perfect for lunch bags or to keep at your desk. Easy to refill and never spills open. Affordable luxury of salt and pepper at your fingertips.
March 21, 2016
Rated

5

out of

5
 by
hunnybee
Great Product
These containers are the best! They have multiple uses. Other seasoning's can be used in these, not just for salt and pepper. Great for camping, hunting, fishing, picnic's.....
February 20, 2016
Rated

5

out of

5
 by
skoobdo
Perfect for Camping!
I purchased two (2) of these so far for my backpacks, but I'm purchasing a few more for my purse and lunch boxes. I think these would also make some good stocking stuffers too. Who wouldn't want one of these pocket-size salt and pepper shakers? Great inexpensive product for sure.
September 2, 2015
Rated

5

out of

5
 by
abaker21
Love it!
Holds decent amount, doesn't take up space' holes don't let salt get all over dispenses perfectly, great price and most important stays shut.
April 1, 2015
Rated

5

out of

5
 by
hottthead2000
shaker
a good product at a cheap price.will always shop here for my containers
November 24, 2014
Rated

5

out of

5
 by
OrganizedPetOwner
Never Enough Seasoning
I am a culprit of always needing more salt on my food and the struggle at work to find salt packets had become overwhelming. While browsing through the store, I came across this tic-tac like container and I knew it would solve all my issues. After the cashier showed me how this actually opens, I knew this was going to be my new best friend on lunch at work.
March 20, 2014
Rated

5

out of

5
 by
OrganizeMe911
Love it!
This handy little shaker works perfectly for my kids' lunches! No more messing around with shakers that spill or little packets!
March 8, 2014
Rated

5

out of

5
 by
Meladybug
Great Compact Item!!
I needed a container for my work lunches, and this container fit perfectly...It took a little figuring on how to open it but is definitely worth it. I love it!!
December 1, 2013
Rated

4

out of

5
 by
sohappyru
these are the cutest little things, very handy, can take them anywhere
March 9, 2013
Rated

4

out of

5
 by
knisbet
Good travel salt shaker!
I am using sea salt and mountain salt, now, instead of table salt. It's supposed to be healthier and it tastes much better. This salt shaker is perfect for taking along my salt. The holes were a little small, but I was able to make them a bit larger pretty easily. At a price of 99 cents - it's a fantastic buy!
June 18, 2012
Rated

5

out of

5
 by
OCD4Organizing
Everyone needs one
This is the perfect idea for all of those packed lunches, picnics and any meal on the go!!
April 3, 2012