< Return to Product Page
Customer Reviews
Condiment Bottle with Cap
Overall Rating:
Customer Reviews
Rated

4

out of

5

 by

12

reviewers.
Rated

5

out of

5
 by
TheRat
Wonderful
Great condiment dispenser. Initially bought it to put fractionated coconut oil in because the bottle it came in leaked. Since I liked it so much, and it is so cheap, I bought 2 more. Now I have one for chocolate syrup, [which keeps cleaner, looks better, and dispenses better than the Hershey's container it came in], and one for the milky 3-milk mixture that goes on a Tres-Leches cake. I actually just bought another squeeze bottle here on Container Store and it has no cap and was more expensive; I will be returning it for another of these. I wish they offered a bigger size (this is why I purchased the other). Because I have no life/too much time on my hands, I have uploaded an image where I write with the chocolate syrup to show the added control over the syrup. I will say, if you want to write text you should probably look for something with a thinner tip/opening. This thing is great.
July 14, 2016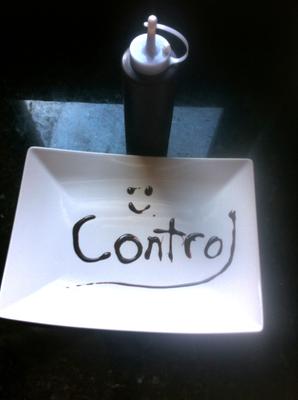 Rated

4

out of

5
 by
Dotknot
Helpful for shaky or weak hands
I have nerve damage and weakness in my hands, and I struggled with the large maple syrup bottle we get from Costco. I put the syrup in here and it has been wonderful. An unexpected bonus was that it was easier for my teenage kids to use also- much less wasted syrup. I have since put many of the condiments in our house in these and they are much easier for all of us to use more precisely. My only complaint is that the plastic is just a bit too thin/flexible, and I would pay more for just a slightly thicker bottle.
November 8, 2016
Rated

4

out of

5
 by
Sohoma
Really Useful
I use this for oil and vinegar. It's really useful to have in the kitchen. The attached cap is helpful as it never gets lost. I only wish the plastic was sturdier.
April 7, 2014
Rated

4

out of

5
 by
Bhavna
Works well, but...
....I've noticed after several months use that the oil slowly seeps through where the cap meets the bottle top. For me, it just means a little extra wiping of the counter, but overall, this is a great product. If I may recommend, this may hold up longer over time if the plastic material is made of a sturdier material.
April 24, 2013
Rated

5

out of

5
 by
miamimike
Kitchen-Useful items
The product is useful and handy to spread sauces artfully as they do in 4 & 5 star restaurants.
March 17, 2013
Rated

5

out of

5
 by
Stennix
Great!
Worked great and didn't break. Totally worth the money.
February 23, 2013
Rated

3

out of

5
 by
SUNG
so-so
I bought four of this dispenser to store ketchup, mayo, mustard, and other salad dressings. This bottle works for ketchup, mayo, and mustard, but does not work for salad dressing. The hole on the top is way small, so all the small pieces (like sun-dried tomatoes) in a salad dressing block the hole so that the dressing does not come out.
April 27, 2012
Rated

4

out of

5
 by
ARBS
Dispenser
Works as expected. Delivery was fast. Website easy to surf.
February 22, 2011
Rated

4

out of

5
 by
SandyR
Works great
Works exactly like you expect it to- nice pliable bottle, easy to squeeze. I would definitely recommend this product
February 15, 2011
Rated

1

out of

5
 by
Kerri
Don't buy this piece of junk
I ordered 6 of these bottles. The plastic is so flimsy that when you squeeze it the bottle remains crumpled and does not pop back out to its original shape. I will not use these bottles and it would cost me more to return them so they will be going in the trash. Let the buyer beware.
August 12, 2010
Rated

5

out of

5
 by
ImContained
Great for Candy Making
I use these for making candy. I put the candy coating chips in the bottle, melt them in the microwave, and then use the squeeze bottle to make the design I want on wax paper with the template underneath.
May 23, 2010
Rated

4

out of

5
 by
SusieMc
Use it in the laundy room
I was having a hard time getting the liquid bleach into the dispenser of my new front loading washer and thought a squeeze bottle would make this task much easier. I just load up this bottle and squeeze into the dispenser...what a breeze!
May 10, 2010