< Return to Product Page
Customer Reviews
Click Clack Pantry Canisters
Overall Rating:
Customer Reviews
Rated

4.7

out of

5

 by

32

reviewers.
Rated

5

out of

5
 by
Wannabeorg
Great for the pantry!
I bought these canisters about 3 years ago & just love them! They keep flour, sugar, etc fresh and are lightweight for getting in and out of the pantry. I especially like the clear plastic scoops that the Container Store has--I have one in each canister for easy measuring. All the parts to the lid come apart easily for cleaning & go back together easily as well!
March 16, 2015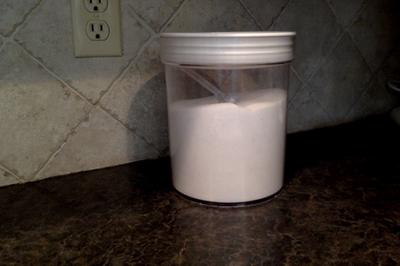 Rated

5

out of

5
 by
AuntieTJ
Perfect for Flour and Sugar Storage
The largest canister sizes are perfect for the baker in your life. They are easy to open, but keep the materials inside fresh, dry and free of pests. The wide-mouth openings make it accessible to your measuring cups and are wide enough to not make a mess when leveling off excess for precision baking. I love this product!
April 26, 2013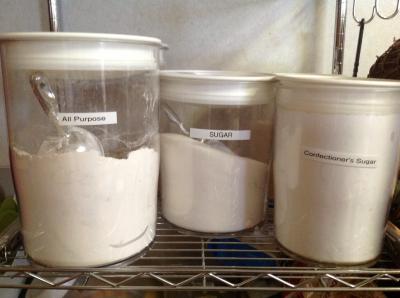 Rated

5

out of

5
 by
Cookergirl
Click clack fan,
I have seven of these canisters which are twelve years old. The air tight seal is awesome without being difficult to open. They wash well, don't hold odors, and line up nicely in my pantry. I have lock n lock, and oxo pop containers but these are my favorite. Good investment! I store, flour, sugar, coffee, snacks, cereal, rice, and flax.
January 2, 2013
Rated

5

out of

5
 by
Murugs
Excellent quality
I bought this canister to store rice. It is very much air tight and easy to handle. No more spills. I would definitely recommend this product to others.
January 30, 2017
Rated

5

out of

5
 by
Lovemycontainers
Best purchase ever
I have ant problems and decided to buy containers and it has changed my kitchen dramatically! I don't have any problems anymore and my brown sugar stay soft in these airtight containers. I love them!
September 27, 2016
Rated

5

out of

5
 by
rcalihan
Awesome organization and storage
I love these canisters and highly recommend them! Great for storage and overall look of my pantry. I love that you can see inside them, add a label, and they are sealed tightly!! I would buy them again for sure. I keep adding to my collection.
January 3, 2016
Rated

5

out of

5
 by
Billk
Canisters very helpful
These canisters are very helpful with counter top storage. They are great for cereal, chips, popcorn and other dry food.
July 30, 2015
Rated

5

out of

5
 by
LeanderResident
Awesomeness
These airtight containers are perfect as they are clear, stackable and seal items air tight. I couldnt be happier!! As always, The Container Stores provides results to typical solutions.
September 17, 2014
Rated

4

out of

5
 by
crazymomEm
Love Organization
Love the tall, round canister because it holds my spaghetti and fettuccine perfectly without taking up too much space in my pantry.
August 14, 2014
Rated

5

out of

5
 by
MellyG14
Great Containers
I have had Click Clack canisters for years and have not had any issues with them. I switched to ceramic containers to change up the look of my kitchen but had to deal with ants because they weren't sealed well. I switched back to these canisters and haven't had any problems.
May 2, 2014
Rated

5

out of

5
 by
Molla
love it
These containers are one of the best. Love their squeeze top lids.
April 27, 2014
Rated

5

out of

5
 by
Savedmywedding
Saved my WEDDING
This product saved my wedding! I am getting married at Margaritaville Hotel and resort this summer! Unfortunately I could not have glass in the reception area! So we had to improvise!!! The container store and this project made it possible for me to have my dream center piece! Not only is this product great for food storage it is great for decor!!!!
April 26, 2014
Rated

5

out of

5
 by
CanyonZippy
An Organized Baker's Dream
These air-tight, see-through canisters are great preserving the freshness and integrity of the many dry ingredients used for baking. I use a labeler to create labels (which stick to & peel easily from the canisters) to identify the contents....a great help to my husband who occasionally tries his hand at baking. The pantry stays organized, the canisters are stackable so I get more efficient use of shelf space, and they are easy to use so prep is faster and neater. I shop on-line much more now that I've moved 6 hours away from the nearest store....a bummer since the store is so interesting to visit. It took over a week for the last order to arrive...a long time relative to a competitor that ships in 2 days. Was still the best deal since the canisters were on sale.
April 25, 2014
Rated

5

out of

5
 by
Katyanne
Click Clack Pantry Canisters
I've been looking for canisters for my kitchen for sometime and was very impressed with these canisters. They are clear so contents can be viewed at all times and also air tight which is hard to find. They stack nicely and fit on my counter.
April 10, 2014
Rated

4

out of

5
 by
fastwalker
Love it 90%
The Clik Clak cannisters are sleek, clean looking, have no odor, and seal GREAT. Lid is easy to put on & remove. HOWEVER, if you choose to wash the lid you need to know that water will get inside its two parts. Not good for dry goods storage! The cannister comes with instructions for separating the lid parts then reconnecting them (Yaay!), but herein lies the challenge. Neither lid part is very flexible and it is really hard to "pry" them apart a) at all, b) without feeling like you might break something. I bought 3 cannisters and had the same problem with each. Otherwise, LOVE.
April 5, 2014
Rated

5

out of

5
 by
TNHCF
Great air tight container
I purchased this to store homemade baby wipes in and was searching for something that was air tight but not difficult to get in and out of or that would take up too much space- this container seems made for the job and I look forward to using it for this purpose for a long time to come.
February 24, 2014
Rated

5

out of

5
 by
Karen2455
Wonderful replacement
I purchased Click Clack pantry canisters to replace ones that had cracked around the top rim. These seem to be more sturdy and a cleaner design. I love the canisters because they seal and keep things air tight. A really great item for my pantry.
January 26, 2014
Rated

5

out of

5
 by
Savvy1
Easy storage
Here in Texas it's a good idea to store stapes that won't be used immediately in plastic containers. The hard clear plastic makes it easy to recognize the contents. The tall profiles allows you to store more volume in a smaller area. You could probably even keep this on the counter. My favorite part is the nice tight seal and how easy the pinch mechanism makes it to open.
January 9, 2014
Rated

1

out of

5
 by
Snuffy
Stink
I bought this canister for food storage. However it has a strong chemical odder inside of the canister. I washed but it didn't come out. After a while the food had the same smell...
December 14, 2013
Rated

5

out of

5
 by
conniecap
Excellent
Was looking for a container to mix & storage my isotonix vitamins & supplements that was air tight. The quart & half quart work excellent. Highly recommend.
October 30, 2013
Rated

4

out of

5
 by
Smitty14
dry goods storage
recommended for keeping brown sugar from clumping and drying out.
October 16, 2013
Rated

5

out of

5
 by
iluvfrogs
My favorite brand of containers
Love Click Clack containers! I like how the lid is designed. Just squeeze & pull up to open. Just got the 3.2 L/3.4 Qt to use to store sugar. Wouldn't use anything else. Also love The Container Store. They have everything & more!
June 16, 2013
Rated

5

out of

5
 by
sugar3188
Great!
Bought this for our pantry "cookie jar" because my husband never seemed to be able to seal the one with the plain pull off top and the cookies always got dry. No problem with this one! The way the lid is designed makes this full proof.
June 4, 2013
Rated

4

out of

5
 by
NMKSchwartz
Great 2 keep items fresh!
I use this item to store and keep coffee fresh. I am not a coffee person but all of my guests are so its important to me to have fresh coffee. I used to keep my coffee stored in the fridge and freezer but my guests can never find it so I needed another storage container that could be kept on the counter AND keep the coffee fresh. This container certainly does that. The only con I have about this item is that when I had a hard time getting all of the parts back together after I cleaned it the first time. To this day I am still not sure how I got it back together. It certainly made me wonder if I was smarter then a 5th grader at the time.
May 3, 2013
Rated

4

out of

5
 by
FresnoBob
Good But . . .
. . . not as good as the old one it replaced. What brand the old one was I do not know; it had larger, gray handles; it was easy to open and to close. The Clck Clack certainly closes tightly, nearly airtight. Because of the close fit it is not so easy to push the lid all the way down; the air cannot escape.
May 3, 2013
Rated

5

out of

5
 by
Chefwife
solid and sealed!
I love the Click Clak products! They seal so tight, my husband's coffee beans stay fresh so he can brew as fresh a cup of coffee as possible every morning!
April 27, 2013
Rated

5

out of

5
 by
ID2013
Pantry organization
Very good quality for a very good price. The airtight top does close very tight. The taller one is great for store spaghetti noodle.
April 15, 2013
Rated

5

out of

5
 by
Hardpressed2
Stackable Storage
This product has served to keep foods fresh or simply for presentation purposes. Found in either my pantry, counter top or for easy access to employees at my workplace. A plus for any enviornment!
March 20, 2013
Rated

5

out of

5
 by
JennynDenver
Great cereal storage
I got the tall and skinny 2.5 qt container to store cereal and it works perfectly! I will say that if you buy the really big boxes of cereal, then you will not be able to fit the entire box inside, but for the normal sized box they work great. They seal super tight so the cereal is staying really fresh and not going stale. Plus my pantry looks a lot nicer without all that cardboard!
March 18, 2013
Rated

5

out of

5
 by
pbjtime
Love Love Love These Containers!!!
I purchased one of these containers because the containers I was using (Oxo Good Grips POP storage containers) to store some of my dry goods in werenâ¿¿t cutting it. Specifically my white and brown sugars kept clumping in the Oxo containers. So, I bought one of these to see if it would be a better storage alternative for me. I have not had a problem with clumpy sugar since. The seal on the container is very tight and keeps moisture out. Needless to say, I am now replacing all of my canisters with these. Great product!!!
February 19, 2013