< Return to Product Page
Customer Reviews
Click Clack Cubes with White Lids
Overall Rating:
Customer Reviews
Rated

4.5

out of

5

 by

68

reviewers.
Rated

3

out of

5
 by
travelswithdogs
Size measurments not correct
I have many of the Click Clack cubes and like them, however in a recent organizing project with limited space I bought four of the 4.5 quart containers. At 9 1/4 inches in height they were going to be perfect for a slide out drawer in the pantry. Well they are not 9 1/4" they are 9 1/2" and rub on the shelf above in my pantry. The self-closing feature will not work on the drawer, so the containers will not work in this location This is a real disappointment. I will have to use smaller ones that don't fit a whole bag of dog food. And now I have 4 large containers I don't really need.
May 1, 2016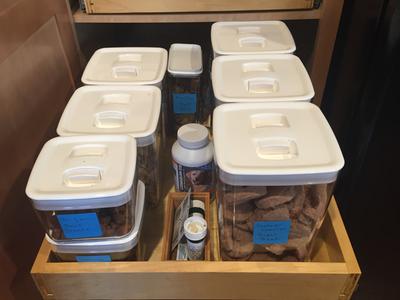 Rated

5

out of

5
 by
calaughingdog
fits well on pantry shelf
needed dry goods storage that would fit on pantry shelf and this fills the bill. Love the square shape and the good lid.
November 10, 2015
Rated

4

out of

5
 by
Lkell
Great for organization, but has lid issues
I really love these canisters. They're decently sturdy and the square shapes make it easy to stack and place into corners. The round canisters were nice, but I felt like they didn't maximize space. I use mine for various flours, sugars, corn meal, and potato or tapioca starch and find them to be extremely convenient. The biggest issue is the lids. They do seal well for me as long as the canister isn't overfilled and you pushed it in all the way. However, you cannot wash them easily. There's an air pocket somewhere that collects water if you try to wash the whole thing. I haven't figured out how to expose the entire lid to air dry, and so have to slosh the lid around to make sure there isn't anymore liquid. If you're just wiping the top, you have to use a lightly damp towel. If the towel is too wet, the liquid might pool into the air pocket and just sit there. I still love them and rebuy them as I need them. but be careful with the lids and liquids.
March 17, 2015
Rated

5

out of

5
 by
lovethemtns
Kitchen storage
Great for pantry storage. Square shape works much better than round. Stackable which increases storage space.
January 19, 2015
Rated

3

out of

5
 by
SimplifyIt
Good Variety of Sizes - but not tight fighting
I am disappointed with these containers. While the sizes are good and they stack wonderfully, they leak air and are NOT tight fighting. My granulated sugar is always crusty. the baking soda is clumpy. Do not buy these if you are looking for a tight seal. But if that is not an issues, then these are good.
January 15, 2015
Rated

3

out of

5
 by
Castiron
Too brittle for a family with active kids
What I like: the square shape and the BPA-free plastic. What mildly annoys me: because of how the lid is constructed, it's hard to eyeball how full you can fill the containers without being unable to seal the lid. It'd help if there was a fill line printed on the container. Why I won't buy these again: These containers are very brittle -- one broke simply by falling from the counter into the sink. For me, the whole point of buying a plastic container rather than a glass one is to have a storage container that doesn't break easily; if I have to be this careful with them, I'd just as soon buy glass. I'm not comfortable letting my kids carry the smaller containers from shelf to table because of how easily they break. They do seal well and look nice, but for my family, they aren't the right choice.
October 26, 2014
Rated

4

out of

5
 by
crazymomEm
Love Organization
I have been searching for the perfect pantry organization containers for my baking ingredients. When I found these I was so excited and couldn't wait to try them. LOVE THEM! They have the different sizes to put different ingredients in and they stack nice. They make my pantry look beautiful and take up less space.
August 14, 2014
Rated

5

out of

5
 by
justwondering
For storing flour
I was looking for a solution to storing freshly ground and bulk flours. I ended up using 2 2-qt and 4 1-qt for this. I like keeping them in the Divided Deep Fridge Binzâ¿¢ Tray (10054185). They stack pretty well so that when I move the tray carefully, I can take them all out of the fridge at once. Now I'm just looking for a labeling system.
July 23, 2014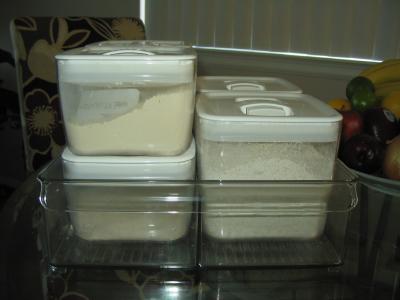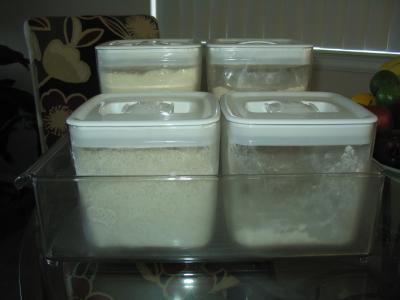 Rated

5

out of

5
 by
kitty123
Easy to open and see contents
Love how these look on counter and the ease of opening and closing lid.
June 4, 2014
Rated

5

out of

5
 by
HarleyDiva
well designed
sturdy materials and well designed. Love the lid design - easy to use with one hand.
May 13, 2014
Rated

5

out of

5
 by
KayT74
Love these cubes!
The Click Clack Cubes are great! I use them as canisters for all of my baking supplies. It keeps brown sugar from getting hard. They stack very well, and they would look great sitting on a counter but they work well in the cupboards also. Looking forward to getting more of these!
April 25, 2014
Rated

5

out of

5
 by
CDB1
Love airtight seals!
Great product. Love that you can see what you need! The stacking feature is great, too!
April 25, 2014
Rated

4

out of

5
 by
MistyThomas
Snack savers...
A great way to store my kids "go to" snack foods, as it keeps the food fresh and crunchy...the container, however, would not always allow for a whole box of food and if I tried to push it, it would either crush the snack or allow for air to get in...most likely, a user error issue...
April 15, 2014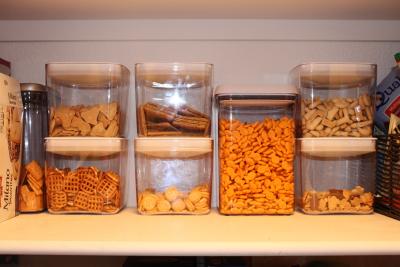 Rated

5

out of

5
 by
organizerwanabe
LOVE these things!!!!
I was in desperate need of a canister replacement set. My son actually picked these out for a Christmas gift. They work great for holding flour, sugar and such and keeping things air tight. Because they are clear, I can easily see what I'm looking for. One of the lids broke and I was able to return it to the store and replace it. I asked the clerk if he had many of these returned with the same issue. He said he'd been at the store for over a year and this was the first time he'd seen one returned because it broke. And, he added, he sells LOTS of these things! So I'm chalking it up to some weird factory defect that hopefully doesn't happen again.
April 4, 2014
Rated

5

out of

5
 by
Zebra
Great Dog Food Bin
I bought the larger bin and it holds a 5 lb bag of dog food perfectly! It's easy to open, keeps the food fresh, and is a nice square shape so it doesn't take up too much room in the cabinet. Would be great to stack with other bins. Will definitely buy this product for any other food related storage needs as well! Worth the money.
March 24, 2014
Rated

5

out of

5
 by
unconscous
awesome product
I have several of these canisters in my kitchen. I use them to keep snacks handy out on the counter. They are easy to clean, and keep food fresh. love it!
February 13, 2014
Rated

5

out of

5
 by
Hughey
Excellent Product
The lids fit securely and are air tight. I love that I can remove them with one hand, just squeeze the top and lift, which is great if you're in the middle of cooking. Read the cleaning directions prior to washing the lids, they can get water inside, but if you follow the recommendations, no problem. Multiple containers stack well, too.
January 18, 2014
Rated

5

out of

5
 by
DanaMK
Great container for homemade baby wipes!
I purchased this container to store my homemade baby wipes in. The half of a paper towel roll fits perfectly! The one hand opening makes access during diaper changes super easy. I ended up ordering 3 more so i can keep wipes stocked. One of the containers i received was cracked and a new one was sent out to me without any issues. Great container!
January 3, 2014
Rated

5

out of

5
 by
OCDOrganizLover68
Pantry
I keep many gluten-free ingredients. It is so nice to now see my ingredients in clear, vacuum sealed, labeled canisters stacked together!!! I couldn't have asked for more from a set of canisters!!
November 8, 2013
Rated

5

out of

5
 by
Tampa
Love it
These do a great job of keeping food fresh. After noticing the difference between these and my old containers, I went back and bought more.
November 3, 2013
Rated

1

out of

5
 by
MrsPeel
Poorly designed
I have discovered several flaws in the design of these canisters: 1) After hand washing, I noticed that water remained trapped in the covers. It took a considerable amount of time to drain the water that was stuck inside, and it was incredibly tedious. 2) The containers are not air tight. I stored rice crackers in the containers, and they were stale within a short period of time (2 days). 3) The containers scratch easily. I would not recommend buying this brand of container.
September 1, 2013
Rated

5

out of

5
 by
stockbroker
WOW
i just love these containers so much i went back and bought more!c
September 1, 2013
Rated

3

out of

5
 by
Graceful
Click Clacks not air tight
The thing I love about the click clacks is the stacking and the easy opening lids. I couldn't wait to throw out my old canisters and begin using these so imagine my disappointment when I transferred my white sugar into one and went to scoop it out a few days later to find it rock hard!!! I thought the description said air tight...
August 29, 2013
Rated

4

out of

5
 by
ekkhu
Specs - taller than described with lid
Nice containers, but I bought them to place in a drawer and was looking to maximize space. The containers are described as 9 1/4" tall, which they are, but with the lid they are 9 1/2" which was just a little too tall for my drawer. I ended up putting them on a pantry shelf since it seemed too expensive to ship back.
August 24, 2013
Rated

4

out of

5
 by
KSmart100
Nice Containers
Very nice! Seals tightly. Looks great. Downside: Expensive and you cannot wash the lids as water will collect inside. Other than that, we spent a good chunk of change on these to keep our food sealed and fresh and our pantry now looks organized and great! We chose these over others as it seals tightly, but also is easy to open and close as well.
August 19, 2013
Rated

5

out of

5
 by
Verified Reviewer
Awesome kitchen canisters!
I bought 4 Click Clack cubes and I LOVE them. I use them as kitchen canisters to hold flour, sugar, etc. The vacuum seal is great, and I love the giant opening at the top. It makes it really simple to get measuring cups in there. Great buy, highly recommend!
August 15, 2013
Rated

5

out of

5
 by
MegL
Click Clack Cubes
I love them- my pantry is full of them. Easy to open and air tight!
August 10, 2013
Rated

5

out of

5
 by
jduncan
Love these pretty containers !!!
I purchased 2 of the 4.5 qt. to keep opened chips in. (I ordered the white lids and then found that they came w/gray lids -- so called and changed order to grey lids.) They are so pretty you could leave them on counter all the time or use to serve chips at get togethers. Everything stays totally fresh with airtight, easy to open and close lids !! I'm sure I will be ordering the other sizes too !!
August 9, 2013
Rated

5

out of

5
 by
Kayjay
Really like these
I really like these containers as the fit of the lid is very tight and yet very easy to get on and off. Would definitely buy them again.
August 9, 2013
Rated

5

out of

5
 by
Jan5cats
Airtight and easy to use storage.
These are very easy to use canisters -- no difficult seals. The lid comes off with one hand and goes back on the same way. Airtight and will not come off when you turn the canister upside down. Fits in the pantry very well and you can see exactly what is in them. I'll be buying more of these!
July 30, 2013