< Return to Product Page
Customer Reviews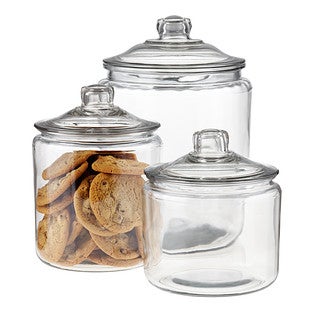 Anchor Hocking Glass Canisters with Glass Lids
Overall Rating:
Customer Reviews
Rated

4.8

out of

5

 by

48

reviewers.
Rated

5

out of

5
 by
Junesmuse
So many options!
These jars are great! The glass is perfect, not super thin. Very well made! And the kid has a really solid suction but not hard to open. The sky is the limit to what all these can be used for and I could be used in any space in the house. I have them in my dining room, laundry room, and bathroom. These will not disappoint!!! Or never go out of style.
January 8, 2017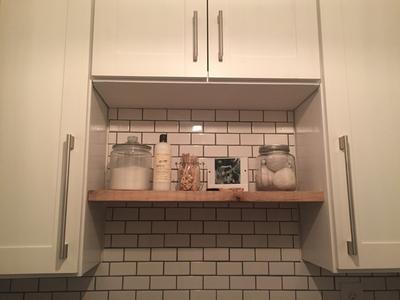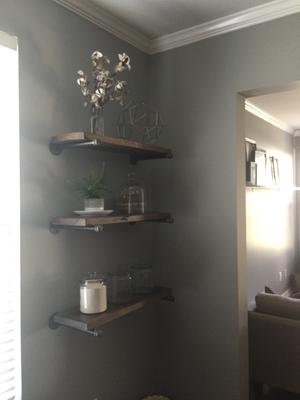 Rated

5

out of

5
 by
Amazed
Glass Canister
This canister is so large and spacious you can put almost anything inside it. I did not realize how big it was while shopping on line and once I received it I was amazed. The price was good and as well as pick up.
December 2, 2016
Rated

5

out of

5
 by
FerrosNutShop
2 gallon glass jar
It was made in a America! Just the right size and a quality glass product. Looking for a bigger jar, eventually.
November 22, 2016
Rated

5

out of

5
 by
chotaling
Classic Style
We just remodeled our kitchen with black/white theme and I wanted something simple, but classy to keep my flours, sugar & coffee in while they sat on the counter. It looks great lined up against the back splash. I love that these canisters are all glass and made in the USA. Not cheap looking at all and are very sturdy. I highly recommend.
October 30, 2016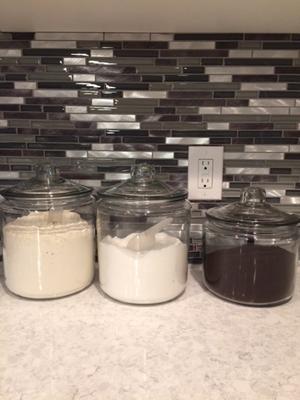 Rated

5

out of

5
 by
HollyE93
Great product
Perfect for what I was wanting to do. I purchased the two larger sizes & filled the biggest with Oreos & smaller with circus animal cookies
June 9, 2016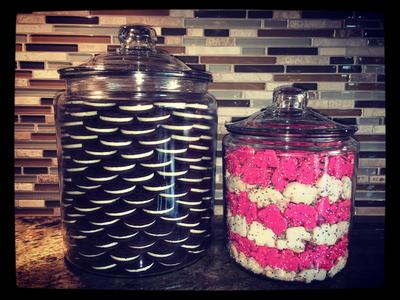 Rated

4

out of

5
 by
Geo7163
Kombucha jar
Usa made, good vessel for my needs. I would have liked to see the glass a bit thicker, however that would make the container too heavy most likely. Highly recommended.
January 30, 2016
Rated

5

out of

5
 by
cfvincent
Great for coffee pods
We use this size to store coffee pods for our Keurig. It's just the right size to store about two weeks worth of coffee in a pretty way.
January 9, 2016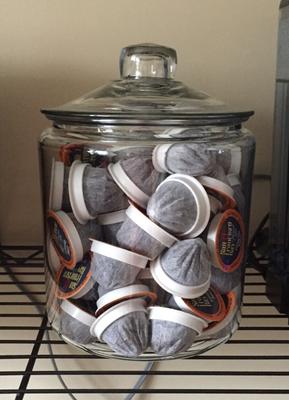 Rated

5

out of

5
 by
ShoppingSister
Built and Bountiful
With all the negatives associated with plastic for food storage, glass containers become all the more important. This jar is certainly huge! It is also sturdy (as sturdy as glass can be) and the lid creates enough of a seal to keep food fresh. It's also great for lots of liquids for parties, big parties!!
December 31, 2015
Rated

4

out of

5
 by
SandyM6
Great Canister, but needs modification
These canisters are wonderful. The shape and size are very appealing and the lids are easy to grab and hold on to. However, for proper food storage, there really should be a silicone gasket on the lid to seal out moist air - especially during the summer.
May 13, 2015
Rated

3

out of

5
 by
luvs2organize
Not Great for Food Storage...
I usually am happy with what I get from the container store. This was an exception, in one case. On one of the jars, it wouldn't form a seal. Still okay for use of non-perishables, but not a high quality item.
March 16, 2015
Rated

5

out of

5
 by
tepache
Works fine
Got this item to make tepache. It works just fine for a gallon batch.
August 14, 2014
Rated

5

out of

5
 by
Fiona4962
Perfect canister
This canister is perfect for dog chews. Neat and tidy
April 24, 2014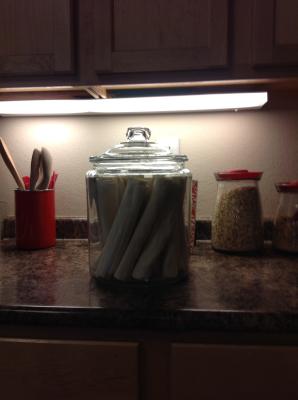 Rated

5

out of

5
 by
MrsEssEss
Almost Makes me Enjoy Doing Laundry
This jar looks beautiful on top of my washing machine. I always purchase the big containers of OxyClean and got really tired of digging in that blue box. I poured it all in here and it looks awesome! These jars are great for so many reasons, but that's what I'm using it for at the moment!
March 25, 2014
Rated

5

out of

5
 by
Mcg8
works great
This 3qt glass container is everything I needed for all the cookies and sweets that I make.
March 23, 2014
Rated

5

out of

5
 by
Kimooooo
Love it
I put this in my bathroom for all my bath bombs and it works great!!!
March 18, 2014
Rated

5

out of

5
 by
MBMOM
Love These!
I actually purchased two different sizes of this glass canister...I found them on the clearance section of the store because they didn't have accompaning lids. I am still thrilled with what I've used them for. I use them to store all my threads and scrap fabric for sewing. It's great to see what's in each canister and it brings in color to my sewing space! Love them! But to be honest, I wouldn't have purchased them if they were full price. I got them for over 60% off each of them.
March 17, 2014
Rated

5

out of

5
 by
SarahfromIowa
pretty AND functional
these have been a wonderful addition to my kitchen counters. i love a fresh clean look, so these worked wonderfully for our flours and sugars to be displayed in. and they're RIGHT there, on the counter, ready for use...no pulling out the heavy containers to bake or cook. love them!
March 8, 2014
Rated

5

out of

5
 by
tjbatts
Great Jar
I use this glass jar for my bigger utensils. It is great because I can see the utensils that I need through the glass, and they are easily retrieved. I also put this jar on my new metal lazy suzan and I twirl it around while searching!
March 3, 2014
Rated

5

out of

5
 by
NorthernGardener
Sturdy and Made in the USA
I bought 2 of these to use for flour. It's easy to dip a measuring cup in and fill it. I love that they are glass, not plastic, and that they are made in the USA.
November 23, 2013
Rated

5

out of

5
 by
kitzkamp
Great for bath salts storage
Since I buy my bath salts in bulk, this container provides a great way for me to have it near the tub but keep it dry.
September 29, 2013
Rated

3

out of

5
 by
wiskelly
No seal
These are good, heavy canisters. BUT, so disappointed that there is no seal. I had read previous reviews that stated that these canisters are air tight. However, they are not. Kept them because they look great but we'll see how long my flour and sugar actually keep in them.
July 5, 2013
Rated

5

out of

5
 by
bratz
Perfect for the popcorn bar
We are having a popcorn bar at wedding reception and these will be perfect to display the different kinds of popcorn!!
June 21, 2013
Rated

5

out of

5
 by
BobbyFlayWannabe
Really Great Quality
I bought this heavy jar to make sun tea. Container is air tight and relatively heavy so it serves is purpose keeping the bugs away! I of course intend to buy one as a cookie jar, when I eventually learn how to bake.
April 29, 2013
Rated

5

out of

5
 by
mamahood3
Glass Canister
I bought this to put coffee in on the counter!! Love it!! It allows you to see what is in your canister, yet gives you an elegant look on your counter! I alos have 3 other bigger ones and they all go great together!!
March 16, 2013
Rated

5

out of

5
 by
XiYi
Great Looking Container
I bought this to store my Kombucha scoby's - let you know how it goses
February 18, 2013
Rated

5

out of

5
 by
kayogo
For 5lb bag of flour
Holds the whole bag and leaves room to scoop without making a mess.
July 9, 2012
Rated

5

out of

5
 by
VAElfalover
Beautiful simple design
I bought 2 1 gallon canisters to use for flour and sugar on my counter. They look beautiful and easily hold 5 pound bags.
April 27, 2012
Rated

5

out of

5
 by
CardioKate
So many uses! And looks great too!
I'm actually using this container for a sand ceremony for a wedding, but I went back and bought 3 more to use around the house! Great product for the price! The glass is thick enough that you don't have to be too delicate when handling it, but thin enough that it's not heavy. I love it!
April 19, 2012
Rated

5

out of

5
 by
washta83
best candy jar
this jar is HUGE! it's a great candy jar...a bit of a statement piece.
April 18, 2012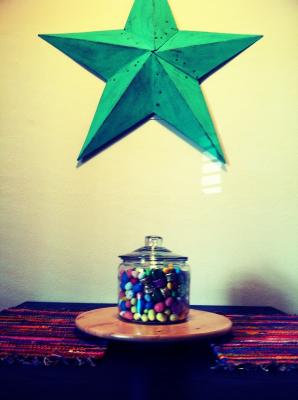 Rated

5

out of

5
 by
EmilyL
Perfect fit
During our kitchen re-organization project, I wanted to get new canisters for flour, sugar, etc. The current ones I had were silver and not only I could I not see how much stock I had, but it was hard to get anything above a 1/2 cup measuring cup into without making a mess! These jars were a perfect swap. Not only can I get a ton of flour, sugar, etc into the jars, I can constantly see how much I have and can easily get measuring cups in and out of. While you wouldn't think a glass jar would be attractive, with (or even without) a nice label on the front, these jars look really great on the counter!
March 22, 2012