< Return to Product Page
Customer Reviews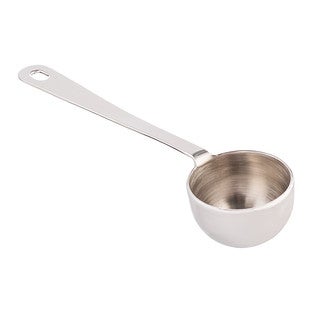 Stainless Steel Coffee Scoop
Overall Rating:
Customer Reviews
Rated

4.6

out of

5

 by

10

reviewers.
Rated

2

out of

5
 by
Galindolaw
Not a Tablespoon - not even close
I purchased this coffee scoop at a Container Store. It is nice quality. But it is well over a tablespoon. I actually just went to the Container Store webpage to find out the size as there is nothing marked on the scoop. I have checked with several different measuring spoons and they are similar (all smaller than this one). It is hard to prepare precise coffee measurements with inaccurate scoop. I would think it is 1.15 - 1.20 Tablespoons best I can figure.
November 3, 2015
Rated

5

out of

5
 by
CapeGirl
High Quality - Great Size
Bought two of these scoops for measuring baking soda for cleaning in my bath and kitchen. They're strong, nicely-plated and just the right size to fit inside the containers in which I store the baking soda. If I didn't already have a Starbucks scoop for my coffee bin, I'd buy another one. They would make a very nice addition for anyone putting together a mug-with-coffee-tea-or-hot-chocolate gift at Christmas.
July 13, 2015
Rated

4

out of

5
 by
NicksmyNICKname
Be aware: a std coffee scoop is TWO tblsp, not one
I'm surprised no one has mentioned this. A standard coffee measure ("coffee scoop") is 2 tablespoons.There are lots of 1-tablespoon scoops out there, and this one is fine if that's what you really want. Me, I can't imagine having to scoop twice as many times because my scoop is only half the size of a standard measure. Added bonus if you get one that is the standard coffee scoop measure: you then have a 2-tablespoon measure that doubles as a handy measuring spoon in cooking & baking. In either case, **long-handled** coffee scoops are great!
February 25, 2015
Rated

5

out of

5
 by
kenito
well made stainless steel coffee spoon
This one tablespoon spoon is a nice heavy well made little item. It is long enough to be able to reach into a deep pocket coffee can and easily get the coffee out. The finish appears to be heavy duty, and unless you really abuse it (pour acid on it?), it should last for several years as it won't rust and it does not bend easily (fairly heavy duty gauge on the handle and cup itself. It has (as you can see in the picture) a small opening at the end of the handle so you can hang it up if you wish.
August 8, 2013
Rated

5

out of

5
 by
MamaT
Handy Coffee Scoop
I like having this specific spoon to keep in my stored coffee container. This way I don't need to use and wash my cooking measuring spoon everyday. I have used this spoon for the past 2 years with our caffeinated coffee storage container and recently purchased another one for our decaf coffee. I love the look and quality of it.
February 26, 2013
Rated

5

out of

5
 by
LDB83
I love this scoop!
I have purchased SO many coffee scoops, and they have all broken, or they are too short. This one is perfect! It's heavy, and very well made. I'm a believer in stainless steel, and this scoop is the best.
May 31, 2012
Rated

5

out of

5
 by
brat
great find
perfect for leaving in the coffee container....that way I know where it is...very handy
April 27, 2012
Rated

5

out of

5
 by
Smartshop
Finally a good scoop!
We've broken so many plastic coffee scoops! Finally one that will last!
February 14, 2012
Rated

5

out of

5
 by
CareyandSam
Totally Worth Every Penny
this scoop is so awesome! gives the perfect scoop; no more guessing, or using my tablespoon measuring spoon. And it's really long handle reaches deep into my coffee container. It's also made very well, and is very sturdy.
October 17, 2011
Rated

5

out of

5
 by
momtoross85
Perfect Scoop
This scoop, while inexpensive, is sturdy, easy to use and attractive. It is heavy, not flimsy, and it reaches into the tall bag easily.
December 2, 2010