< Return to Product Page
Customer Reviews
Silver Mesh Drawer Organizers
Overall Rating:
Customer Reviews
Rated

4.9

out of

5

 by

79

reviewers.
Rated

5

out of

5
 by
justwondering
Other uses?
Normally I use the 6x15x2 ones to hold bulk spices on a lower cabinet to refill my jars later. However, today I pulled one out to dry my naturally dyed Easter eggs! Yellow (different soaking times): tumeric powder; Blue: red cabbage. The green is yellow then dipped in blue but I'll look for a natural green later. Next up beets for pink!
March 28, 2015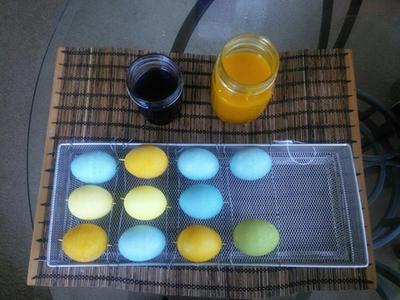 Rated

5

out of

5
 by
SweetBorganizing
Not just for the office!
I used these simple mesh drawer organizers in a client's kitchen to contain their drawers. This client was not a fan of plastic so I had to come up with a new solution. BTW, they love it!
January 8, 2017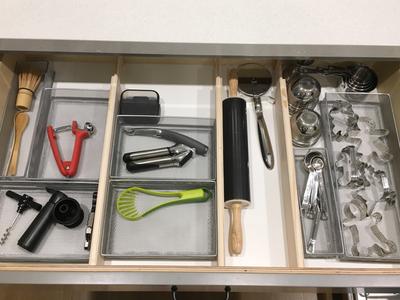 Rated

5

out of

5
 by
blessedgrandma
Great small holder!
I purchased two of these a few months ago and then decided I needed two more so I can sort my four Grandkids ornaments I am painting for them. They also stack, which helps with space!
January 2, 2017
Rated

5

out of

5
 by
tjn1
Sweet!
I have 2 dozen of the drawer organizers I use to hold my DVDs. I prefer this to the DVD bin because it holds more and I can flip through them easily. The CD bin is also a great way to organize.
August 8, 2016
Rated

5

out of

5
 by
organized15
Perfect for my kitchen "junk" drawer
I purchased mesh organizers, one in each size, to corral my kitchen junk drawer. These are perfect for the purpose and I like the mesh design for ease of clean-up.
February 10, 2015
Rated

5

out of

5
 by
kdeew
Perfect for OCD-like organization!
I can't believe I didn't buy these much sooner. My cosmetics drawer looks amazing and I've managed to save myself some time since I can find everything right away. I will eventually buy more for many other drawers around the house in need of organization. Highly recommend.
July 21, 2014
Rated

5

out of

5
 by
TCGliderguy
Great Dividers for Workshop Drawers
I bought an assortment of these mesh dividers, to bring some order to all of the tools in my workshop drawers. Now the regular screwdrivers are separated from the allen head socket drivers, and the miniature jewelers screwdrivers have their own place, as do the hex socket driver sets. These divider baskets are great, because they are low profile (only 2 inches tall) and don't take up much of their own space. And, they are a bargain price for what you get⿦..
June 27, 2014
Rated

5

out of

5
 by
Beecer
love these things
So handy...and so many different lengths and sizes that you can build just about any configuration...and great for really small drawers
June 10, 2014
Rated

4

out of

5
 by
SFhomeowner
Makes utensil drawer look sharp
Bought these drawer organizers in multiple sizes to organize my kitchen utensil drawer. I like the way they look - clean and architectural, but I wish the sides were taller. Also it's a tight squeeze, which it shouldn't be. I wish Container Store carried the 6"x6" version that other people carry - I need those to complete my pattern and will have to buy them elsewhere.
May 21, 2014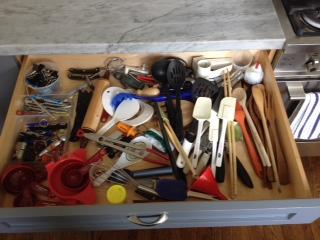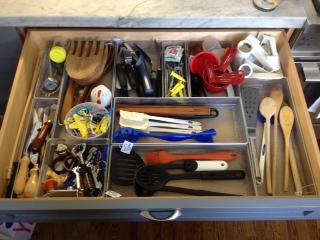 Rated

4

out of

5
 by
Becker
Good product .... but
This is the second time within the last couple months I've ordered this type of product from the Conatianer Store and each time one of the units was bent and/or distorted. I really like the product, no problems there .... but I think from here on I just might drive the three hours to pick out my own products, as the warehouse doesn't seem to care what they send. =(
May 17, 2014
Rated

5

out of

5
 by
miaoreo
Junk Drawer Solution!
We recently remodeled our kitchen and the new cabinets had larger drawers than the old. I knew the far end drawer would be the designated "junk" drawer and shuddered to think what such a large drawer would turn into. So I measured the drawer and mapped out the Silver Mesh Drawer Organizers by size to fit perfectly. Perfect solution, now our junk drawer will stay organized and we can find what we need!
May 5, 2014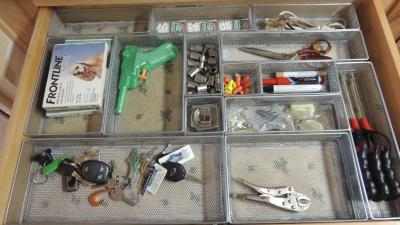 Rated

5

out of

5
 by
Gnome7
THE BEST THING EVER!!!
I have used these for so many things from organizing little things like paper clips or bag clips to larger items like spatulas or cookie scoops and even makeup. So many uses and they stack and slide on each other. Like the square one fits on the larger rectangular one and slides back and forth to access the bottom one but also gives you more space to put stuff.
May 2, 2014
Rated

5

out of

5
 by
Texaslyd
Stylish storage for any room
I love these bins! Have them in the kitchen, laundry, bath, garage, everywhere! All the different sizes make it possible to truly customize your drawers...and they are great looking too! Plus the mesh allows dust/debris to fall to bottom of drawer so you can lift the bins out and wipe down the drawers without having to take every little thing out individually.
May 2, 2014
Rated

5

out of

5
 by
MagicHat
Matches well with my other Mesh items
Looks great and very functional I love to be organized with style and this fits the bill will purchase more!!
April 28, 2014
Rated

5

out of

5
 by
JoanDC
Terrific product!
Great price and these look good, too. Also, they stack and give a neat appearance.
April 20, 2014
Rated

5

out of

5
 by
ClassicMom
Wonderful baskets with many uses!
This is the third time I have purchased various sizes of these baskets, both in store and online. Once you have used them, you will be hooked. I tried to find other brands like these, but none were made as well. Very happy with this purchase.
March 24, 2014
Rated

5

out of

5
 by
Dreeaa
These things are awesome!
I bought a few for my one kitchen drawer and will be going back to get more and try to organize a "catch all drawer" that's been doing just that!
March 20, 2014
Rated

5

out of

5
 by
DaniS
Perfect Fit
These organizers are one of my best finds at the store. No matter the drawer or the range in size of all the knickknacks you need to put away , these make it easy to mix and match so everything fits!!!!!
March 19, 2014
Rated

5

out of

5
 by
snowflak03
Coffee Mate
I used the drawer organizer to keep my K-cups organized and standing up right. It's cheaper than the organizers specifically made for K-cups and it gets the job done.
March 13, 2014
Rated

5

out of

5
 by
paab
Mesh Draw Organizers
The best thing since sliced bread. I work in medical company and we use these in exam rooms, nurses stations,reception areas. They're easy to take off and look great too.
February 14, 2014
Rated

5

out of

5
 by
Jjmitchell94
Solid and versatile
I bought several of these organizers to mount onto the side walls of my pantry to hold small bottled and boxed items and keep them handy. The organizers are sturdy and well reinforced at the top and bottom and with straight sides and are perfect for mounting on a wall and keeping items from falling out during storage. There are several sizes so I was able to get exactly the size I needed for my space; these are the only organizers I found with enough sizes to accommodate my little pantry project. They are making it possible for me to reorganize my food storage and make it much more efficient! Love them! Very happy!
January 26, 2014
Rated

4

out of

5
 by
hOmm
good solution
Purchase a few for my kitchen. Very clean look and stylish. One was slightly larger (a few mm) than advertised. The slight oversize prevented it from fitting in my drawer. I will try another and bring my measuring tape to make sure it fits.
January 23, 2014
Rated

5

out of

5
 by
JAlex
Mesh Drawer Organizers
I find the mesh drawer organizers to be my most helpful tool in my kitchen drawer organization. I have one drawer that I used to have to dig through to find what I needed. Now with the organizers everything has a place and is always easy to find.
December 13, 2013
Rated

5

out of

5
 by
PeruvianShopper
Fits any color, any style
That silver mesh tone goes with everything! I use it to organize my office drawers at work, my 2 teenage sons' desks, even my bathroom drawers (I separate my lipsticks from my hair pins, and in my husbands side of the bathroom I use it to separate his razor blades, from his small scissors, and other small toiletries).
November 11, 2013
Rated

5

out of

5
 by
Latricej10
Great Organizer
I love this product. Lots of times I tend to throw things in my desk drawer; therefore, an item of choice would be lost when I looked for it. In buying the drawer organizer every item has its own separate compartment and it makes finding things 10 times faster.
July 23, 2013
Rated

5

out of

5
 by
MissKriss
Great for organizing your desk
When organizing drawers, I have always used the Linus drawer organizers. But when I started organizing my desk, I decided to try something new and go with the mesh organizers instead. The mesh drawer organizers worked perfectly to contain all my different office supplies. It makes me very happy when I open a desk drawer and see all my supplies neatly organized.
July 1, 2013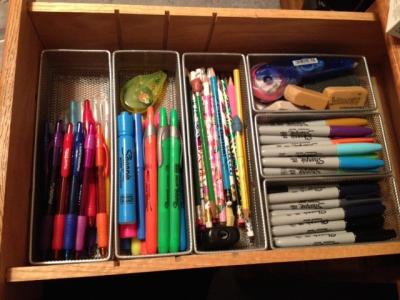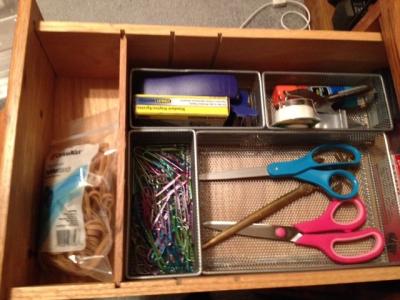 Rated

5

out of

5
 by
GettingOrganized2
Just Right!
Bought 5 in various sizes for organizing items in bathroom drawer. They look great and the quality is very good.
May 21, 2013
Rated

5

out of

5
 by
Hcsilhap
Great little organizers
Purchased a dozen or so of these to organize my kitchen drawers in my new home. I'm back to order more. What I most love about these is that, unlike my former trays, I won't have to wash them out as often. I don't believe the organizers will collect as much dust and grime. It will be much easier to pull them out and just wipe the drawers.
April 27, 2013
Rated

5

out of

5
 by
MissR
Great Product
This product fit perfectly in my desk drawer and held everything I needed. I love that I can find things quickly instead of digging under a pile of junk. It's also nice that you can customize the different sizes to your needs.
April 26, 2013
Rated

5

out of

5
 by
Comanchegurl
Wow!!!!
We have moved numerous times. But I always find a way & need for these. They started in our kitchen. Then we used them in the bathroom for a while. And now they live in a desk drawer. Really great sizes. Strong. Attractive. & I really like the are shallow so they can go in thin drawers.
April 26, 2013