< Return to Product Page
Customer Reviews
Expand-a-Drawer Utensil Trays
Overall Rating:
Customer Reviews
Rated

4.6

out of

5

 by

40

reviewers.
Rated

5

out of

5
 by
AJM88
Great to get organized with!
I purchased two of the original size to corral utensils in two kitchen drawers. These are extremely useful to help locate just the right tool in the kitchen.
September 22, 2016
Rated

5

out of

5
 by
doctorliz
Great kitchen drawer organizer
Price is reasonable to make your drawer organized! I was worried with the plastic material might look it cheap but it turned out very well.
November 10, 2014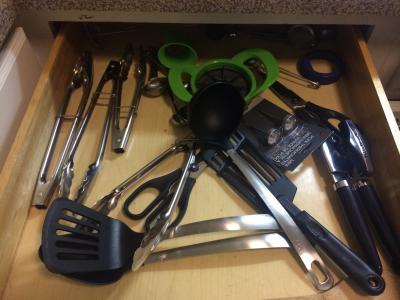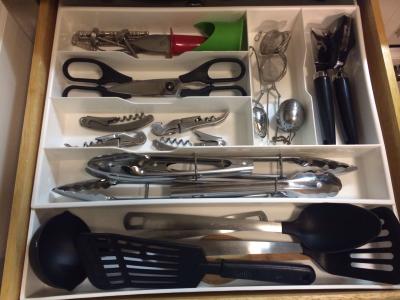 Rated

4

out of

5
 by
MelanieO
Helps
I think the main problem I have is not the fault of the product, but just because my drawer is very shallow and I have a lot of utensils. I put this product in my drawer and organized everything as best as possible. It's pretty crammed though, but I do like it more than before. It was pointless to use one of the expanders, so I put it into a different drawer to help with that one. It's not the most amazing organizational piece, but it's not bad.
August 6, 2014
Rated

5

out of

5
 by
Gramma2
Works Great!
This is ideal for organizing my large spatulas, spoons and other cooking utensils in a pullout drawer in one of my kitchen cabinets. Before, everything was just "in the drawer". Now it is neat and easy to find what I want immediately.
May 27, 2014
Rated

4

out of

5
 by
restongirl
Utensils tray.
This is an excellent kitchen utensils tray for large, long tools. Not so good for small utensils, which tend to go astray under everything else. I had to get a silverware tray for smaller utensils.
May 10, 2014
Rated

3

out of

5
 by
garyo
ok but not stable
This item is adjustable, but it never really sticks together. The ridges which are supposed to hold the adjusted box together don't really hold together very well. I ended up taking them together. It works I guess but it's kind of hokey.
May 4, 2014
Rated

5

out of

5
 by
ShannonT
Best Kitchen Utensil Organizer
I am a huge fan of drawer organizers and have found this to be the best one for my kitchen drawers. They hold a lot of large utensils and also fill up large drawers really well without having to jimmy rig something to it will stay in place.
April 25, 2014
Rated

5

out of

5
 by
crimsongem
Best Utensil tray ever purshased
This tray is longer & adjustable for my utensils.I have a long & narrow drawer. that has been difficulty to find the tray I needed.
March 24, 2014
Rated

5

out of

5
 by
trozum
Perfect for my needs
I had looked high and low for something to corral my untensils in my very small condo kitchen. This was it; I should have started here first! Thanks Container Store! Please open a stores in the Kansas City Area; my kids are tired of me sending them to the St. Louis store to retrieve my order each time they come to visit.
March 10, 2014
Rated

5

out of

5
 by
Cookies
Drawer organizer extraordinaire !
Purchased the expandable drawer organizer for my miscellaneous kitchen tools. Previously they were just tossed in a drawer. Finding what I needed always took time and was just plain aggravating. This has made the drawer neat, tools easily accessible, and such a time saver. Would definitely recommend this product!
March 3, 2014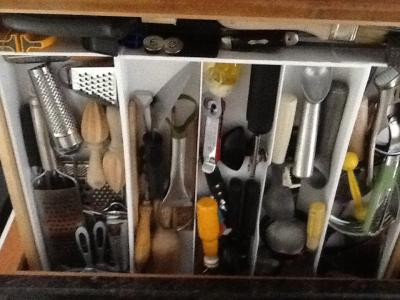 Rated

5

out of

5
 by
LMTallahassee
Great Drawer Organizer
My daughter-in-law suggested I purchase this and wow what an organizer. Now my utensils stay in place and no more digging through the drawer!
November 19, 2013
Rated

5

out of

5
 by
CarQueen
Works great
We just remodeled our kitchen and the drawers are large. An average organizing tray just wouldn't work. I was glad to find this one, and once placed in the drawer it works great. My cooking utensils are organized and not sliding around in the drawer.
November 4, 2013
Rated

5

out of

5
 by
coolStuff
Makes sense and works
I bought this for its versatility. Originally intended for a narrow drawer (and this tray did fit nicely) I decided to use itfor a more wide drawer where this tray, expanded, was more beneficial for the mish mash in that drawer. This tray's been in use for about a week and is working out fine so far.
July 29, 2013
Rated

4

out of

5
 by
act1
Good inexpensive buy which fits the drawer of our size at home.
April 29, 2013
Rated

5

out of

5
 by
tha503
Very useful
I purchased one of these for my kitchen utensil drawer. It makes finding what I need so easy, no more digging through the drawer!
April 27, 2013
Rated

4

out of

5
 by
flashlightbuff
works great
I bought this to line my ancient kitchen drawers that were just giant piles of silverware. now everything is organized and kept clean
April 19, 2013
Rated

5

out of

5
 by
ALC65
Just what I was looking for!
I bought a couple of these to replace the original utensil holders that came with our new house. I was having a hard time finding an organizer that would use the whole space inside the drawer and then I found these. Perfect fit and I didn't have to special order one or find one and cut it to fit the drawer.
April 9, 2013
Rated

5

out of

5
 by
bluelion
Just What I Needed
This holds everything I need to use for cooking next to my stove. It makes it much easier to cook since I dont have to rummage through a pile of utensils!
March 25, 2013
Rated

5

out of

5
 by
Lollie123
Best In-Drawer Organizational Sytem EVER!!!!
I bought this in-drawer organizer because we refinished the custom drawers in our kitchen and they are wider than standard drawers. This system is like magic, it adjusts to fit, has plenty of org space and makes finding my kitchen tools a snap. How I ever lived without one, I have no idea!
March 18, 2013
Rated

5

out of

5
 by
Lilly65
Love the versatility
I have purchased several of these trays and love them. I'm using them in my kitchen pantry. They have really helped me organize my canned goods. Also have them in my kitchen silverware drawer and love that too.
February 27, 2013
Rated

5

out of

5
 by
Kellymoo
Perfect for my messy utensil drawer
This did the trick for my messy drawer. Very happy!
February 8, 2013
Rated

5

out of

5
 by
MS88
Smart product
This drawer organizer was the perfect solution to my messy overflowing utensil drawer. I can now not only see everything I have and access it quickly, I can fit even more in the drawer! I love that it requires zero assembly and that it expands to the width of virtually any size drawer.
September 4, 2012
Rated

5

out of

5
 by
cowboy
Expand a Drawer
I just purchased 2 expand a drawers as I wanted to organize my kitchen. My cabinets were built in 1965 so I was so amazed the container store had items that exactly fit as i have not been able to find anything before. I love my drawers and it is so much easier to locate items when I am cooking. I would highly recommend this store to anyone wanting to organize any room. The employees are so helpful and have great items.
May 3, 2012
Rated

5

out of

5
 by
Chrysanthemum
Great product
This was the answer to my disorganized drawer of utensils. At the right width, I was only able expand one of the two extensions to fill the length off my drawer. Nontheless, I was able to fit all utensils and have been organized since.
March 24, 2012
Rated

5

out of

5
 by
ChristineD
Perfect solution!
I was frustrated with not being able to find a spatula, scraper or pizza cutter to save my life, despite the fact I own multiples of each. This utensil organizer was the perfect solution! It is long enough to house my multiple sizes of utensils, and deep enough to stack items. And the expanding size allowed it to fit perfectly into my drawer, while allowing me to choose if I wanted one additional large bin, or two smaller ones. Great product at a great price. Next up....the junk drawer!
March 19, 2012
Rated

4

out of

5
 by
IAmOrganizing
Loved it!
The drawer is perfect and very versatile. Whatever size your drawer is you can adjust it to fit your needs. It's lightweight and a no-brainer to assemble. I will buy more like it.
March 9, 2012
Rated

4

out of

5
 by
mrsteeno
Doesn't lock
Great for the price- the down side is that this does not lock in place after it is expanded like the Bamboo would. Go for the bamboo ones if you can afford it.
March 5, 2012
Rated

5

out of

5
 by
kitchenchief
Great product
Very easy to use and fits in many different drawers (standard length). Easy to clean as well. All looks now very well organized.
March 1, 2012
Rated

5

out of

5
 by
LavenderLady
Seems to work for me
I have a wide kitchen drawer which I use to store utensils. Prior to buying this expandable tray, I used two plastic expandable drawer separators in addition to a plastic container to help store smaller items. I realized I needed something more stable as the plastic expandable drawer separators would not always stay in place and that I needed to further divide my utensils. This expandable tray seems to help as I have five sections to help organize (because I am using the entire tray). There were two lesser-used items that I couldn't fit in the tray and have put them somewhere else
May 14, 2011
Rated

2

out of

5
 by
bagheera
not as good as it could / should have been
I bought both this and the expandable cutlery tray. I have to say I am surprised by the overwhelmingly positive reviews. I thought, when I was buying this, that it would be one expandable piece. Instead it's three separate pieces that do not in any way attach to each other. (You become aware of that fact the moment you open the packaging and the contents comes all flying apart.) The middle part of the organizer, that has little grooves on the bottom, simply lies on top of the two extra sides. Those grooves are not sufficient for everything to stay in place! Every single time you open the drawer, the entire structure slides a bit. I am really disappointed - I expected some actual engineering thought behind this.
May 1, 2011