< Return to Product Page
Customer Reviews
Everything Organizer
Overall Rating:
Customer Reviews
Rated

4.8

out of

5

 by

32

reviewers.
Rated

5

out of

5
 by
TMladic
Everything In It's Place
This product is so versatile that you can use it as it's shown in the picture or side by side for more drawer coverage. It's different shaped compartments are fun to fill with just the right size items. It is truly priced right and so useful, it's hard to purchase just one.
January 26, 2017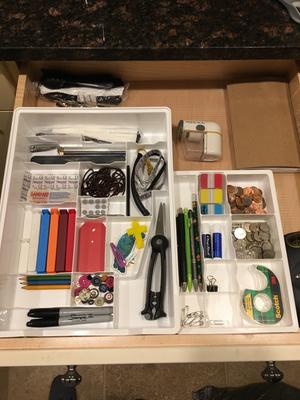 Rated

5

out of

5
 by
gozer23
just about best purchase I made
Didn't think Organizer was going to fit my drawer, house is very old, drawers small. Everything Organizer fit perfect! There's was a spot for everything, just like it's name says. Now I just like opening the drawer just to look at it, it's not that ugly mess it was before, it beautiful!!!
March 9, 2016
Rated

5

out of

5
 by
Beebe
Love this organizer
I never thought my junk drawer could be this organized, hold as many items as it does, and still look good. My newly organized junk drawer has inspired me to clean out other drawers and closets.
May 14, 2015
Rated

5

out of

5
 by
MelanieO
Great junk drawer organizer
My husband and I both really like this. I am so glad I got it. It has really cleaned-up our "junk" drawer; it's no longer a cluttered mess. Furthermore, the organizer didn't take up the whole drawer, so there was still some room in the front, on the side, and in the back to put bigger items that couldn't fit in the organizer, such as the tape dispenser, and other miscellaneous items. The only thing that was confusing were the sticker labels. They did not completely match the spots provided, and they were not the same as the photo showed on the packaging.
August 6, 2014
Rated

5

out of

5
 by
cbarba
Strangely works amazingly
You would never figure that there could be one thing that could fit all your junk from your kitchen drawer but this thing does. Everyone should get one of these, it has a spot for everything (hence the name)
April 7, 2014
Rated

5

out of

5
 by
JPeezy
Junk Drawer Organizer
Doesn't everybody have a junk drawer in the kitchen? And doesn't it drive you crazy to have to dig through everything just to find the AA battery you are looking for? Well at least it bugs me, which is why I was excited to see this drawer organizer. We just got it and haven't used it to its fullest potential yet, but I'm very optimistic about its usefulness.
March 7, 2014
Rated

5

out of

5
 by
trozum
Tames the Cluttered Junk Drawer
I've had one of these for our junk drawer for 7 years and love it; am buying another one for other drawers as well. So glad it is still available. Highly recommend it.
September 9, 2013
Rated

3

out of

5
 by
kramersgirl
Didn't fit the need
I was looking for organization for at least one junk drawer in the kitchen. This was a great price and looked right. After opening it and seeing the bottom portion, I was disappointed. Way too many little sections and not enough longer sections. Some of the longer sections were shaped oddly so did not offer the length. With scissors, glue sticks, pens and markers I needed to fit in, I did not have enough of those areas in this organizer. For me, it was just ok
July 11, 2013
Rated

5

out of

5
 by
dap1024
fits anywhere
This product is versatile. I needed something for so many different spaces from the bathroom to the kitchen, from jewelry to junk. This helped me organize it all.
April 27, 2013
Rated

5

out of

5
 by
Murph1887
Junk Drawer no More
Quick and easy way to corral all those little things bopping around in your "junk drawer". Especially like the two tiered design.
April 27, 2013
Rated

5

out of

5
 by
JJ13OSU
Awesome "junk drawer" organizer
Everyone has THAT drawer that you just hate to open and look at. I had that until I bought this organizer. The best part about it is the decals that you place in the compartments so that you can keep everything organized. My husband doesn't have any excuses- when he needs a safety pin, he knows just where to look!
April 2, 2013
Rated

5

out of

5
 by
bluelion
easy peasy
makes it easier to find what im looking for in my junk drawer
March 25, 2013
Rated

5

out of

5
 by
smbryson
A junk drawer I'm proud to show off.
I always tried to organize my junk drawer with bins and such. But now that I found this I have the best looking junk drawer in town. All the family can easily find what they're looking for, everything stays nice and neat. It was a very well planned and design product. Love the sliding top shelf. Between this and my Container Store battery organizer, my drawers couldn't look better.
March 24, 2013
Rated

5

out of

5
 by
cluttergottome
watches everywhere
I love watches. I have quite a few. I wanted something with compartments that I could place the watches in so I could more easily find the one I wanted. This organizer is working really well for me.
February 3, 2013
Rated

5

out of

5
 by
Woofmama
Junk drawer magic!
Can anyone survive without a junk drawer? What a joy it is to have it all organized...everything in it's place. This is a great organizing tool! Only wish I had found it a long time ago.
April 25, 2012
Rated

4

out of

5
 by
Candace
Good Buy
Nice organizer. Wish it had more big compartments, or I didn't have as much junk to be organized.
April 9, 2012
Rated

5

out of

5
 by
AuntBeady
Everything Organizer
This organizer is perfect for the top drawer of my sewing machine cabinet. Holds every little thing that had been rattling around in the drawer and hiding from sight. Now I can find all those needles, pins, bobbins, scissors, etc. easily.
March 13, 2012
Rated

5

out of

5
 by
sheila
A spot for everything
I have this organizer tray in my "junk" drawer in my kitchen. Prior to that I couldn't find anything in that drawer. There is a spot for everything and it holds so much. The upper sliding tray makes it great for storing other items and still having access to the things in the tray below. I can't tell you how many fights with my spouse, this has eliminated. Now when my husban asks where the tape is, I say look in the "most organized" drawer in our house - instead of the "junk" drawer.
February 28, 2012
Rated

4

out of

5
 by
ClutterCleanerClara
Everything Organizer with everything in it
I purchased one of these to organize my "junk drawer" in my kitchen. I had everything you could think of in that drawer and was able to find spaces for it all. I included batteries, screws, thumb tacks, nails, washers, pencils, pens, labels, etc. I still have quite a few spots left to put things in. The top shelf slides back and forth to give you room to look for things on the bottom. I can slide this top shelf without having to remove the organizer from the drawer. It is made of sturdy plastic with several large and small compartments. I would recommend this item to organize a junk drawer, desk drawer, small toy accessories, etc. It does not have a lid so I would recommend keeping it in a drawer or spot where it would not be knocked over.
January 3, 2012
Rated

5

out of

5
 by
Catalina
love it!
I have owned one of these for several years and recently bought one for my niece to help organize her junk drawer. The junk drawer now holds an enormous amount of doo-dads and everything can be easily found. It would be nice, however, if they also made a smaller one to fit some drawers that are not quite as wide. ( I bought an additional one for a smaller drawer but use just the top sliding drawer since the bottom part was too wide)
September 10, 2011
Rated

5

out of

5
 by
rav9
Great Purchase
This is a great item if you want to organize your junk drawer. Even better, the item was on sale and I ordered it on-line, chose pick-up at store so no delivery fees. Went to The Container Store next day, gave cashier order number and I was in and out in 5 minutes. How convenient is that. Just make sure that you measure your drawer size prior to purchasing, mine fit perfect. Thanks - great item
August 18, 2011
Rated

5

out of

5
 by
DJBC
Really Great Drawer Organizer
I purchased a bunch of clear plastic drawer organizer inserts years ago for my desk drawer, but I found they just fell over or got in the way of what I needed. I finally purchased this drawer organizer and everything fits perfectly! I am very excited and I think I might have convinced my husband to use one as well. I'm even buying one for my desk at work. It's a wonderful way to be able to access everything. The only thing I would change is if they added a few more pen/pencil-length spots. I have a lot of different types of pens that I would love to keep separate.
May 9, 2011
Rated

5

out of

5
 by
OrganizedinOregon
Junk be gone!
This little tray is the best thing I've found for organizing my junk drawer. I used the smaller tray in one drawer in the office and the larger tray in the kitchen. I love the versatility of it!
February 15, 2011
Rated

5

out of

5
 by
LadyW
Great organizer!
My bedside drawer was a mess with things I always seem to need after crawling into bed and watching the news. This organizer is like a miracle! Everything has a place and no more searching around for something I usually can't find anyway. Now I know where everything is and it's terrific!
February 14, 2011
Rated

5

out of

5
 by
PSwensen
Tamed My Junk Drawer Perfectly!
This item is perfect for taming an unruly junk drawer! I absolutely love it.
February 4, 2011
Rated

5

out of

5
 by
realitytvlover
great organizing product
I love this. I bought two one for my junk drawer and on for my bathroom that I used to organize my makeup. I can actually find everything now so much easier. I found stuff I didnt know I had. I love the act it has stickers to put in them so u can easily find the items and put them back in the right place.
February 1, 2011
Rated

5

out of

5
 by
qponchick
Handy Drawer Organizer
Great product. Keeps everything organized in my junk drawer. I can finally find everything. And, the second level doubles the available space in your drawer.
January 21, 2011
Rated

5

out of

5
 by
thecatsmeow
everyone needs it, really
Everyone avoided my "junk drawer," including me. I found the most random things when cleaning it out to use this drawer. It's got the usual screwdrivers, scissors, batteries and assorted miscellany. I was forced to throw out a lot of stuff. The double layer sliding tray is perfect. It looks so good I almost wish it wasn't tucked away in a drawer. My next mission is to organize my desk drawers!
September 11, 2010
Rated

5

out of

5
 by
ReformedClutterbug
Hottest thing since sliced bread
One of my favorite purchases. Took my makeup drawer and my junk drawer from chaos to perfectly organized. Without looking, I could tell you where everything is in both drawers. Amazing!
May 21, 2010
Rated

5

out of

5
 by
Deirdre
Perfect for junk drawer
This was perfect for my junk drawer -- finally I can get to all those random things quickly. I agree with other reviewers regarding the compartments... this wouldn't work for me in an office desk, but is ideal for the junk drawer.
May 17, 2010