< Return to Product Page
Customer Reviews
Stackable Bamboo Drawer Organizers
Overall Rating:
Customer Reviews
Rated

4.6

out of

5

 by

129

reviewers.
Rated

5

out of

5
 by
BusyatHomeMom
Great Purchase!!!
These organizers are great! We have them in all of our kitchen drawers! They stack very well and look nice as well.
January 20, 2017
Rated

5

out of

5
 by
RnR260
Love these for all my drawers
I started out buying these for my kitchen, which is new. My drawers are different sizes so I needed some thing I could customize . These worked so well for me in the kitchen, I'm now doing the office space, again because I can customize .
September 23, 2016
Rated

5

out of

5
 by
Kelly57
Excellent Space Maker
Love it, they stack inside a drawer making it more organized. Easy to remove to gain access to lower level. Using it in a dresser drawer for makeup and hair supplies.
August 19, 2016
Rated

5

out of

5
 by
etotti
Practical
You can choose the most interesting way to organize your cutlery.
June 12, 2016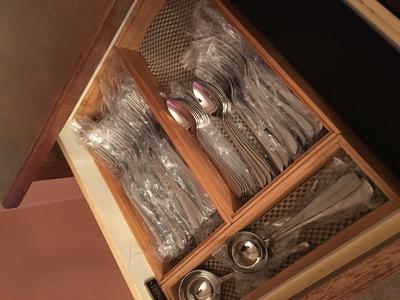 Rated

5

out of

5
 by
ppith
It fills the gaps of your drawer organizer
If you have a drawer organizer, there will be some small gaps in the way it fits inside your drawer unless it was tailor made or you are extremely lucky. These bamboo drawer organizers come in various sizes of length and width (the height is the same). We measured the backside of our drawer and found we could fit two different sizes (6 inch by 6 inch and a 12 inch by 6 inch) in the back of our current utensil drawer. These fit perfectly and we're so happy that the utensil organizer will no longer slide back and forth as we open and close our drawer. In the photo, the two drawer organizers are in the back or the larger organizer.
March 26, 2016
Rated

5

out of

5
 by
crazyorganized6
Works for weird shaped drawers
I live in a home build in the 60's so the drawers are thin and very unfunctional. These organizers give you the opportunity to get the exact sizes you need for your kitchen supplies without drama fitting them into the drawer.
March 22, 2016
Rated

5

out of

5
 by
Prettypants
Functional & beautiful
Great little storage containers. The bamboo is smooth & looks really high end. Perfect for drawers or to leave out in the open.
February 7, 2016
Rated

5

out of

5
 by
KMElaine
They worked for my "problem drawers"
I have some very shallow drawers that have a low hanging thing in the middle preventing a normal drawer divider tray. These cubes were short enough, and small enough, that I could divide up the drawer and avoid the obstacle in the center. They were an answer to a problem that looks nice. They got stuff for hair and nails off the counter top and out of baskets and organized in the drawer :-).
February 7, 2016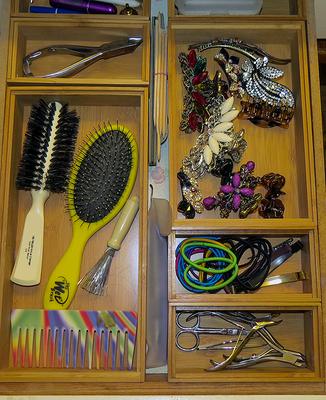 Rated

5

out of

5
 by
HBBB
Awesome Bamboo Organizers
This is my second order. Quality Bamboo and great price. They stack and slide easily!!! Can't ask for better! I love the Container Store!!
February 3, 2016
Rated

5

out of

5
 by
vegasgirl74
maximizing space
Perfect for maximizing drawer space. Make sure you measure inside of drawers before choosing.
November 21, 2015
Rated

3

out of

5
 by
Jillp
Bamboo was splitting
I ordered 5 of the stackable drawers for my utensils. Two of them arrived with the top edge of the bamboo split and coming off. I was able to glue it in place and use it. They are fine now but for the price I would expect them not to split.
July 25, 2015
Rated

5

out of

5
 by
pwhitty
Great!
I have unusually sized drawers, so I use these instead of the other one-piece drawer and cutlery organizers.
May 18, 2015
Rated

5

out of

5
 by
Mission2Organize
Classy, Sturdy, Stackable
These bamboo organizers are of very nice quality. We used them to organize several different spaces within a yacht. They worked perfectly, fit nicely next to each other and looked oh so classy. Because they stack securely, we found them to be particularly useful.
December 22, 2014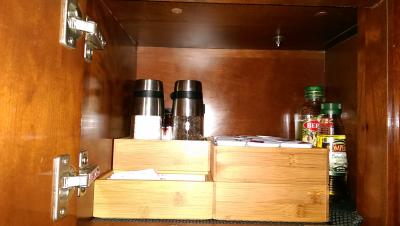 Rated

5

out of

5
 by
sugarcatgrl
Great bamboo organizers!
I use these in my vanity for makeup and they are wonderful! Not only do they look beautiful, they are so handy because they stack. My drawers look very organized and neat. I recommend them to anyone wanting organized drawers or even a desktop.
September 15, 2014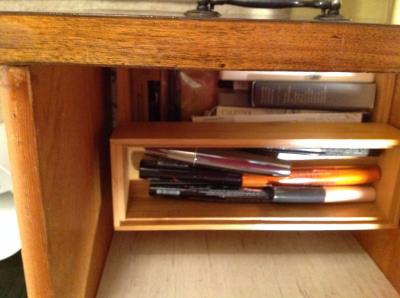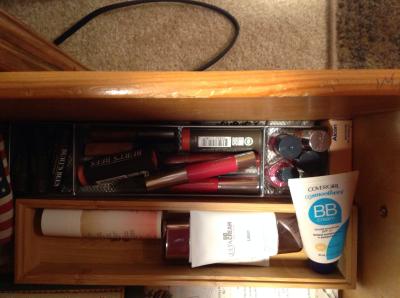 Rated

5

out of

5
 by
Kathy55
Love the Organization
I bought these for the kitchen drawer that holds all the cooking utensils. They work great, stack easy and look wonderful. It's easy to find things that I need now. Love it! The hardest part was deciding how I wanted them in the drawer.
July 17, 2014
Rated

5

out of

5
 by
Busybee516
Love these for organizing drawers. Stacking them in my deep drawers makes it so much neater.
July 14, 2014
Rated

5

out of

5
 by
Klovetoshop
Sustainable, Stylish and Functional
I am a big fan of sustainable products and the bamboo stackable organizers are no exception. The look of them is stylish in my kitchen drawers and functional. It's a step up from the white plastic ones I used to own.
June 24, 2014
Rated

4

out of

5
 by
AnnieKate
Great, flexible organizing tool
These are great because you can customize them to your individual needs. There were some splinters, but since they just live in a drawer it doesn't matter that much to me.
May 9, 2014
Rated

5

out of

5
 by
kmac4701
Stackable Bamboo Drawer Organizers
These are beautiful and come in a good variety of sizes.
May 3, 2014
Rated

4

out of

5
 by
NeoFox
It fits as expected. It hasn't broken yet. Pricey.
May 3, 2014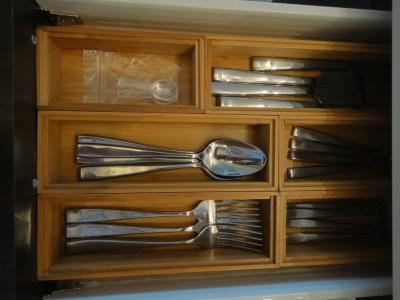 Rated

5

out of

5
 by
debbie3sc
debbie3sc
you have to get these you will be able to find things
May 2, 2014
Rated

4

out of

5
 by
LisaJ22
Lovely, Same quality issues as others
These are very nice little drawer organizers. I read several reviews before I bought them so I knew what to expect and wasn't disappointed by a few tiny splinters here and there. The Square (6x6) was a little bit crooked and doesn't line up quite perfectly with the others, but they serve their purpose and are very sturdy.
May 1, 2014
Rated

4

out of

5
 by
CindyNNJ
Great Product
I used these to organize a desk drawer. My only complaint is I wished they were available in more sizes.
April 27, 2014
Rated

4

out of

5
 by
Danzo
excellent for organizing small stuff
Organizer is attractive and excellent for organizing small stuff
April 23, 2014
Rated

5

out of

5
 by
Paulk
Great for our RV
We used these in our RV drawer in the kitchen. We used them in one drawer to keep our silverware in place and another drawer for miscellaneous items. They work perfect in the drawers and look great too!
April 22, 2014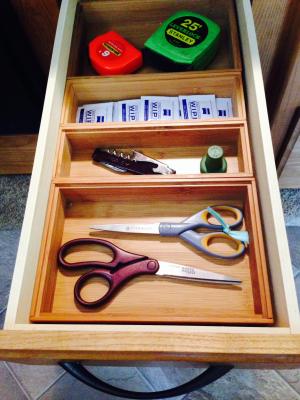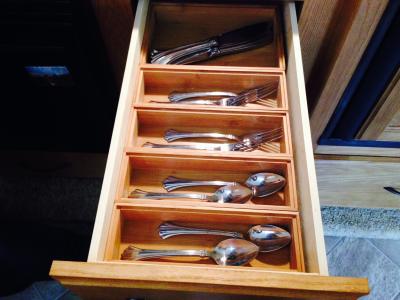 Rated

5

out of

5
 by
vkhanson
Great boxes
In truth I use them as molds for soap making and they are perfect. These organizers are very sturdy and stack well.
April 21, 2014
Rated

4

out of

5
 by
Helenaguerra
Makeup organizer
I was looking for a container to put my makeup in the bathroom. I find this one. Nice material, it looks great on my bathroom and good value.
April 20, 2014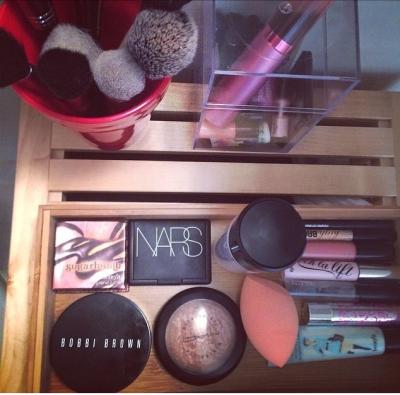 Rated

5

out of

5
 by
arrow1996
Perfect for the kitchen
I used these in all of my kitchen drawers for gadgets. They were perfect!
April 17, 2014
Rated

1

out of

5
 by
Auslander
Splinters!
We received 16 of these to do the knife and utensil drawers. They are all going back. More than half of them have splinters along the upper edges and several are somewhat warped. Bamboo splinters are very hard to remove and I'm not gambling our or our guests' safety just for containers. Looks like it's back to simple acrylic...
April 14, 2014
Rated

5

out of

5
 by
cr1owd
Great quality! Perfect for kitchen drawers!
This was my first purchase from The Container Store. I had been searching the 'net for a simple wood tray to use in my kitchen drawer to store the larger knives. What I thought was a simple thing to find was in fact very difficult - many searches only brought up a couple items (from other sites), and the reviews of them were terrible. I finally found this product and as I had never interacted with The Container Store before, I was skeptical of the product quality, given the price points. I am very happy to say my skepticism was completely wrong! They arrived very quickly and were well-packed. The trays are beautiful and the quality is excellent! They were the perfect solution for my organizing needs. I would highly recommend them to family/friends and would certainly also recommend The Container Store as well. Their product selection is wonderful!
April 14, 2014