< Return to Product Page
Customer Reviews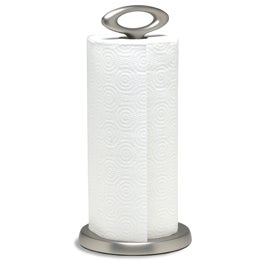 Umbra Grasp Paper Towel Holder
Overall Rating:
Customer Reviews
Rated

4.7

out of

5

 by

7

reviewers.
Rated

5

out of

5
 by
NYContaining
Nice and classy
I love this paper towel holder. The handle on top is useful and pretty. The finish is very nice, and the holder is totally stable. Never falls over. 100% recommend.
April 30, 2013
Rated

4

out of

5
 by
SunnyInCo
I almost love it, but I still like it.
I love the look of this in our kitchen. And it's nice and heavy so it doesn't move around the countertop as you use it. However, and I suppose this should have been obvious from the design, a brand new full roll will sort of unroll itself. Now that we've used a few sheets it works better but those first few revolutions were annoying.
March 21, 2013
Rated

5

out of

5
 by
dklee
sleek and easy
I've had a few other paper towel holders but this one is my favorite of them all. The design is sleek and it doesn't take up a lot of counter space. It also has an easy to turn handle at the top that makes changing out the paper towel roll so much easier than other holders I've had and it lasts for a long time. I've had mine for over 3 years and it still looks new. I highly recommend this product!
March 18, 2013
Rated

5

out of

5
 by
TheVictoria
Paper towel holder best for delicate stone or tile
Changing the roll of towels on this model is much easier than the ones with the heavy round ball. If you have arthritic hands, the loop also makes it easier. The more secure grip area on the top also prevents dropping the slippery, heavy metal ball of other models onto tile or stone that could easily be cracked. Great, thoughtful design.
February 18, 2013
Rated

4

out of

5
 by
amaryllis
Grab and Go!
I purchased this model because the handle makes it easy to take the roll with you, moving from room to room. The disadvantages are (1) you must unscrew the handle to change rolls and (2) there is nothing to keep the roll from spinning on the vertical shaft when you want to tear off a towel singled-handedly. I solved the second problem by wrapping the stem with an empty paper towel roll and rubber bands, creating a "grippy" liner.
February 1, 2011
Rated

5

out of

5
 by
FancyNan
Umbra "Grasp" PaperTowel Holder
This is a really nice product. Heavy enough to stand up to a fast tear-off of a square of paper towels! Looks nice and 'art-deco' sleek on the counter, without the high price.
May 17, 2010
Rated

5

out of

5
 by
dfwinorder157
Who Replaces the Paper Towels - Solved
Everyone in our household avoided replacing the paper towels because our old dispenser was hard to deal with. This particual Umbra product solved the issue. Now, because it is so easy - anyone who comes along can easily take care of replacing the towels.
March 3, 2010