< Return to Product Page
Customer Reviews
Linus 2-Section Packet Holder
Overall Rating:
Customer Reviews
Rated

4.7

out of

5

 by

13

reviewers.
Rated

5

out of

5
 by
rdheron
So wished I had bought more
Was just in Vegas and no trip is complete without a trip to The Container Store. This time I had my wish list in hand and was ready to go. This was on the list thinking I could get rid of the bulky baskets in the cupboards using this instead. Silly me I only bought one and now have to wait till September when I am by another Container Store to get more. Can see the light at the end of the tunnel when it comes to getting my pantry organized.
June 6, 2014
Rated

5

out of

5
 by
Mavido79
Love these things!
I have several of the Linus organizers and they really help keep my cabinets in some semblance of order. I got this one and the 3 section cabinet organizer to organize the lids to all my plastic food storage containers. Works like a dream. The only way I could improve them is to make them all 11" deep. There are a few other sizes I'd like to have but 11 1/2" is too deep for my cabinets.
May 12, 2014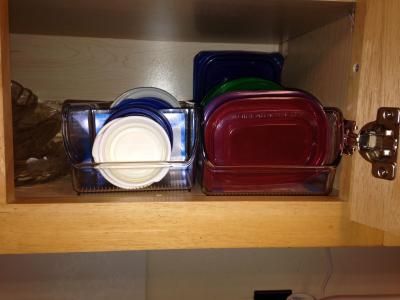 Rated

5

out of

5
 by
kmcdonald6
Just what I was looking for
Love this - it's simple and just what I was looking for. Everyone needs something like this for taco seasoning packets, onion soup packets, etc.
December 30, 2013
Rated

5

out of

5
 by
Mandi1979
Perfect for coffee packets in the office
I purchased these for our breakroom to put the coffee bags in (we make large pots so we have individually packaged coffee we get from a vendor). It's perfect for that - can keep regular and decaf packages separate due to the divider.
April 26, 2013
Rated

2

out of

5
 by
Sampson
Okay, but not for what I was needing the product..
I was looking at this product for another purpose, but did not purchase it for the purpose I needed it for.....found something better when I went into the store. Need to have ALL products on your website.
April 15, 2013
Rated

5

out of

5
 by
StorageAddict
Linus 2-section packet holder
So simple, but functional. I have used cardboard boxes from the grocery in the past to hold packets of soups and gravy, but this tidy's them all up! I plan to go back to The Container Store to purchase other Linus products for my pantry.
April 14, 2013
Rated

5

out of

5
 by
Nati
Absolutely love this packet organizer - got 3 of them!
May 22, 2012
Rated

5

out of

5
 by
amk1220
Excellent
This product is great for staying organized in the kitchen! I store spice packets, marinade packets and taco seasoning packets in this handy container. Works great and is good quality!
April 27, 2012
Rated

4

out of

5
 by
Kayla12
Great!
This works great in the cabinet to store all of those small things that need a home.
February 28, 2012
Rated

5

out of

5
 by
organizedmom4950
Perfect for pantry
I previously used a small plastic basket to store my seasoning packets but it was too wide and they kept falling over. I would have to dig through the basket to find what I needed. Then I found this handy holder! The packets fit perfectly and stay facing forward so it's easy to see what you are looking for. I loved it so much that I returned to the store to get another one to store my single serve tuna pouches.
June 26, 2011
Rated

5

out of

5
 by
Navymom131
Packet Holder
These are great for keeping the packets for gravy, mixes, etc., organized. I love these!
May 8, 2010
Rated

5

out of

5
 by
littlebutterbeans
Great product!
I love this holder, I also purchased the 3 compartment holder then when back a second time and got more! I use them in the kitchen, but also in the bathroom to organize my medicine!
March 3, 2010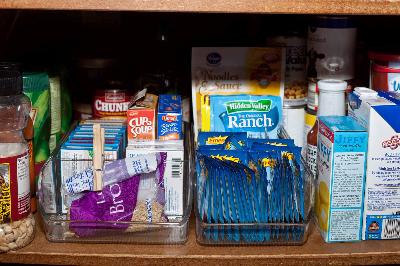 Rated

5

out of

5
 by
Moon
Best Purchase Ever!!!
So versatile! You can use this in the kitchen to hold spices or in the bathroom for small items!
March 3, 2010