< Return to Product Page
Customer Reviews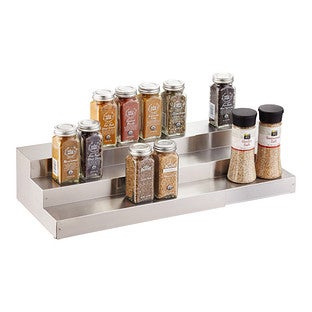 3-Tier Stainless Steel Expanding Shelf
Overall Rating:
Customer Reviews
3-Tier Stainless Steel Expanding Shelf
is rated out of
5
by
18
.
Rated

5

out of

5
by
Elley
from
I can see my spices!
I have new cabinets that are higher up on the wall and without the shelf, I had a big mess of spice jars. Now I can see what I have and it has made the cabinet appear tidier. the metal shelves are flat and the perfect size. it expanded perfectly and evenly. worth spending the money on the metal v plastic.
Date published: 2014-03-31
Rated

5

out of

5
by
Mimi7
from
expanding shelf is wonderful
the expanding shelf fits almost anywhere and now I can easily locate and reach all the vitamins, etc. that were cluttered in the same space.
Date published: 2014-03-20
Rated

5

out of

5
by
gen44
from
fabulous!
finally! My spices are now organized and it looks great. The stainless steel should hold up well and looks so much better than cheap plastic.
Date published: 2013-09-04
Rated

5

out of

5
by
Tangotime
from
Wonderful space saver to organize spices
I love this product. It saved so much room and made finding my spices much easier. I love that it expands to fit your cabinet.
Date published: 2013-03-18
Rated

5

out of

5
by
Texascook
from
Perfect organizer
This far exceeded my expections. I have 32 different spices and not only did I get them all on the rack, but I have more room to add to it. Looks great and very pleased with this purchase.
Date published: 2012-08-12
Rated

5

out of

5
by
emjusto
from
Love These Shelves!
I couldn't figure out how to organize my spice rack without taking up too much space in my cabinets. These shelves were the perfect solution! They are easily accessible and they look great.
Date published: 2012-04-27
Rated

5

out of

5
by
CatLover2012
from
FANTASTIC PRODUCT!!
This is one great product. I wanted to organize my pantry/laundry area and I got these shelves and am about to get another one. They are one of the best organizing items I have ever bought. What a wonderful way to see what cans you do/do not have at a glance. You will not be disappointed with this fantastic organizing "tool."
Date published: 2012-04-05
Rated

5

out of

5
by
Anonymous
from
Saved my cabinets from chaos!
I've been looking at these online for a couple of years. My spices were a mess in my cabinet. This 3-Teir Expanding shelf is a good size it fits all sized spice jars (even the very large ones) with ease. I was amazed at how much fit on it. It expands easily and is sturdy as well pleasing to the eye.
Date published: 2012-03-30
Rated

5

out of

5
by
antiquegirl
from
Great Spice Rack
I love the stainless steel spice rack. Because it is expandable, it fits perfectly into my cupboard space that had previously been culttered with random spice jars. It has good size shelves that hold all sizes of spice jars/containers. It is sturdy, sleek looking and motivated me to de-clutter the rest of my cupboards. A great buy.
Date published: 2012-01-21
Rated

5

out of

5
by
Anonymous
from
Love this shelf, uses the whole cabinet shelf, spices stay put on shelf, and it looks beautiful.
Date published: 2011-06-07
Rated

5

out of

5
by
IrideScent
from
Not just for the pantry...
Wow -- my perfume collection looks gorgeous on these shelves! I can now see and reach everything without toppling bottles over!
Date published: 2010-08-05
Rated

5

out of

5
by
Eyegirl
from
spices galore
I can finally see all my spices! Good construction and easily expands to fit any shelf size. Plus looks good if you have it placed on an open shelf like I do.
Date published: 2010-02-26
Rated

5

out of

5
by
clutterette
from
exactly what I needed
This was a well constructed, high quality item that fit perfectly into my cabinet that organized all of my spices beautifully! I have been looking for a very long time for the right thing that was not cheaply made. This was worth the wait.
Date published: 2010-02-09
Rated

4

out of

5
by
LeFish
from
High quality, better for smaller things
Very sturdy and strong, looks great, expansion feature works well. My only beef (and I've found this true with other tiered shelves as well) is that the shelves are kind of narrow. They would work best for spices, but they are not as wide as a regular-sized can, which surprised me. You can fit cans on there if they are not directly in front of one another.
Date published: 2010-01-26