< Return to Product Page
Customer Reviews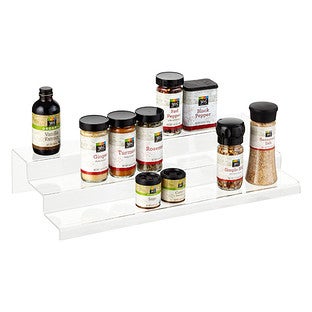 3-Tier Acrylic Cabinet Organizer
Overall Rating:
Customer Reviews
Rated

4.8

out of

5

 by

16

reviewers.
Rated

5

out of

5
 by
Crysh
Nail Polish Organizer
I was looking for a product to organize all of my nail polish colors, where it was easy to see all colors and looked nice and organized, I found this spice organizer at the container store. It works perfectly and makes me feel like I'm at a spa picking out a color from my organizer and a third of the price that a nail polish organizer would cost. Love it!
April 25, 2014
Rated

5

out of

5
 by
Firestorm
Great for Funko Pops!
This item is a great riser for displaying Funko Pops on a bookshelf!
March 10, 2014
Rated

5

out of

5
 by
19635
Great Product and Great Piece of Organization
Purchased the item and helped organize all my spices
December 29, 2013
Rated

4

out of

5
 by
Mumofthree
One of the best I've found
I've tried a few different types of tiered shelves to keep my cabinets organized (spices, medicines, etc.). This acrylic model is one of the best I've found - the plastic one on metal legs has bowed so badly the bottles don't even stand up on it any more. Definitely would buy this type again.
April 16, 2013
Rated

5

out of

5
 by
CarolEz
Works!
Plain and simple - it works, and it works well!!!!
May 30, 2012
Rated

5

out of

5
 by
SpokaneLeanne
Like it
This is a good purchase. I have a wire shelf pantry, and it's pretty deep. The cans are much easier to see, and I already feel more organized!
May 2, 2012
Rated

5

out of

5
 by
mica44
Sleek Acrylic
Fabulous shelving for small items makes a perfect display structure for retailers. Wish there were more in a variety of dimensions.
April 15, 2012
Rated

5

out of

5
 by
oanya
Exactly what I needed
I went into the store to compare a few of the shelving units for spices. This is the one I ended up buying. It's one of the larger ones Container Store carries. I was able to fill it up to the max with about 20 average-size spice bottles and 8 large-size bottles. Each shelf is about 2.5" deep. In comparison to the metal shelving units, this one doesn't wobble at all. My only negative comment is that this item doesn't come in a variety of sizes. If it did I would see lots of potential in it, like organizing cleaning supplies under the sink.
March 12, 2012
Rated

4

out of

5
 by
2thdr06
Nice for cabinets, not adjustable shelves
I bought these to use on my adjustable shelves in my pantry, but since they don't have a solid base, the back of it kept slipping down the space between my shelf and the wall. :( It is still a great shelf, I'm using it in my cabinets and it works great in there!
January 24, 2012
Rated

5

out of

5
 by
yz57
best pantry organizer
This is exactly what I was looking for. I needed to organize the spices and seasonings that I had while keeping them in the original container. This makes them all easier to find. I now have a beautiful pantry!
January 5, 2012
Rated

5

out of

5
 by
Tahia
Makes Life Easier!
I saw this in a Better Homes and Garden magazine and ordered two for my new house. LOVE LOVE LOVE them!
November 9, 2011
Rated

5

out of

5
 by
neatnut
Finally, a solution....
I purchased two of these, I have about 5 cupboards in my kitchen and the ceilings are 10' in height, making it difficult for me to see what is in the two top shelves. With the solution of the 3-tier cabinet organizer, I can see everything now! Makes it so handy to know what I need to replace at the grocery store now! These are very good quality and the acrylic is thick and durable! Great, helpful purchase!
July 18, 2010
Rated

5

out of

5
 by
mgatacleri
Great wine, liquor, tea, coffee rack
This was purchased to hold my liquor and mixers for my kitchen countertop bar. A lot cheaper than typical bar risers for liquor that are $50 - $500.
April 18, 2010
Rated

4

out of

5
 by
Annielou
Love it
I bought these for my pantry. It works great for canned goods. I can see exactly what's in the pantry.
April 15, 2010
Rated

4

out of

5
 by
mari
spice rack
I bought this rack for my spices. It's such a great cheap way to organize so many spices.
March 15, 2010
Rated

5

out of

5
 by
faeriefeline
Very useful
This product is intended for spices but I acutally use it for displaying my collectible figurines. It's great because I can see all my figurines and none of them end up hiding behind another.
March 3, 2010