< Return to Product Page
Customer Reviews
Linus Shallow Drawer Organizers
Overall Rating:
Customer Reviews
Rated

4.8

out of

5

 by

148

reviewers.
Rated

5

out of

5
 by
Seaturtlenut
Great organizers!!!
I absolutely LOVE the Linus Shallow Drawer Organizers!! They come in so many different sizes and give you so many different ways to use them or arrange them. I bought my first order to get my living room table drawers straightened up, and they look great now!! I also like that they are clear. While they are arranged throughout the drawer, keeping everything nice and neat, it doesn't look like a bunch of boxes stuffed in a drawer. Being clear, it just makes everything look like it stays in it's own place, and looks more roomy! In short I love them and can't wait to purchase more for the rest of the house!!
February 13, 2014
Rated

5

out of

5
 by
karakooie
My favorite drawer organizers!
I'm a professional organizer and buy these for all of my drawer organizing jobs. They work well for any type of drawer situation; whether it be the office, kitchen or bedroom. I've even used them in medicine cabinets and for jewelry sorting. I love that they come in different sizes and lengths. I buy a bunch of different sizes, then configure them to fit each individual drawer. Plus, labels stay on beautifully! I like that they're clear, unbreakable and easy to clean. The Linus Deep Drawer Organizers are the perfect alternative for deeper drawer jobs, as well. As much as I love the Linus organizers, they DO slip around. Hint: This can be fixed with a little "museum putty" placed underneath each corner. This is not enough to sway my 5 star review; however! These drawer organizers are truly awesome! Happy organizing!!
April 27, 2012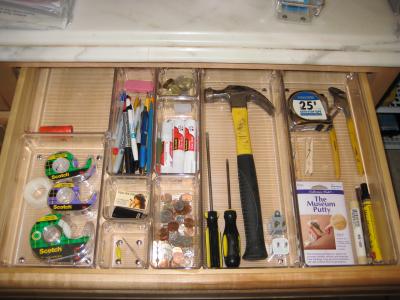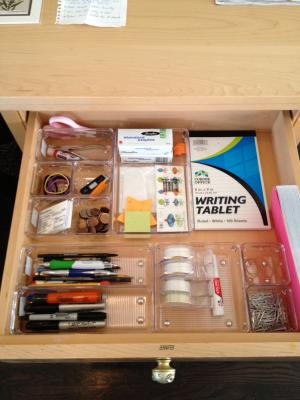 Rated

5

out of

5
 by
PennyCents
Linus Drawer Organizers
I absolutely LOVE these drawer organizers! This was my very first purchase at the Container Store and my first visit too. I have a new favorite store now. I organized a dresser drawer, a kitchen junk drawer and a desk drawer in an office. It is so nice to have the different sizes to place according to your needs. They are easy to clean as well which is important to me. I am slowly working my way throughout my home to reorganize room by room. It has been fun and easy with all the options available at The Container Store. GREAT PRODUCTS!!
April 24, 2012
Rated

5

out of

5
 by
shoesinthecloset
Shallow is SO helpful
My boyfriend graciously said yes when I asked to build my dream kitchen in his apartment and organization is necessary for me but his drawers are so shallow I didn't think I'd be able to make my dream drawers. In come these shallow drawer organizers: light weight but sturdy, attractive low profile, easy to clean, endlessly customizable arrangement. I really couldn't be happier!
January 16, 2017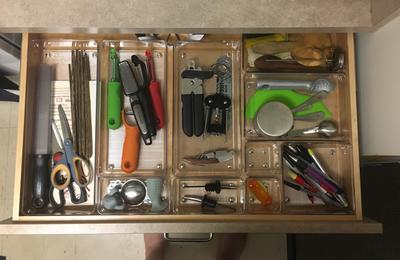 Rated

5

out of

5
 by
TheDesignNook
Love this Product!
The sizes were exact and was exactly what I needed to organize my messy kitchen utensils drawer. I used the pick up service and it was great, very fast service and ready for me when I got to the store :)
September 29, 2016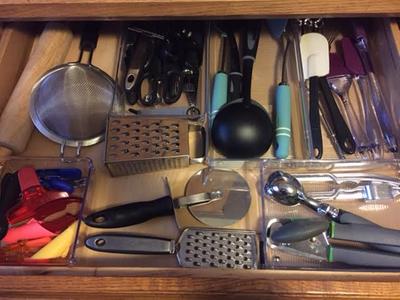 Rated

4

out of

5
 by
KellyJo11
Not true size
Very nice, however I purchased by the measurements online and the height is a little taller than what it says, therefore it did not fit.
July 19, 2016
Rated

5

out of

5
 by
ninnin
I have needed these for a long time.
I have custom cabinets with very shallow top drawers. I have looked for shallow organizers for a long time and was glad to find these. They are well made, too.
May 15, 2016
Rated

5

out of

5
 by
frazier39
Great purchase
I love these drawer organizers they hold all of my items perfectly and fit great in my drawers....
April 30, 2016
Rated

5

out of

5
 by
Jeffb
Linus Drawer Organizers
A simple and effective solution to organize office, kitchen, and bath vanity drawers.
April 4, 2016
Rated

5

out of

5
 by
COKGB
3 x 9 x 2 drawer organizer
This narrow drawer organizer works well to corral pens, markers, waterbrushes, etc. on my desk (when used for a project) or in a drawer for storage. There are little non-slip feet on the bottom which keep it in place nicely.
March 26, 2016
Rated

5

out of

5
 by
Tamwise
great
I have begun cooking more and have added a few gadgets to my kitchen. These are perfect for organizing my gadget drawer. I love that there are so many sizes and shapes to choose from. I may need a couple more. They are also nonskid, so they stay put in the drawer. They are awesome.
March 7, 2016
Rated

5

out of

5
 by
HBBB
Good Quality See Thru
Ordered these before and really liked them. Heavy plastic construction, not flimsy. You can see all the products at once, sorted by groups contained and easily found. Looks nice and not cluttered.
February 3, 2016
Rated

5

out of

5
 by
msrancher
Well made, great for organizing my sewing chest
I selected these Linus shallow drawer organizers because the dimensions are perfect for organizing my sewing chest drawers. Now my spools of thread are organized and stable, no more rolling around and unraveling. The clear color allows me to see exactly what is in the drawer. I bought several of these as I have many spools of thread and they are organized by weight, i.e. delicate fabric thread to upholstery and leather thread. These are so handy.
December 10, 2015
Rated

5

out of

5
 by
Carpel
Love Linus Products
I love all the Linus products we have purchased. I love the looks of them. I love the way they fit in our drawers. In fact, I intend to go back and buy more.
December 3, 2015
Rated

5

out of

5
 by
skeeks
linus shallow drawer organizers
this organizer was the perfect size for my needs. it is often hard to find what you want at stores everywhwere. container store catalogue gives you a variety of items to choose from.
July 16, 2015
Rated

5

out of

5
 by
ohioorganizer56
Make your drawers sparkle with order!
I recently discovered the Linus Shallow Drawer organizers! What a little treasure. They make my drawers sparkle with order. They come in many sizes and are easy to switch around as your needs change. The rounded edges look nice and fancy. And the price is very reasonable. Definitely my new favorite product!! I will be recommending this product in my next business newsletter.
May 21, 2015
Rated

5

out of

5
 by
sewnsew
Handy Organizers
My bathroom drawer is completely organized and it is easy to find all the minutiae: toothbrush and paste, makeup, medicine, hair products, and many other miscellaneous items. I love the weight and the fact they are clear. Now my drawer looks neat.
May 17, 2015
Rated

5

out of

5
 by
MaryM
perfect for silverware drawer dividers
My mom lives in assisted living. The kitchen drawers are an odd size. So these individual drawer organizers were perfect. I was able to select the sizes I needed to fill the space.
April 28, 2015
Rated

4

out of

5
 by
Basbwd
Great organizer
I like these Linus shallow drawer organizers because they are see through and come in a variety of sizes. They are sturdy plastic, not cheap, and really help keep things organized in every area of the house. I use them mostly in kitchen cabinets for small flavoring bottles, and baking goods, boxes of jello and puddings, etc. They would be great in the bathroom vanity and even in the basement for corralling small objects. Reasonably priced - especially when on sale!
April 21, 2015
Rated

5

out of

5
 by
Joypeace
Worth every penny
What a relief to see our cutlery drawer so organized! My husband thanks me every time he opens the drawer! I measured the drawer and made a list of what compartments I need. I then looked for those pieces. I made a graph so that I could see if everything would fit. When I got home, putting all the organizing pieces in the best configuration was a snap!
April 21, 2015
Rated

5

out of

5
 by
speechteach
BEST Purchase EVER!!!
I don't know how I lived without these! My medicine cabinet is now organized and SOOO much easier to keep clean - just take out the trays and wipe everything down instead of having to move all those little bottles and other stuff that the family needed. I wished that they made a square stand for the toothbrushes and toothpaste to fit inside the medicine cabinet!
April 20, 2015
Rated

4

out of

5
 by
PMT2
Great Product - Infuriating Stickers!
I bought 34 Linus drawer organizers in both the shallow and deep versions. They are strong, attractive and just what I wanted for the drawers of my newly renovated bathroom. THE PROBLEM: Each container (34 in all) had at least 3 stickers on it that had to be peeled off and many of the containers had 4 stickers. Good-by fresh and expensive manicure. One sticker could hold all the bar code and other information instead of 3 or 4. One rubber cement glue dot could hold the product label in the bottom of each box. I NEVER WRITE REVIEWS, BUT THIS WAS WAY TOO MUCH. The time and mess of removing more than 102 stickers was over the top.
April 19, 2015
Rated

3

out of

5
 by
gkadams69
Taller than 2"
These measure 2 1/4 inches tall, not the two inches advertised, which made them too tall for the drawers I was shopping for.
April 8, 2015
Rated

5

out of

5
 by
donrae46
Great drawer organizers!
I was familiar with these organizers as I had previously purchased the deep drawer organizers for my bathroom. These were purchased for the kitchen silverware drawer and they work great. The organizers fit well into the shallow drawer and hold odds and ends so they are not all over the drawer. I am very happy with this purchase.
March 11, 2015
Rated

5

out of

5
 by
LIkesitNeat
Finally perfection
I had an odd size drawer that most organizers just wouldn't fit. LInus to the rescue! A combination of multiple sizes allowed me to use the space effectively. I love these organizers, they keep your drawer clean, everything has a place and things are easy to see. If I need to remove one (like markers) just lift it out and return to it's proper place when finished.
February 3, 2015
Rated

3

out of

5
 by
organizelife
Great, but not made of recycled plastic
I love little organizer things like this and use them for various things to keep things organized in the fridge and drawers. My only complaint is that they are not made of recycled plastic. I wish the container store would get with it and offer both so I could have the option of being a responsible consumer. As it is now, I have no option to buy USA made and 100% recycled at the container store. Next time I will do my homework and find a place that does sell what I need.
July 22, 2014
Rated

5

out of

5
 by
ShoppingSue
Just the right fit.
This fits perfect in my small junk drawer. It holds my hammer, screw driver etc. neatly in the tray.
June 1, 2014
Rated

3

out of

5
 by
Jimbo21
Doesn't fit in shallow drawer
I bought several shallow drawer containers. The larger sizes fit but the smaller sizes have a slightly taller dimension and do not allow the shallow desk drawer to close.
May 29, 2014
Rated

5

out of

5
 by
erickjm
Good quality
Remodeled kitchen and bathroom cabinets so wanted new drawer organizers. These were reasonably priced and fit the bill!
May 22, 2014
Rated

4

out of

5
 by
KKNOLA
Sturdy, convenient, non-skid
Perfectly sized to fit in standard cabinet drawers, these organizers are cleanly molded in a high-quality plastic and have non-skid feet attached with metal screws.
May 19, 2014