< Return to Product Page
Customer Reviews
White Branch Wall Hangers
Overall Rating:
Customer Reviews
Rated

4.4

out of

5

 by

19

reviewers.
Rated

2

out of

5
 by
gooseisland
Needs a re-design
I bought the large branch but returned it because the two large branches on the right side lie flat against the wall and are useless as hangers. The branches on the left side are angled out from the wall and work well. I like the look very much but it needs to be re-designed so that there are useful hooks/branches on both sides.
October 17, 2013
Rated

5

out of

5
 by
Chowdog888
Functional and fashionable
I was looking for a way to hang / display my necklaces so I wouldn't have to keep them bunched up and tucked away in a drawer or jewelry box. The small branch hanger is the perfect solution. It's both practical and attractive too, and I was even able to hang it up myself.
July 23, 2013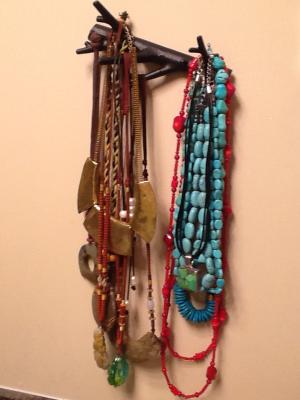 Rated

5

out of

5
 by
Pleased
Great product
These are really high quality and will last forever. They look so nice, and were easy to install. I have one by the door for keys and umbrellas (you can count on them to hold a pretty good amount of weight), and one in my bedroom for necklaces. They really look so classic but unique.
March 18, 2013
Rated

5

out of

5
 by
Khaki
Cute and functional
Bought the smaller branch hanger this past weekend and it is perfect. We are using it as a key hook by the front door. So much more fun than the normal hooks.
March 18, 2013
Rated

5

out of

5
 by
CityGirl345
Cutest Belt Holder Ever!
I added the small branch to the wall in my new closet. It is perfect for hanging belts or even necklaces. It is just the whimsical detail I wanted and makes me smile whenever I see it.
March 18, 2013
Rated

4

out of

5
 by
Linzi
I love the branch hanger, we have it by the door for our keys, its sturdy, practical and also looks cute.
March 2, 2013
Rated

1

out of

5
 by
yesdniL
Very small!!!
It's a nice heavy material but it's SO tiny...I knew it'd be 6 inches in length but expected it to be thicker in width. Envision a twig, a tiny twig from a flower bush. For $20 plus shipping it was NOT worth it. Disappointed but keeping it since I don't live close enough to a store to return it to.
August 7, 2012
Rated

5

out of

5
 by
NorthDakotaNova
Great accent piece
The branch hanger is beautiful and looks just as pictured. It fits in with rustic decor well, and is heavier than I assumed.
April 15, 2012
Rated

5

out of

5
 by
BfromManhattan
Awesome
I saw it in Better Homes & Gardens and went online to check out. I purchased 3 white ones for towel hooks in a bathroom. Just terrific. Strong. Attractive. Easy installation, 3 screws.
April 14, 2012
Rated

5

out of

5
 by
ourocks
great piece for decorating
This hanger looks great on my wall and very easy to install.
April 2, 2012
Rated

5

out of

5
 by
Dali
Simple, sturdy, beautiful
I purchased the branch hanger and simply love it. I loved it from the moment I saw it in the store. This item is sturdy and the look and feel are great.
March 19, 2012
Rated

4

out of

5
 by
TxTwin
Pretty and Functional
I bought these branch hangers for the necklaces I wear often. A well made product and I receive lots of compliments on them. Very pleased with this purchase.
March 19, 2012
Rated

5

out of

5
 by
Marilyn107
So Adorable
I bought four of these jewelry hangers. I hung two white ones in my daughter's room. They are so cute and she wanted something a little different than a jewelry box. I then put two brown ones in my room. They are great.
February 15, 2011
Rated

5

out of

5
 by
Deana
Love it
So cute and strong, holds a few coats. I bought two white ones and hung them next to each other vertically one higher than the other. Wall is a neutral and these really pop off of it and goes with the rest of my decor perfect. Love these, didn't know I could get so excited about hooks!! And I looked around a lot, couldn't find anything close to this anywhere else.
January 21, 2011
Rated

5

out of

5
 by
njrMom3
My Daughter's nature themed nursery
These little branch hangers are adorable! My daughter has a soft nature themed nursery for easy transition to a bigger girl room. These little hangers offered me some much needed hanging space and take up a fraction of space. They are super strong, could hold her if she hung on it, I am sure. Easy to hang, and very forgiving if you're not an expert handyman. Great way to quickly hang a little jacket, hooded towel, purse, and her beloved jewels.
January 20, 2011
Rated

3

out of

5
 by
Odetomyberries
Not Worth the Price
I love the look of this hanger for my keys, but--to be honest, it's not worth the price. I couldn't resist given how well it matches my living room's decor. Otherwise, I'm not sure I would have thrown down the amount it cost to purchase this. It mounts well, and it doesn't move or anything, so that's nice. But as soon as you hang stuff on it, it immediately covers the branch design I loved so much, so it's almost moot how cute it looks. Le sigh!
August 9, 2010
Rated

5

out of

5
 by
Neattfreek
Great Idea
I bought two of these to hang in the kitchen to hold keys. A nice and convenient way to hang keys without looking junky. They were easy to mount and are very sturdy. They look great!
March 18, 2010
Rated

5

out of

5
 by
GadgetMom
Awesome little trees!
I bought 2 of these to replace the straight-across hooks I'd had previously. I love that they take up much less space! I mounted them one on top of the other and designated 1 to my husband's keys and 1 to mine. Sturdy, attractive option!!
March 4, 2010
Rated

5

out of

5
 by
tyler
Branch Hanger
I just received this product and absolutely love it!! I bought two and hung them above my dresser to hold necklaces and brighten up my space. They are well made and of a good size- not to small but not too large or chunky. Great addition to my bedroom!
January 22, 2010