< Return to Product Page
Customer Reviews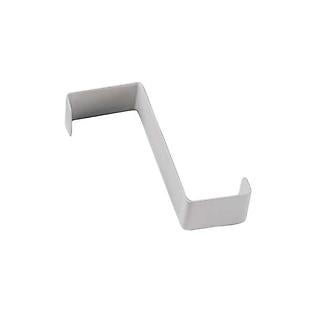 Hook-Over Over the Door Hook
Overall Rating:
Customer Reviews
Rated

4.7

out of

5

 by

15

reviewers.
Rated

5

out of

5
 by
ViaR
Think Reversible
This about this hook as reversible. The wider end fits doors 1 3/4 inches wide and the small end fits doors with a more usual width. Great price. Strong enough for heavy coats etc. Recommended.
November 24, 2016
Rated

5

out of

5
 by
ClassicMom
Sturdy and reliable
I have broken several over the door hooks purchased from a name brand on television ... these are much more affordable and work wonderfully. Another feature that they don't mention is that these have a hole in them if you would like to make them stationary on the door (drive a screw through). Great ideas!
February 7, 2015
Rated

5

out of

5
 by
DJLisette
Helpful hooks that don't damage doors!
Needed a few over-the-door hooks that would be sturdy while thin so as not to damage the doors/doorways in our new apartment. Got these and they work well. I really like the fact that each end of the hook can fit over doors with different widths (one is larger than the other).
December 15, 2014
Rated

5

out of

5
 by
Soxycat
So helpful
I love these hooks and have one for almost every door. I live in a small apartment and like that I can use the backs of doors or inside a closet for extra hanging storage. The price isn't too bad either.
April 15, 2014
Rated

4

out of

5
 by
lkstar
It fits!
I was thrilled to finally find an over-door hook that fit my bedroom door, which is apparently a bit thicker than standard. My only negative about the hooks is that they're hard-edged so I'm not comfortable hanging knits on them... if I hang a thin t-shirt or a running top on a hook, it leaves a dent in the fabric and the item gets misshapen. I wish these had a rounder hook, or a ball at the end.
March 29, 2014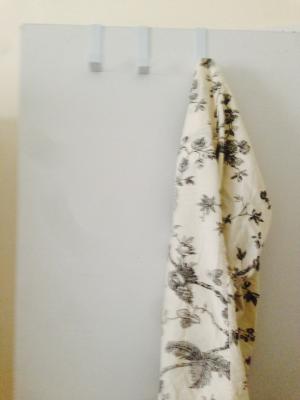 Rated

5

out of

5
 by
BobbyLo
Just increased my closet space
These hooks have provided us with a tremendous amount of coat space! Now we can add more to our closetsNew York, NY
May 3, 2013
Rated

5

out of

5
 by
SweetHeart
Fits thicker doors
I have purchased several over the door hooks and this one is particularly nice as it fits over fire rated doors too.
February 24, 2013
Rated

4

out of

5
 by
PinataParty
I have one on almost every door
This hook works great and blends in with white doors. However, the hook tip has sharp edges, so I wouldn't hang more delicate items directly on the hook.
April 12, 2012
Rated

5

out of

5
 by
AliceinLA
Handy hook
This simple hook comes in handy. It fits over most doors and is very durable.
March 22, 2012
Rated

4

out of

5
 by
cakebuff72
Good for use on thick doors!
I usually have trouble finding hooks and accessories for my thick doors. The 'commercial' end of this hook fits perfectly. The downside is that the metal used is a bit bulky and I have to close the door slowly to avoid scraping the frame. But given how difficult it is to find anything that fits my doors, it still gets a 4-star rating!
March 19, 2011
Rated

5

out of

5
 by
ellarose
i use this in my kitchen to hang the dish towels on for people to dry their hands, so they don't use all the paper towels!
January 25, 2011
Rated

4

out of

5
 by
Theresa
Easy, Nothing to Install
It's white so it blends into the door. Slips right over the top of the door and nothing needs to be installed. Great for what I wanted it for!
October 28, 2010
Rated

5

out of

5
 by
SLKM
Handy for packing
Perfect helper when packing hanging garments: compact, single purpose and inexpensive. We had one but it was lost in a recent household move. We bought two - one for us and one for our guest room.
July 5, 2010
Rated

5

out of

5
 by
srg10
great for thicker doors
My apartment has thicker doors and I had a difficult time finding a hook that would fit over the door. This hook fits and my door can still close normally.
May 17, 2010
Rated

5

out of

5
 by
Claire
Great for travel
I travel with my husband and keep one of these in my bag so I have an extra hook to hang on the door for my toiletries. Because the hook will hang on two different door sizes, finding a door to fit has never been a problem. There have been countless times I've used/needed an extra hook. It's a good idea...
April 1, 2010