< Return to Product Page
Customer Reviews
Grey Utility Trays
Overall Rating:
Customer Reviews
Rated

4.9

out of

5

 by

16

reviewers.
Rated

4

out of

5
 by
Pachy
Great tray but check size of medium tray
Purchased to fit a space 18-3/4" long. Size stated on website is 18-3/4". When received, size on label on tray is 19-1/2" long and length of tray is actually 19-5/8". Height and width are accurate. Container Store resolved this to my satisfaction (their customer service is very good), but if you are working within critical tolerances, be advised.
May 21, 2016
Rated

5

out of

5
 by
Peggity
Works perfectly under kitchen sink
This tray fits perfectly on one side of cabinet under my kitchen sink - perfect for holding all the mess of cleaners and tools, etc. I'm very happy with the purchase.
March 26, 2015
Rated

5

out of

5
 by
skipdeb
my car trunk is finally tidy
I saw these bins on sale and decided to try them. My trunk is neat and organized for the first time ever and I have a way to manage and find everything I seem to put in my car. I highly recommend them.
July 7, 2014
Rated

5

out of

5
 by
Georji
Does the Job
Right after I purchased one of the large trunk trays, I went to get flowers for my patio. The tray protected my trunk carpet and kept dirt and moisture contained! Now I couldn't do without these handy trays!
June 25, 2014
Rated

5

out of

5
 by
SuperNickname
Nice to contain the mess in my car
Using the large size in truck to hold reusable shopping bags, gym bag, diaper bag, etc. Reduced clutter and gave me more space in my trunk.
May 29, 2014
Rated

5

out of

5
 by
SonnysMom
Stays In Place
Perfect for my 4Runner! Keeps my groceries from rolling around and the trays grip the carpet and stay in place. Bought one and had to go back and buy a second one. Just what I needed.
May 15, 2014
Rated

5

out of

5
 by
Homedad
Whensaboxmorethanabox?
It is sort of weird to get excited about a box. My 14 year-old son is a competitive swimmer who practices 5 to 6 days a week. I transport him to the aquatic center in my minivan and I found water soaking into the carpeting in the cargo area from his wet gear. I did not want to deal with mold forming back there, so I looked for something that would contain his wet gear. The large Grey Trunk Tray works perfectly. It holds all of my son's swim gear, and it stays in one place (clever little "paws" on the corners underneath with a molded grid pattern bottom# . The large tray is also the perfect thing for a few paper grocery bags and a couple gallons of milk. My passenger car #I can't be seen in a minivan all the time# also has the large tray, and I am getting a couple of smaller trays for both vehicles for storing emergency equipment and other stuff.
April 25, 2014
Rated

4

out of

5
 by
Cat123
Good but still slides around
I purchase the Large size to help corral items in my trunk. It fits perfectly on the slight rise I have at the far end of my trunk and holds a lot of items. The problem is that it doesn't grip enough so I'm constantly having to push it back in its place after driving around. I may put some velcro strips or gripper tape on the bottom.
April 25, 2014
Rated

5

out of

5
 by
miciva
Sturdy & Great Organizer for Rear of Vehicle
We had a soft-side organizer, but the sides would get crushed by weighty grocery sacks. These give just enough support to keep items in place while making turns in your car. A definitely thumbs up!
April 25, 2014
Rated

5

out of

5
 by
businessteacher65
Great product!!
I bought these for my husband's SUV to help organize his tools in the back. It keeps them from shifting all over the place.
March 24, 2014
Rated

5

out of

5
 by
IDiaz
Greay Trunk Trays
The trays are awesome. Because the stack up, they don't take much space when not in use. Even when they are stacked you can still use the upper area for organizing/storage. I love them because I can carry my refillable water jugs, and the chemicals for the pool without damaging the car with any of the spillage or drops from the bottles. Also when carrying groceries they keep the groceries from falling or shifting, which is great because you donâ¿¿t have to worry about the bread being smooched or the eggs getting thing falling on them.
February 20, 2014
Rated

5

out of

5
 by
bluejay1
Great stoarge option for more than just your truck
My husband built a day bed with storage compartments underneath. I searched quite bit before deciding on this storage container. The dimensions were very close to the space size and they fit nicely under the bed.
December 24, 2013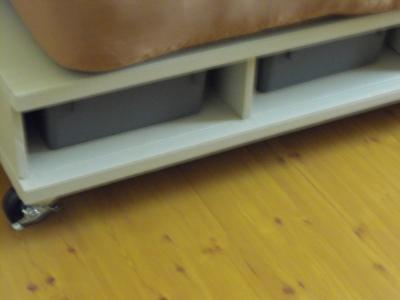 Rated

5

out of

5
 by
Jany
Great value
Great for organizing your things in the trunk and more.
November 14, 2013
Rated

5

out of

5
 by
manny9
good services
Best purchase ever. Ordering it was easy, delivery was on time. Product was better than expected.
November 7, 2013
Rated

5

out of

5
 by
Dreyf101
Sturdy and well-designed trunk organizer!
I got this trunk tray to hold all of the random car-related cleaning and repair things I keep in my trunk, which had previously been in a paper shopping bag and would spill out everywhere all the time. I love that this tray grips the trunk so it doesn't move, and the sides are high enough to hold bottles of cleaning products in place! Great buy!
October 21, 2013
Rated

5

out of

5
 by
KimM
Love it..and it doesn't slide around.recommend it.
October 2, 2013