< Return to Product Page
Customer Reviews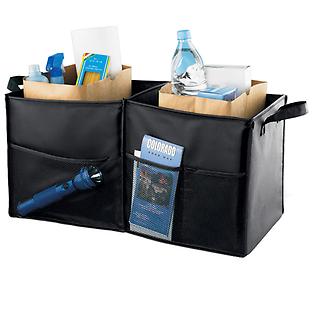 Folding Trunk Organizer
Overall Rating:
Customer Reviews
Rated

4.8

out of

5

 by

100

reviewers.
Rated

5

out of

5
 by
ShopMom
Great for the haul
I purchased 3 trunk organizers for my family and I to haul items in the back of our SUV so they would stay in one area without items rolling around. It worked GREAT! It folds down into a flat surface and is easy to store. When you want to put items in it you just fold it up very quickly and place the organizer where you want it. It has net pouches on the side where you can slide small items. It works great when grocery shopping so you don't have to go chasing the cans that always seems to sneak out of your grocery bags. Great item to have in your vehicle.
June 23, 2012
Rated

4

out of

5
 by
Basbwd
Does the job
I've been wanting to corral some things in the trunk for quite a while but couldn't decide what kind of organizer to get. This one is inexpensive, but it works for me. I like the divided compartment and the mesh pouches on the sides. I keep some emergency items in the one compartment and the other is good for some smaller shopping packages.
April 21, 2015
Rated

5

out of

5
 by
wfbmary
Exactly what I wanted
i have been searching for one of these ever since I purchased my SUV in June. The ones at the stores were short and not very good quality. I was so surprised when I opened the box and it was the right size. It's tall, sturdy, roomy, and the fact that it sticks to the carpet, preventing sliding, was a real bonus. If you are considering purchasing this, do it, you won't be disappointed.
February 2, 2015
Rated

5

out of

5
 by
PattH
A must-have accessory!
I've had one of these in my minivan for years. When my daughter got a new SUV, I bought one for her. Without it, groceries, etc., roll all over the place while you're driving. It's made of sturdy nylon, and I love how it folds flat for storage (though unless I have a carload of people, I just leave it up for every-day use).
December 25, 2014
Rated

5

out of

5
 by
OrganizerExtroidenaire
Great organizer for our SUV
I actually bought this for my car's trunk but since I drive a mid-life crisis 350Z, it was too big for my trunk. If it was only 2" shorter, it would have been perfect. But now my husband is loving it in his Pathfinder
August 26, 2014
Rated

5

out of

5
 by
consultant
perfect for our employees
This item is exactly what our folks needed to keep various items organized and stored in their vehicles for quick access.
July 3, 2014
Rated

5

out of

5
 by
JJMom23
Great to hold my stuff
This is great to have in the back of my SUV. It holds a sweatshirt, tshirt, towels, umbrella's and much more. I love that it has some velcro on the bottom to hold it in place so it doesn't slide around like the box I had back there prior.
June 25, 2014
Rated

5

out of

5
 by
nuttyorganizer
My trunk is organized!!!!!!!!!!!!!!
Love these organizers! My groceries don't spill out all over the trunk. Great for ANY items. So pleased with them I gave 2 as a gift to a friend. She loves them! Can't say enough about these - quality, size, ease of use and storage - fabulous!
June 19, 2014
Rated

5

out of

5
 by
Katrin
Good product
This is great and I was able to fold it down to one cube for a smaller load.
June 16, 2014
Rated

5

out of

5
 by
lucyloodle
can hardle "contain" myself!
This trunk organizer is exactly what I needed to reign in all of my stuff that had been rolling around back there. As a sales person, my car serves as my office, so keeping things oganized is a must. I've used many types of tubs and boxes, but this collapsible version is much more versatile. Think I'm going to be adding a few more of these units...as I am a neat-freak.
June 16, 2014
Rated

5

out of

5
 by
uga89
Very Useful
This fits the back of a Toyota Yaris perfectly. A great way to keep milk from becoming a missle on the way home.
June 12, 2014
Rated

5

out of

5
 by
Oriolezgurl
Handy and Handsome
I wanted a storage organizer for my trunk and looked at lots of them online. I was concerned about the quality since I couldn't actually see/touch them and didn't want to buy something that wasn't functional. Then, I thought of a The a Container Store, as they always offer quality, well-made products at a reasonable price. I ordered the trunk organizer and am very happy with it. It fits nicely under the covered area of my Altima trunk, good quality, handsome, waterproof, and durable. Very happy!
April 25, 2014
Rated

5

out of

5
 by
Chicsheshe
no rolling fruit or cans.
The fold up ability is great for when not in use. Also the velcro snaps that hold it in place are great extra feature. No surprises when you get your food or sports equipment. Got 3 -- two for SUV and one for car trunk.. good for curvy or bumpy roads.
April 20, 2014
Rated

5

out of

5
 by
Compdr
Great Solution for Prius V Trunk
After owning a PT Cruiser for 9 years I purchased a Prius V for my business. I needed some sort of containers to carry supplies in the trunk area of the car. With the help of the Container Store staff I I found the perfect solution . They were these Folding Trunk Organizers. They fit perfectly in the trunk and would be able to be removed easily. They are lightweight, collapsible and priced very reasonably. There is plenty of storage room and everything is easily accessible and it keeps things organized. I am able to close the cargo cover in the car to hide my tools and supplies. What a great find!
April 20, 2014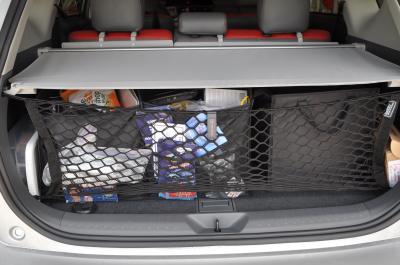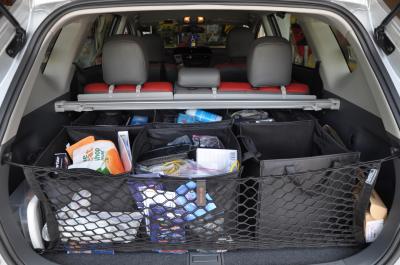 Rated

5

out of

5
 by
redmondtech
Folding Trunk Organizer
Prevents trunk contents from shifting. Easy to fold out of the way. Flexible for differently shaped packages
April 20, 2014
Rated

4

out of

5
 by
AFitzgerald
ideal Trunk Solution
NIce product, I like that it can be folded flat when not in use or when only one cube is needed. The product is sturdy and holds quite a bit.
April 13, 2014
Rated

5

out of

5
 by
islandlady
Great for jeeps
I have a jeep and if I put bags of groceries in the back, they fall out before I reach home. Now I have a way to keep them in bags and handy, not falling under the seat! I also bought "S" hooks when there. Can't find them on the website, but they were a great price. My husband built a thing to hang my pots and pans and it can be difficult to find the right size hooks without spending a fortune. I bought 6 packs to have some extra's.
April 5, 2014
Rated

5

out of

5
 by
WingManCrash
Great Storage
I purchased this to keep items from rolling around in the trunk. It fits in a convertible and when not in used, it folds flat and when needed, is a snap to set up and use. This item does not have any instructions so pay attention when you open it up to use so you can figure out how to fold back into a square.
April 2, 2014
Rated

5

out of

5
 by
CATWOMAN777
FANTASTIC!!!!!
I have a Jeep Grand Cherokee and my groceries and other items were always rolling around in the back. Some items have almost fallen out of the vehicle when I open the hatch, I don't have to worry about that now. It works the way it is supposed to.
April 1, 2014
Rated

5

out of

5
 by
SamLolli
Looked all over for a trunk organizer that was a good price as well as a good product. You guys had it! Wonderful price, and even better designed product. Didn't realize it had velcro to keep it in place and that made me even more excited. The side pockets are very helpful too. Looking next to get one of the trunk trays to keep bigger items in place!
March 31, 2014
Rated

5

out of

5
 by
mckeeto
Works great and stays in place no matter how quickly we take turns!
March 10, 2014
Rated

5

out of

5
 by
pets4me
Folding Trunk Organizer
I have a small SUV and these organizers are fantastic! I have one that I use for all my "junk", i.e., window cleaner, paper towels, tissues, sunglasses, etc. Then I have a second one that I use for perishable groceries, i.e., eggs, bread, etc. I really like them because they are a great size and can be folded and put away when not being used.
January 24, 2014
Rated

5

out of

5
 by
DVSIndy
Great Product
Really helps keep my trunk organized. I can easily move the item from the back of the SUV to the front when I need to use the back for the dogs :) I love the side pockets, too-great for hats, umbrellas, etc. Great value for the price.
January 19, 2014
Rated

2

out of

5
 by
littlez
Not Very Sturdy
I love the functionality of this piece, but it is not very sturdy. It ripped within the first month of use. If you are never going to remove it from your trunk, it would be fine. But it is not very sturdy if you need to move it from place to place.
November 18, 2013
Rated

5

out of

5
 by
Lovely4823
Love My Trunk Now
This organizer has helped me declutter my trunk. I run an animal shelter and my car is always a disaster. I feel put together and ready for travel with this organizer.
November 16, 2013
Rated

5

out of

5
 by
Daffyrs1
Folding Trunk Organizer
One of the best purchases I have ever made. This trunk organizer keeps everything in one place, plus it's great for shopping bags...NO more spillage all over my trunk. Everything stays in the bag & won't tip over. I Love this organizer, I'm going to buy one for my daughter & daughter-in-law. I keep my folding umbrella in one pocket & eco friendly bags in the bigger pockets on the sides. Sticks to the carpet & won't move...great feature!
September 30, 2013
Rated

5

out of

5
 by
SandraB
Exactly what I needed
These organizers for the trunk are large, sturdy and just perfect for groceries, etc. After purchasing one for myself, I also purchased 2 for my parents for their car. They keep my groceries from rolling all over the back in my SUV. Would highly recommend this product!!
September 1, 2013
Rated

5

out of

5
 by
DeeCruise
Perfect.
Wasn't looking for anything fancy. My son is going to college and wanted an organizer for his trunk to put books.. This was ideal. Its a perfect size and the quality is good. The price is excellent!
August 22, 2013
Rated

3

out of

5
 by
archerdv
Functional but somewhat fragile
I bought this item almost two weeks ago and have noticed that it is beginning to tear in the middle front edge. The fabric is separating from the hard board between the cubes.
July 31, 2013
Rated

5

out of

5
 by
cricri
BEST PURCHASE EVER
I was looking for a cargo net for my CRV and nothing I liked until I came across the folding trunk organizer - it Velcro to the rug on the trunk so it does not move, it is big enough to hold grocery without them falling down all over, I keep watering can for the cemetery and also my extra bags for shopping - I liked it so much that I bought 2 and not in use it store flat so it is perfect showed it to my family and friends who could not believe it and I know they will get one also and the best part, it is certainly cheaper than the cargo net which you have to hold open to put your grocery in it etc,,, this is sturdy and won't collapse either. I highly recommend it over a cargo net - very happy with my fording trunk organizer it has a million use in your trunk. organizer. I usually do not like to write review but this is an exception - I am very pleased with the product-
June 24, 2013