< Return to Product Page
Customer Reviews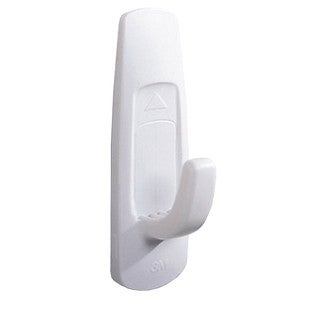 3M Command Adhesive Utility Hooks
Overall Rating:
Customer Reviews
Rated

4.7

out of

5

 by

27

reviewers.
Rated

5

out of

5
 by
RainbowsUnicorns2014
These hooks are great
These plastic hooks have been around for years, but never believed they worked. Because Container Store has a 120 day return policy, I thought this was the best place to try one from:-) They are great for hanging keys or handbags.:-)
June 21, 2014
Rated

5

out of

5
 by
Bostonjayhawk
Great for hall closet!
We bought this to hang a canister vacuum in our hall closet and it is fantastic. I love that there is not a hole in the wall. The size is great!
January 19, 2014
Rated

5

out of

5
 by
catlady5
Best idea
I love the hooks for hanging almost anything. Sorry all you other parents, they aren't strong enough to hold up the kids to keep them out of mischief
March 9, 2013
Rated

5

out of

5
 by
Handyman1
Command Adhesive Utility Hooks
Love this product , holds everything for pictures to tools. Great price!!!!!
February 21, 2013
Rated

5

out of

5
 by
Iceman
High Five Hooks
Our son is now a freshman at college and he lives in a dorm with one room-mate. There is very limited space to hang anything up in the dorm so these hooks are awesome! He can hook his wet hand and shower towels on the hooks so they will be able to air dry, as well as his kitchen towel. He can also hang up any of his clothing that could get wet in the rain or snow that does happen often on campus! He finds many uses for these hooks! We give them a High Five out of Five!
February 18, 2013
Rated

5

out of

5
 by
verybusymama
I used these hooks to hang a wire utility shelf from my vinyl kitchen window frame, & they are working beautifully! They have been strong enough to hold up several potted flowers & a couple of potted herbs, with no sign of distress. There is no other way I would have been able to hang my flower shelf in this location.
April 28, 2012
Rated

4

out of

5
 by
Kylie1979
great solution
These hooks are great I attached then on the inside of my cabinet doors right under the kitchen sink which turns out to be a great place to hang my scrub bruishes.
April 27, 2012
Rated

5

out of

5
 by
LizB
Great Product!
I love these command hooks. I've been using them since college and now in my first home. They are great for holding anything from towls to my purses. Best off all, you can move them around when you would like and they don't leave a mark on the wall!
April 27, 2012
Rated

5

out of

5
 by
cynthia11101
great handy hooks
great hooks that you dont have to nail in. useful for hanging pot holders, aprons, next days outfit, etc. cant go wrong with this purchase!
April 21, 2012
Rated

5

out of

5
 by
PinataParty
Great for renters and people without power drills
These are a quick and easy install. I honestly wish I needed more hooks just so I could put more of these up. They are not the most attractive hooks, but on white walls or in a low profile location, I think these work fine.
March 21, 2012
Rated

4

out of

5
 by
LadyRae13
Good Holding Power
I liked these hooks because they stick very well and kept all of the things I hung on them secure. I think I'd just like for the hook part itself to be longer, so something with a thick strap won't fall down.
August 23, 2011
Rated

5

out of

5
 by
Chinkie
Commandâ¿¢ Adhesive Utility Hooks
These hooks stay up - unlike the Small Power Lock Hooks that turn loose and fall down. I would definitely recommend the 3M Adhesive hooks over the power lock hooks.
May 17, 2011
Rated

5

out of

5
 by
SMSea
Excellent product.
I have put up one Command Adhesive Utility Hook. The directions were clear. I'm using a heavy-duty hook to hold an item that is well under the maximum weight, just to be on the safe side. I have not yet needed to remove the hook.
February 15, 2011
Rated

5

out of

5
 by
CNCW
Dorm and Renters
If you live in a dorm or rent an apartment you probably can't hammer into the walls or will have to fix any holes when you leave. Save moving stress and buy a ton of these things, they saved me tons of time when I moved from my dorm!
February 1, 2011
Rated

5

out of

5
 by
ellarose
great for dorm rooms
I bought a ton of these to bring to college with me and used them all and even gave my roommate some. They don't fall off the wall, they stay stuck on till you take them off. Very easy to apply to the walls.
January 22, 2011
Rated

5

out of

5
 by
julierdc
For more than just towels
I use these for hanging a magazine/paper organizer. I got the cheaper plastic ones, since my organizer is hidden. Holds well.
December 27, 2010
Rated

5

out of

5
 by
AlexNH
LOVE THESE
Command strips are easily one of the best inventions ever. Won't ruin the wall--but be smart and read the instructions so you pull them off properly.
August 24, 2010
Rated

5

out of

5
 by
Marty
These hooks are great !!!!
These are such useful hooks. I have them in my kitchen and in my bathroom and my living room. They hold a lot. The heaviest item i have them holding is a heavyweight towel. How great!!!!
August 10, 2010
Rated

5

out of

5
 by
mamaoftwo
life-savers!
These are AWESOME! We've used these on the back of our doors for hanging items, especially in our bathrooms. They leave NO residue when you want to remove them. Perfect for temporary hangers to get stuff up off the floor!
May 22, 2010
Rated

4

out of

5
 by
Nehi
It's great to have hooks!
It's great to have hooks anywhere you need them -- even in a wet area like a shower! They remove so well. I just love them!
May 17, 2010
Rated

5

out of

5
 by
Dormmom
Must have hooks for college dorm!
Every child that is in a dorm should have hooks. The bigger and sturdier the better. They must be able to stick on the walls!
May 17, 2010
Rated

5

out of

5
 by
eieio
Great organizer
I have these in almost every closet in the house. What's best is the fact that they can be moved w/out marring the wall.
May 17, 2010
Rated

5

out of

5
 by
Goxxy
A must-have for college students!
I have used these for almost 10 years now and they are wonderful! A must-have for a college student or apartment renter. You will never have to worry about holes left behind or ruining anything.
May 14, 2010
Rated

5

out of

5
 by
BigHoss
Versatile Product
Sticks in places you wouldn't imagine. Holds things you wouldn't imagine. Good things.
May 9, 2010
Rated

1

out of

5
 by
JillianS
Don't care for these
I thought these hooks would be a great idea for the bathroom. I bought 2 - 1 to hang my hair dryer and the other to hang my hair straightener. Niether objects are that heavy yet the hooks would not stay adhered to the tile surface.
April 18, 2010
Rated

5

out of

5
 by
lavaliere
Outstanding product
These hooks go up with a non-damaging glue and are removable when you are done. Great for traveling when there aren't enough hooks to hang up all your gear, especially in the bathroom. They come off when you leave and leave NO marks.
March 15, 2010
Rated

5

out of

5
 by
Greekprincess
Hooks
These hooks are so versatile!! We can use them for many things in the dorm, the bedroom etc. My daughter hangs her purses on them.
March 3, 2010