< Return to Product Page
Customer Reviews
Birch elfa décor Shelves
Overall Rating:
Customer Reviews
Rated

4.8

out of

5

 by

52

reviewers.
Rated

5

out of

5
 by
AmandaNYC
Love my new elfa entertainment center!
I have limited space in my studio apartment for an entertainment center. The elfa freestanding system is perfect for my needs. The walnut shelves have an expensive look to them. They don't scratch and are very durable. I am extremely happy with my purchase and how the entertainment center turned out! It has given me more storage, I still haven't utilized the top shelf yet. But I will, I'm sure - more room for storage is always a good thing!
March 21, 2015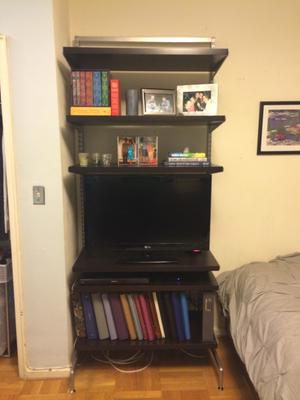 Rated

5

out of

5
 by
PSMS
Great Shelves
These shelves were incredibly easy to install and they look great. The shelves themselves are thick and sturdy. They have a solid, expensive look. A good upgrade from the standard shelf.
February 15, 2015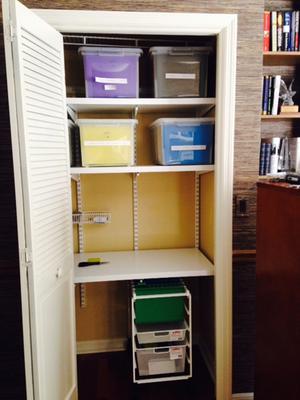 Rated

4

out of

5
 by
IVTT
Very nice but pricey
I like that these shelves are attractive and easy to install, and they're pretty light so it makes it even easier to install them yourself. I found that the left side of the shelf was a bit harder to snap into place than the right side, but I'm not sure if that's really the case or just because I'm a righty. If I could change one thing about these shelves it would be their price point. I wish they were more affordable, as doing a whole unit with them gets pricey.
March 21, 2016
Rated

5

out of

5
 by
Elfamaster
Added more accessories to my closet
I love ELFA because is uber easy to build, move and rearrange AND to add on new features. Can't live without it.
February 18, 2016
Rated

3

out of

5
 by
Ninosca9
Times have changed
This is my second full wall system and I was disappointed to find that the shelves have become slightly cheap. The bracket system on the side is now made of plastic and doesn't snap into the brackets easily or with the satisfactory snap like the old ones.
January 31, 2016
Rated

5

out of

5
 by
chell1948
Light, easy to install, and looks great
It took me less than an hour to install the walnut decor shelves, and I couldn't be happier with the purchase. They look great! I worried at first about the cost, but I appreciate that these are lighter and easier to work with than the melamine shelves. And if you plan to move around a lot, investing in a lighter shelving and storage options makes sense!
January 7, 2016
Rated

5

out of

5
 by
MelissaJ
Moving on up!
I replaced my microwave cart & moved the microwave up to my new Elfa shelving on the wall. I have a small kitchen with very little counter space & very few cabinets so I purchased these shelves for my cookbooks, canisters, & microwave. I couldn't be happier with it. I have pets & I used to have to move the microwave cart every time I sweep my floor but not anymore! I think I have an Elfa addiction!
January 3, 2016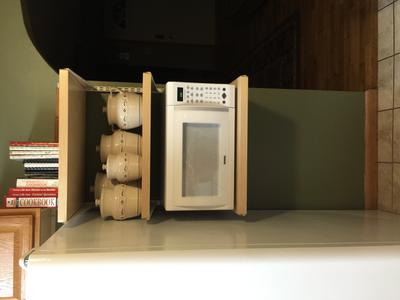 Rated

5

out of

5
 by
PHAINES
great products, customer service even better!!!
I'm always very impressed with the cost benefit of TCS products, but above all, with the friendliness, effectiveness and problem solving skills of THC employees. Congratulations!!!
January 6, 2015
Rated

3

out of

5
 by
RBcolorado
Nice except mounting scheme
These shelves are very well fabricated and in most respects are very nice. However the mounting scheme is the worst in any Elfa product. The latching scheme consists of about eight tiny plastic thin fitting tabs. Any jar to the shelving result in these tabs lifting off the mounting brackets. It all comes tumbling down. Having had these expensive shelves for two years I have finally decided to put on a J channel extrusion to redesign the mounting scheme. I am also making a holddown scheme as this is a major source of the problem. This is tedious and a pain but I am not throwing out $360 worth of shelves.
September 27, 2014
Rated

5

out of

5
 by
Aggiedb
Beautiful Shelving!
I bought a custom designed shelf and drawer unit using this line. They are simply beautiful. The shelves are made of fine hardwood with a tasteful finish and the drawers glide smoothly. If you're wanting a smart look yet practical storage unit, you will love these. By the way, it was pleasure to work with the Container Store. Their designers helped me achieve the best design for my space.
April 26, 2014
Rated

5

out of

5
 by
Lysharper
Loooooooove elfa decor!
I recently moved and took my elfa with me (yay!). The elfa I previously used in my office now makes up my laundry room! The 20" decor shelves make a great laundry folding table!!!
April 23, 2014
Rated

5

out of

5
 by
chaste
We love this closet!
To outfit our 8ft closet with the elfa system was our best decision, we love it in all aspects.
April 9, 2014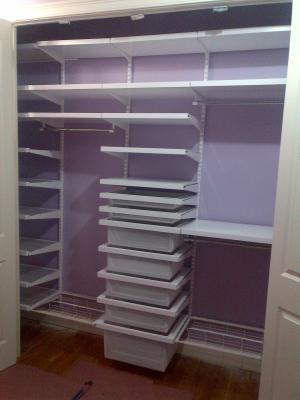 Rated

5

out of

5
 by
CJinDC
Beautiful Shelving System
I used the freestanding Elfa system to build an entertainment center, bookcase, and printer storage. To cut costs, I used the regular shelves for the bulk of the project. I'd love to swap them out for these decor shelves over time, though, because the decor shelves are just so much nicer looking overall. I assembled the entire system in less than an hour by myself. I especially like the 83" brackets. I live in a small space with high ceilings, so utilizing vertical space is a must.
April 8, 2014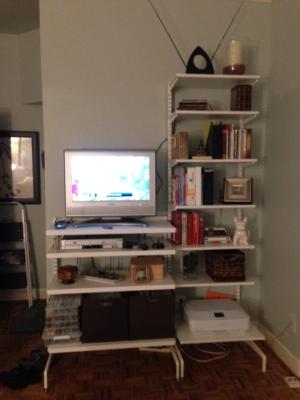 Rated

4

out of

5
 by
Momof2teens
Happy teens
Part of the closet my my daughter. She loves it....
March 20, 2014
Rated

5

out of

5
 by
Enrique
Infant Organization
Bought two of these for my some room, super easy to install and does what it needs to do.
March 14, 2014
Rated

5

out of

5
 by
critterbell
Excellent choice
I purchased this item to use as a desktop. The dark wood color is a beautiful contrast with the elfa Platinum shelving.
March 7, 2014
Rated

5

out of

5
 by
MakeMeOver
Walnut and Platinum... Today's contemporary look.
The Decor Shelf is essential to my Elfa system. Its wooden appeal and walnut color bring elegance and style to my dresser unit. Its large size creates a wide and deep space to hold more than you think it can. Once set properly on the shelf bracket, it holds a good deal of weight too.
March 4, 2014
Rated

4

out of

5
 by
mdrivel
Beautiful and functional
I love my Elfa wall shelving! I was finally able to unpack all of my books (with room to spare for future growth). I had it installed due to the length (9') and with the sale price. The installer was quick (couple of hours) and cleaned up after himself. The only negative is I would recommend a 12" shelf max above a desk rather than the 16" (for head clearance). I would also love to see some kind of lighting system designed to go with this. I jerry rigged an LED tape light around the back of the pin board.
March 1, 2014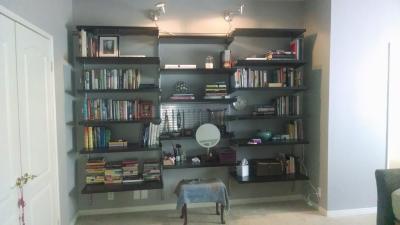 Rated

4

out of

5
 by
Alohaprincess
Finally getting organized
Very easy to install Looks fantastic! Shelves seem sturdy Drawer slides are easy to install and operate well If you were not happy with the design, you would be able to change it easily.
March 1, 2014
Rated

5

out of

5
 by
Buckeye43017
Our Beverage Center
We made a beverage center in our formal dining room that we wouldn't use if it wasn't for Elfa. We have plans to use the same material on the other wall which is 16' We had Elfa install and it took no time at all and LOOKS GREAT!
February 27, 2014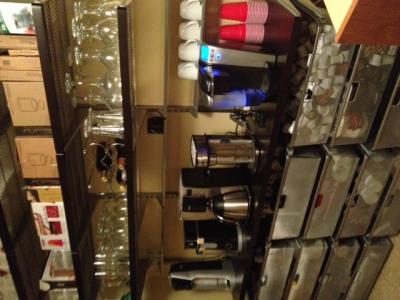 Rated

5

out of

5
 by
SavvyShopper09
Beautiful, Functional and Space Saving
I recently purchased the decor shelves and desktop to build a desk set up in my home office. I was able to reuse some leftover standards and shelf brackets from another project and integrate the desk shelves with some existing bookshelves and a filing cabinet. The end result was spectacular! I have so much room to store office things. I love the versatility of Elfa and the ease to assemble something so polished looking,
February 12, 2014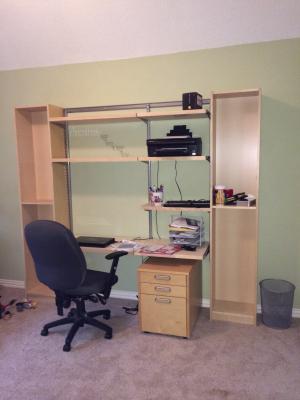 Rated

5

out of

5
 by
MisterH
Elfa Saves Son's College Apartment
We used the Elfa shelf solution in our son's college apartment to create bookshelves above his teeny tiny desk. What a difference it made! The installation was easy and the finished result looks great. I highly recommend elfa!
January 20, 2014
Rated

5

out of

5
 by
flyfshrgrl
Elfa Decor Shelving
My husband and I possess a lot of books, magazines, journals, and maps. At our last home, we had bookcases built, but when we moved, we couldn't take the shelves with us. Having used Elfa in my laundry and a pool closet, I knew I didn't want the wire mesh shelves, so I kept waiting and waiting. Voila! Elfa came out with the Decor shelves, and that is perfect for transforming a room into an office! We purchased the 16" w x 17"d x 1.25"h shelving. Our feature wall has 82"w x 97"h of working space. My husband desperately needed filing storage to accommodate legal size file folders and accordion folders, so I bought three 7-tier Drawer systems, put them on casters, turned them sideways, and built the bookcases around the filing systems. The depth of the shelves and the sideways depth of the filing drawers compliment one another perfectly! I bought 12 shelves, but after building the shelving from the bottom up, I should have purchased 15 shelves. (I will be adding another row!) I have the space I thought I might have at the far right, and I will be putting two stacked Narrow Cabinet Bath Drawers there. The customer service was excellent! Mary Beth and her team worked really hard to work with such an odd space. This is my fourth Elfa shelving system, and I will continue to purchase The Container Store products because of their design ingenuity and superior customer service.
January 4, 2014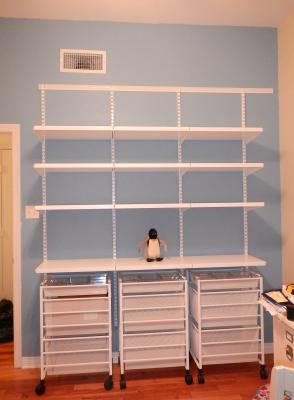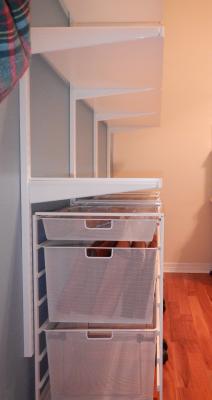 Rated

5

out of

5
 by
Hopeh
The best shelves
When I shopped for these shelves, I knew I liked them. Once they were installed, I loved them. They are simple, unobtrusive and very well-made. And easy to adjust, move, reconfigure. I couldn't be happier. The staff at the store were cheerful and very knowledgeable, and the installer was as well. Overall, a great purchase.
November 16, 2013
Rated

5

out of

5
 by
sail2sunset
Freestanding elfa Desk
I adore elfa designs. The design is beautiful, simple, and elegant. I love sitting at the desk to get my work completed.
August 22, 2013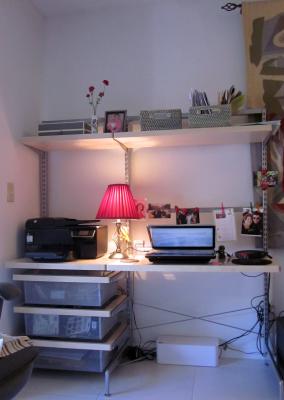 Rated

5

out of

5
 by
KBGolf
Love Decor in my KITCHEN
We remodel our kitchen on a small budget. We wanted an open look, no cabinets. So we thought ....we love our ELFA so why not in the kitchen. It looks beautiful. We get so many wonderful comments on our kitchen. We love our walnut elfa decor shelving. Thank you Container store for helping us think outside the box.
April 26, 2013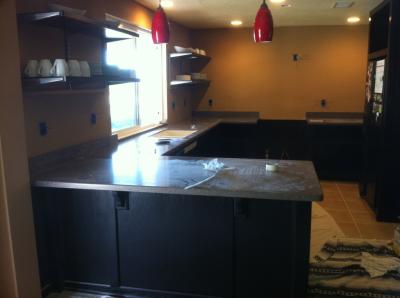 Rated

5

out of

5
 by
Twinkle
Awesome Design
We have just purchased an LCD tv to hang on our wall and came into the store to get help with designing a tv center to mount under the tv. The design center was awesome, the design fit perfect and looks fabulous in our tv room. elfa shelving systems are SO WORTh the investment!
April 1, 2013
Rated

5

out of

5
 by
qxiusa
Great product
Stylish and easy to install. Love the fact that the closet can be redesigned easily as time goes.
March 19, 2013
Rated

5

out of

5
 by
Cracker
Elfa systems are great quality
This is my third Elfa purchase for complete walk-in closet, smaller closet and pantry. Love the systems and the choice of finishes. It is easy to install. Great design service at the store. I have recommended this already several times to friends and clients), I am in real estate.
March 10, 2013
Rated

5

out of

5
 by
amorri
White Elfa decor shelves
We needed extensive storage for our rambunctious 5-year old's many many toys and games in her small bedroom. I knew the decor shelves were typically used inside closets, but its rounded corners were perfect for safety and to prevent injuries should she graze by the corners too quickly. We love them and so does she!!
February 23, 2013