< Return to Product Page
Customer Reviews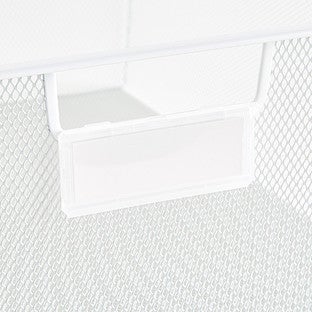 elfa Drawer Label Holders
Overall Rating:
Customer Reviews
Rated

4.3

out of

5

 by

12

reviewers.
Rated

3

out of

5
 by
Brainwave
Too hard to see
I didn't like these labels because they slant inward with the drawer side. You have to bend down so your eyes are at the same level as the drawer in order to read them. I returned the package that I hadn't opened.
September 21, 2015
Rated

5

out of

5
 by
frostygoth
Easy to use and fit all drawers!
I bought these label holders for my mom's mishmash collection of elfa drawer units. She has a combination of sizes, heights, and mesh and wired drawers. I bought my elfa drawer units many years ago and back then the only labels that existed worked only on the mesh drawers--they slid onto the handles--but didn't work for the wired drawers due to the lack of a handle. I was delighted to see that the design of the label holder was improved to work on both types of drawers so my mom's whole elfa system is now perfectly organized and every drawer is labeled! The labels snap together very easily and quickly and securely attach to both type of drawer.
December 12, 2014
Rated

3

out of

5
 by
Sergio
Useful Addition
I purchased these for our shelving units in the office and they are very helpful for our staff.
April 25, 2014
Rated

5

out of

5
 by
Mhappy
New closet
I purchased a new closet arrangement from the container store and decided these would be great. They were the last item to really make my closet organized.
January 24, 2014
Rated

5

out of

5
 by
ALC65
Perfect Finishing Piece
I purchased these labels because I used the drawers in my pantry and needed a reminder of where my items were. These label holders are made well and I used the free decorative labels off the container store website to add some color. Nice item.
April 17, 2013
Rated

5

out of

5
 by
MissPiggy
Legos organized
There were wonderful in helping keep Lego sets organized. We used the Elfa drawers with liners and had the drawer labels so the kids can tell why was in each drawer. We also used them for our laundry drawers to label the darks, whites and others.
May 6, 2012
Rated

5

out of

5
 by
Misheezy
Super easy to use!
These are very easy to use and are, of course, helpful in labeling the contents of the drawers.
April 27, 2012
Rated

5

out of

5
 by
lilwhitelion
Handy gadgets
I used these with my elfa walk-in closet and find them helpful. If I change the usage of the drawers, these labels can be switched inside-out, so I have new space to write what is in the drawers. They were easy to attach to the mesh drawer fronts.
March 16, 2012
Rated

1

out of

5
 by
ndesigner
The new labels are terrible
I have been an elfa consumer for over 15 years and have more than 20 basket systems. The new plastic label design is terrible compared to the old design. These labels do not stay attached well to either the wire or the mesh drawers and are easily knocked off the drawer. (I even recently demonstrated this to a sales associate at the store who agreed with me.) The labels move back on forth on the mesh drawer handles, and I returned a whole new mesh system due to the suboptimal labels. The new labels are also shorter so hard to use a longer label. I would not purchase further drawer systems if you plan on needing labels.
March 20, 2011
Rated

5

out of

5
 by
Marissa
Handy Drawer Labels
Love the drawer labels and holders for the Elfa Drawers. They are easy to install, large enough to hold a readable label, and small enough not to be intrusive
February 20, 2011
Rated

5

out of

5
 by
LauraV
Great Addition
These are a small, simple, inexpensive addition to the Elfa which make a big difference. Use your brother Ptouch to label the paper insert and then find things in a snap.
February 15, 2011
Rated

5

out of

5
 by
Libelle
great labels
Nice way to get organized. No more opening every drawer to find something!
February 14, 2011