< Return to Product Page
Customer Reviews
Platinum & Walnut elfa décor freestanding Room Divider
Overall Rating:
Customer Reviews
Rated

4.7

out of

5

 by

6

reviewers.
Rated

5

out of

5
 by
Texorado
Perfect Solution
Needed a versatile unit to set up an art studio and have been designing in my head for over a year. The two sided unit looks wonderful and allows multiple people to utilize the space without getting in each other's way. The flow of the room is terrific, and everything is so accessible now. I have multiple drawers on each side with shelves on the upper half. The unit is classy and neatens up the space, as does all the Elfa. It is definitely worth the cost for both the quality and the versatility. It can easily be repurposed when and if I ever lose the creative spirit.
May 4, 2013
Rated

5

out of

5
 by
ChaseDC
I love my new freestanding entertainment center!
I moved into a new place that was somewhat limited on space. Especially for where the entertainment center could go. Finding something that looked how I wanted it to and fit the space was a challenge. So I decided to go with Elfa. I was able to design the entertainment center to fit the space perfectly with the exact shelving and storage set up that I wanted. And the platinum and walnut finishings give it a very sleek and modern finish. And the heigh provides me a lot of extra storage and shelf space over a similarly sleek designed low profile entertainment center that I could buy in other stores. And installing it was super easy. I defintely recommend this product to everyone who just can't find exactly what they want.
May 1, 2013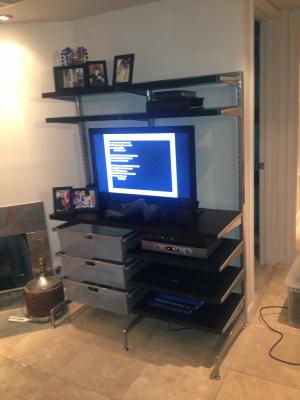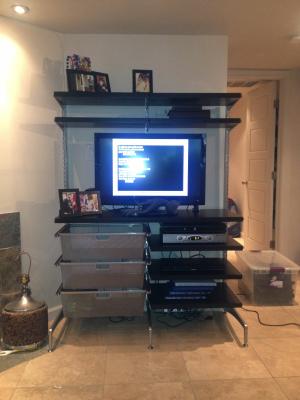 Rated

4

out of

5
 by
Stelli
Flexible
The solved a complicated closet with an angled wall.
April 16, 2013
Rated

5

out of

5
 by
Verified Reviewer
Perfect solution for difficult problem
I bought the Elfa freestanding unit to see if it would work for a custom storage solution for an artist's studio. I needed a room divider that was open and didn't block the natural light from a window. I needed a rod to hang drafting tools and rulers at the end of a cutting table so they would be easily accessible for two work areas. I needed shelves for storage, and I needed a place to park two Elfa rolling carts. I was definitely thinking out of the box on this one, but by putting the shelves and some closet rods together with the upright unit, I have just what I want. I tried for months to come up with something that would work, and this was perfect. Two of the unit's feet are under the table, and the two that stick out into the room made the perfect corral for the carts. I added a kitchen grid (also from the Container Store on the side opposite the hanging rods and shelves, and I can store more items on that side, over the carts in their corral. I initially ordered the components online for store pickup; but when I got to the store, I was able to talk with an Elfa design consultant who understood what it was I wanted to accomplish. He led me in the right direction, reducing the size of the feet and pointing me toward the hanging rod hardware that I needed but didn't know was available. His help was very much appreciated. I am thrilled with the versatility of the Elfa components. I have just what I needed, custom built. The unit is solid and sturdy, and I always appreciate the helpfulness and knowledge of The Container Store's associates.
February 22, 2013
Rated

4

out of

5
 by
RunRen
One sided versatile TV Stand
We move quite a bit and we needed something strong enough to hold a man cave sized older flat screen (117 lbs), not take up a lot of space or get dinged and ugly when moving, have open and closed storage, look good and be useful when we settle down and don't need it as a media center anymore. And this did it all. We did have to get two 2' side by side shelves to support the TV (weight needed brackets below TV, not just to the sides), rather than the seamless 4' shelf I desired, but I did get the seamless ones for the components below. I also got three mesh drawers of various depths for hiding remotes, manuals, cds, dvds, etc. Do invest it a wood stain pen - some components have a nasty way of scratching if you are not careful. One big issue-we did not measure the depth of our TV and the elfa supports in the back prevent us from lowering the TV the 3" we'd like without pushing the TV forward precariously. The viewing quality begins to diminish if the TV is much higher than seated eye level, though ours is still in the sweet spot. Other than that, I can change the shelf size as needed, add or delete shelves or baskets, and shrink it down & move it in the same space a large mirror would take up. Eventually, this will have a new life as a desk, wrapping or folding center, possibly in my closet.
October 7, 2010
Rated

5

out of

5
 by
StarGal
Our DJ Entertainment Center
I purchased a free standing unit just like this in the picture, except mine is one sided. I use it as a DJ booth and place it against the wall. My fiance loves it!! He uses it to put his records, two Turntables, two CDJs, a mixer, and a laptop. We are also able to fit a wine fridge underneath it. We put the unit together ourselves. Once you put up the standards, the rest is easy. You do need help putting the standards together though. This part could be a little tough. But with two people it's should be fine. I would definitely recommend this product to any of my friends.
May 18, 2010