< Return to Product Page
Customer Reviews
White elfa Mesh File Carts
Overall Rating:
Customer Reviews
Rated

4.8

out of

5

 by

126

reviewers.
Rated

5

out of

5
 by
Goofball
Perfect for Our Needs!!
We purchased the file cart over a year ago . It has proven to be a great way to house readily-availabe files without the need to have a stationery file cabinet. We use the file cart in the closet-office. It can be pulled out for easy use. Pull-out storage bins under the hanging files are also handy and easily accessible. This product was perfect for our needs.
March 8, 2010
Rated

5

out of

5
 by
InformativeReviewer
Wheels make it very functional!
Sturdy, functional, and trendy with it's gray/metal color. Blends nicely in my minimalist home office decor.
January 11, 2017
Rated

5

out of

5
 by
Souly
Great.
It fits perfectly under my desk and very easy to ensemble.
March 26, 2016
Rated

5

out of

5
 by
Nansu
Fits nicely under my desk!
Mallet needed for assembly. Love that it fits under my desk. I keep important files in it that I use often. Slides easily.
February 19, 2016
Rated

5

out of

5
 by
Pach
Excellent quality
I am very pleased with this product. The quality is great and it's a great price (on sale)! It was also easy to assemble.
February 13, 2016
Rated

4

out of

5
 by
GFFL
Neat Product
It's relatively easy to assemble. It fits the purpose I was looking for. Just be sure if you are planning to roll it under a table that it is high enough to clear the files along with tabs. It is too big to fit under a regular desk. If going in a closet be sure that the closet is deep enough. I had done a lot of measuring ahead of time. Files move easily on the tracks and the storage areas are very handy.
January 24, 2016
Rated

4

out of

5
 by
AJM88
MUST HAVE RUBBER MALLET
Good construction and design. Fits well under desk. BUT, you must have a rubber mallet to assemble the parts. I only rated 4 stars since the directions were not clear. Each part had a set of directions, but an additional overall direction sheet would be very useful; especially for someone not used to this type of assembly. I am and could figure out the order of assembly but a novice would have a hard time.
November 1, 2015
Rated

5

out of

5
 by
kidnurse
This cart is great!
The size is great for under the desk in my craft room. It was pretty easy to assemble although I did have trouble getting the casters to fit in the holes. I tried tapping them in with a rubber mallet. That didn't work. I ended up spraying some WD-40 on the metal part and they went in with just a little tapping!
July 11, 2015
Rated

5

out of

5
 by
GailH
LOVE THIS UNIT - Small & Spacious
Fits perfectly under my desk and I also love the 2 different sized drawers. Everything is easy to see and locate quickly.
June 12, 2015
Rated

5

out of

5
 by
blssd5x
convenient, tidy file/storage unit
The elfa mesh file cart was highly recommended by my office organization consultant, Kacy (The Inspired Office). It was easy to assemble, slides conveniently under my desk, and places files and office supplies at my fingertips. I love it!
March 24, 2015
Rated

5

out of

5
 by
SchmooBaby
Problem Solver
With a tiny workspace, I needed some way to store my overwhelming supply of paperwork for multiple organizations until I filed them, my office tools, projects I was working on. This file cart truly met my need. Mine came without the filing cabinet on top. I purchased the strong top, on which I placed my office jet. Now I had more room on my desktop to work.
March 21, 2015
Rated

5

out of

5
 by
MaggieB014
Nothing beats elfa
I have a lot of elfa products in my home. This is a more recent purchase. I renovated a room to make a home office. I needed a system that could handle everyday filing needs - the stuff I access all the time. I love this elfa file cart. Plenty of room for all my active files, plus two great storage drawers. I keep extra file folders, binder clips, a label maker and more in there. This unit is made so well that it will last a lifetime.
March 16, 2015
Rated

5

out of

5
 by
Jaycee33
Exactly what I was looking for
Easy to put together. A rubber mallet is recommended, but since I don't have one I used a regular hammer and block of wood and it worked out perfectly. This is perfect for holding my paperwork files and shipping supplies for a small business. It can hold a large number of hanging files. Definitely recommend.
October 4, 2014
Rated

5

out of

5
 by
tap4steph
Best product ever
I bought this product 12 years ago when I went to college with the intention of using it when I started teaching. Now that I am in the classroom, I have bought the product again because my original purchase is being used for personal files. It is durable and functional and worth every penny spent.
September 1, 2014
Rated

5

out of

5
 by
TaxGirlRI
Great filing solution!
I was using two (very old) plastic crates to keep two sets of files - one for my bills and tax return info and one for the non-profit where I am a volunteer Treasurer. The crates were falling apart and very heavy to lift (I always put one on top of the other and worked on the top one) I bought two of these and they are working out very well! I am NOT handy but I put these carts together very quickly using a borrowed rubber mallet (I think it would be difficult to get the metal pieces together without the mallet). The files slide nicely on the rails and I can just roll the one I need over to my desk. The two baskets below the files are great for me to store bills to be paid or items to be filed. Using them frees up some space elsewhere in my home office. I love them.
August 30, 2014
Rated

5

out of

5
 by
Hezakiya
Just what I needed
This Elfa filing cart is easy to put together, the wheels roll smoothly, and the price was reasonable. I plan to ask for the desk set-up for my birthday. It will be gorgeously functional once it all comes together! :-)
May 4, 2014
Rated

5

out of

5
 by
stitches37
Holds more!!!
I bought this three drawer when I removed my oak desk and went to an Elfa desk top. I needed drawers and so I purchased this. The surprising thing is that these drawers hold more than the drawers in my old desk. They are convenient to pull out and push in. When I need the files, the whole cart moves very easily. I wonder why I didn't do this years ago!!!!!
April 29, 2014
Rated

5

out of

5
 by
boobear
Awesome helper
This file cart is great because I can wheel it anywhere. I file while I'm watching tv! Makes filing painless.
April 25, 2014
Rated

5

out of

5
 by
Bunsen
Great item
It was exactly what I was looking for. I file cabinet that is not to heavy looking but still hold a lot of files. Sturdier than it looks. Great value for the price.
April 25, 2014
Rated

5

out of

5
 by
TessieMae425
File Cart is Out of Sight!
Love this portable file cart on wheels. All of my essential files are at my fingertips now. My Professional Organizer had this cart and I realized it was the perfect addition to my small office. The lighter, mesh platinum look is trendy and fashionable. It blends in nicely with other decor. The two lower trays are useful for frequently used items like envelopes and supplies you want to keep out of sight. Great first investment if you're ready to get organized. Plus, I got it on sale and that was awesome!
April 23, 2014
Rated

5

out of

5
 by
dobby
best of it's kind
easy to assemble, easy to move and useful for many purposes.
April 16, 2014
Rated

5

out of

5
 by
MRosa
File cart
Love my file cart! It was easy to set up. Fits perfectly underneath a desk top. Thanks!
April 16, 2014
Rated

5

out of

5
 by
BayleeK
Best Filing System EVER!!!
I couldn't wait to get this product home and organize all of the documents I had been keeping in binders for so long. I love looking at this, it just makes me happy. And I can find exactly what I need in seconds! I showed this to a friend who bought one right away!
April 4, 2014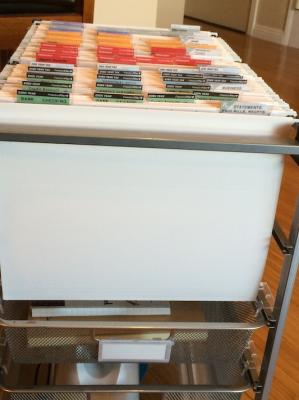 Rated

5

out of

5
 by
Terric
Just what I needed
I am an avid crafter and I needed something to store 12 x 12 paper conveniently and that looked good. After receiving the cart, which was very easy to put together, I knew it was perfect for my needs. It is metal instead of plastic, which I love. I also like the deep seven inch drawer and I know I will find it and the three inch drawer useful for other crafting items, I have already recommended this to a friend and will continue to recommend it. A great value for the price!
March 30, 2014
Rated

5

out of

5
 by
EuroTouch
My new office on wheels
This handy mini office organizer is now my traveling office. I take it to various rooms in the house depending on what project I am working on. You're gonna love this one!
March 26, 2014
Rated

5

out of

5
 by
NotEnoughDrawersNYC
perfect for a closet office
Perfect for a small/part-time family business in a 1-bedroom apt. The drawers underneath are HUGE.
March 13, 2014
Rated

5

out of

5
 by
Tbass10
Lovelove
Love my new letter file cart!! Helps this unorganized girl get organized!
March 5, 2014
Rated

5

out of

5
 by
new1954
Great product
This file cart allows for file cabinet storage of important papers along with space for desk top and desk drawer items. The wheels make it super easy to move where it is needed. It is also attractive. Perfect solution for storage in a small space
March 3, 2014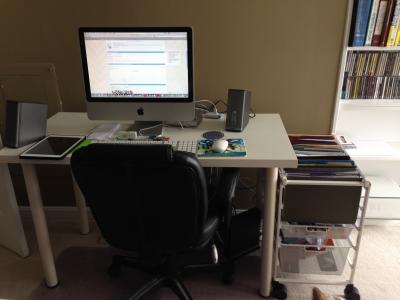 Rated

5

out of

5
 by
buyer49
Excellent product
Easy to put together. Very sturdy. A bit larger than I would have liked, but very pleased with it.
March 1, 2014
Rated

5

out of

5
 by
67Evans
Good addition
Moving computer downstairs to desk area and needed file space. This is so perfect and will provide excellent storage.
March 1, 2014