< Return to Product Page
Customer Reviews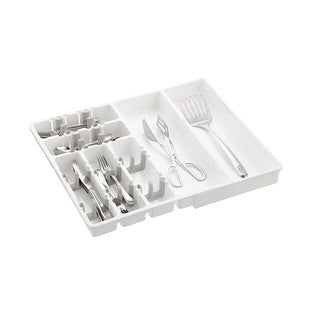 OXO Good Grips Large Expandable Utensil Organizer
Overall Rating:
Customer Reviews
OXO Good Grips Large Expandable Utensil Organizer
is rated out of
5
by
16
.
Rated

4

out of

5
by
Mariannie
from
Drawer Organizer
Fits well in varying size drawers. I have difficulty adjusting the dividers.
Date published: 2014-03-22
Rated

5

out of

5
by
MomNYC
from
Perfect adjustable drawer!
It adjusted so it fit my drawer perfectly. Because of rubber cushions, it stays put. Great purchase!!
Date published: 2014-03-14
Rated

5

out of

5
by
midwestkate
from
Customizable Size and Compartments
I bought this silverware divider after returning another one that was far too shallow for the drawer and the amount of silverware we have. This is the right depth and keeps the silverware from getting mixed. It's nice that you can adjust the size of the unit to fit your drawer, and can customize the dividers as well. The dividers are hard to move around, but you'll probably only do it once so that's okay. I am very happy with this product.
Date published: 2013-05-01
Rated

5

out of

5
by
scoobydo2
from
Junk Drawer Organizer
LOVE LOVE LOVE this organizer. It is the 2nd one I have purchased. It worked so well for my silverware that I bought one for my junk drawer. I proabably should rename the drawer because it is FINALLY organzied. I know what is there and I was able to purge items I didn't need. Thanks
Date published: 2013-04-13
Rated

5

out of

5
by
FLowerGin
from
Just what I needed
Loved my new expandable drawer organizer... Makes it fit in my drawer and much easier to clean then the little dividers I was using....
Date published: 2013-02-19
Rated

5

out of

5
by
SamanthaJean
from
Perfect for my kitchen
I have over-sized cabinets and with that comes over-sized drawers. Most organizers I find are too small to fit alone and too big to fit multiples of. I love that this one is expandable and you can move the dividers around. I was able to move the dividers to fit my needs rather than have to work with what was given to me. The plastic is also easy to clean, which is always a plus in a kitchen. Would definitely buy again!
Date published: 2012-12-04
Rated

5

out of

5
by
Shaneyg
from
Organized my messy drawers in minutes
We really love the Good Grips Adjustable Drawer Organizer as it organized our drawers quickly. Would buy them again if I had more messy drawers.
Date published: 2012-10-31
Rated

5

out of

5
by
Rebel
from
great organizer
Love it. Organized my drawers (bought 2). Felt so good being organized and being able to find things .
Date published: 2012-06-22
Rated

5

out of

5
by
BeesKnees
from
The kitchen says thanks
Our small kitchen has unusually sized drawers so this expandable "design your own space" silverware organizer is perfect. Now I don't rummage angerly through the drawer and slam it in a fit anymore!
Date published: 2012-04-18
Rated

2

out of

5
by
benj2
from
Not so great
I didn't like this product because when I expanded the drawer, the little spacers didn't fit right. You can purchase additional spacers online, but they don't make any that would fit my drawer. They need to make some just a little longer than the smallest ones. The way the product is packaged makes it difficult to "try before you buy" at the store to see how it really expands. The plastic is of good heavy quality, and it be a good product if it fit my drawer and/or had more options for arranging the spaces.
Date published: 2012-03-28
Rated

5

out of

5
by
KimberAWB
from
Perfect
This organizer not only looks nice, but is a great piece for organization. We have a lot of utensils and this holds all of them perfectly.
Date published: 2012-03-08
Rated

4

out of

5
by
Scout03
from
Most versitle drawer organizer
As I struggle to organize a 20ft. kitchen into a 10ft one, I am forced to find the most clever organizer tools on the market. I have to say this one is one of the best tools so far. It fits a number of the drawers I have and expands easily.
Date published: 2011-12-19