< Return to Product Page
Customer Reviews
Clear Document Cases
Overall Rating:
Customer Reviews
Rated

4.7

out of

5

 by

93

reviewers.
Rated

5

out of

5
 by
Kitty4
Awesome
These containers are super strong and durable. They don't compare to the cheap ones you get at a local market. These are high end for sure! Love them! Easy to open and close. You can also fit a ton of things in the large ones! Can't wait to order the smaller ones!
January 25, 2016
Rated

5

out of

5
 by
patriciaTMF
very good product
I will buy more of this clear document cases, for my office and also for home to store sheets, comforters, etc. very good product
January 11, 2016
Rated

1

out of

5
 by
VirginiaMom
BUYER BEWARE! Not the measurements advertised
I purchased the small document case online for a click and pick up order. The measurements advertised say "10-1/4" x 9-7/8" x 2-7/8" h" for the inner dimensions. I was looking to fit a 9.5x9.5 item inside, so thought this would fit well. When I went to pick up the case, it had a label on it that said 8x8! I measured the interior and it was not what was advertised! I had to return it and buy the 12x12 while I was in the store, so much for my 15% off!
December 24, 2015
Rated

5

out of

5
 by
Joghog
ONLY Place to Find This Item....
I already had one of these clear large cases that I purchased many years ago (probably at a large discount store), liked it, & wanted another one. The Container Store is the ONLY place that I could find it, so I purchased two.
May 26, 2015
Rated

3

out of

5
 by
jlgclassof2000
NOT the same quality as a few yrs ago
after a lot of research& contacting the manufacturer, I've confirmed that these are made with lower quality materials than the same boxes I purchased yrs ago (and LOVED.) HUGE DISAPPOINTMENT. WILL BE RETURNING TO THE STORE. These are flimsy, won't stay closed, & are very prone to breaking.
May 1, 2015
Rated

4

out of

5
 by
TEQUILASHEILA
PLEASED WITH THE PURCHASE
NICE SIZE. GREAT FOR KEEPING IMPORTANT PAPERS CLOSE.
April 2, 2015
Rated

5

out of

5
 by
GermanVillageDad
Toy Box
Went in looking for a box to put a set of Magna-Tiles (magnetic construction tiles) in - it has 100 pieces and the cardboard box they came in did not hold up. Found the medium size document box in under a minute and the clerk was really helpful. My girls like having their toy accessible and I like no more mess.
March 20, 2015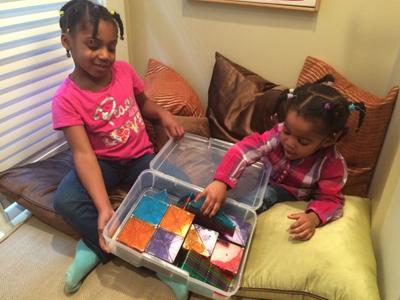 Rated

5

out of

5
 by
cmthmpsn
Perfect for my needs!
I was looking for something in which to store a flat (24 cans) of 3oz cans of cat food. The trouble with just keeping them in their flats is that if I pull a can out of a flat low in a stack of flats, then pretty soon, the upper flats start caving in. So I wanted to find a container which would fit 24 cans without a lot of empty space so that I can pack the maximum number of containers in the smallest possible space. I looked all over for containers, a few were too small and wouldn't hold the whole flat. Most were too big and held more than I needed, and even then because the cans didn't stack inside those other containers well, there was still a lot of empty space. THESE CONTAINERS (size small) ARE PERFECT! Holds 24 cans stacked well and very little extra, empty space. I will be purchasing a LOT more of these, one for every flavor of my brand of cat food.
November 14, 2014
Rated

5

out of

5
 by
Buddy43
Doll suitcase
I bought these for my daughter to use for her dolls. They work perfectly. And the handle enables her to carry them around easily.
March 30, 2014
Rated

5

out of

5
 by
riShells
Good storage space
The medium storage container is roomy enough to keep manila envelopes, folders, and loose papers in a safe and dry environment. I tend to stack papers up all around my office space. These containers keep things neat and are, themselves, stackable.
March 26, 2014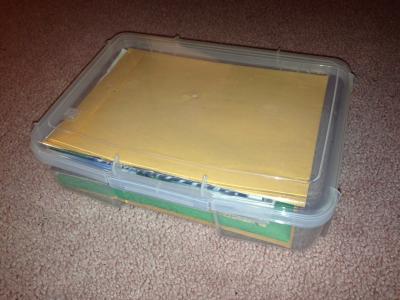 Rated

5

out of

5
 by
dgriff13
Great affordable case
I needed a lidded storage case for sort of a strange reason: I exhibit at comic cons and offer trinkets for a tip. I went on a hunt for the perfect case that would A: have a lid for easy portability, B: be sturdy, C: have compartments for sorting and D: be able to fit my tip jar once opened and set up. Turned out the Container Store didn't have EXACTLY that. But, being creative, I McGiver'd the perfect box. Used this case as the base, and also purchased smaller plastic compartments (linked below) that fit perfectly inside. You can see from the image the end result is pretty cool looking! Makes you wanna leave a tip, no? ;0) http://www.containerstore.com/shop/collections/hobby/dividedBoxes
March 24, 2014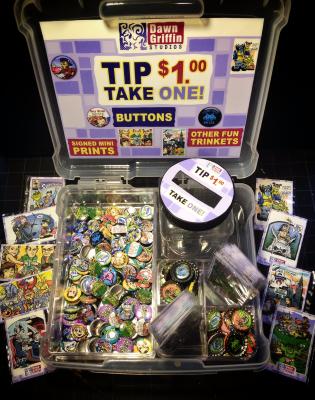 Rated

5

out of

5
 by
Justjo
Clear Document Cases
These are great for storing office paper and magazines. I use one of the medium cases to hold small gift bags and tissue paper.
March 22, 2014
Rated

5

out of

5
 by
cantcontainthis
Boring Documents, or Delicious Cupcakes!
I bought this container as I was heading home to make some cupcakes for a dear friend's birthday today. I first looked at the specific cupcake containers, however their holes for the cupcakes were not big enough for the cakes I was making. As I passed by the office storage area, disappointed that I would leave empty handed, I spotted this little gem out the corner of my eye and a lightbulb went off! Hey, I thought, is this the right dimensions? Low and behold, a perfect fit for 30 cupcakes! The clasp holds nice and firm, the plastic is solid and can easily hold the weight of the sweet sweet deserts (and of course many documents I am sure). The comfortable rounded edges and shape meant I could carry it easily, ladened with baked goods for over 40 blocks later in the day, and they held firm. I would strongly recommend this product to anyone needing a versatile container, for office OR kitchen! If you are curious, the cupcakes were pumpkin spiced, with maple cream-cheese frosting and maple caramelized walnuts on top, delish!
March 21, 2014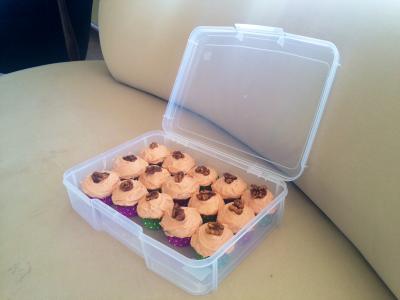 Rated

5

out of

5
 by
PhotoBuff
Sturdy and Versatile
This box is extremely versatile and sturdy. I use this box for storing documents for safe keeping. Perfect size and perfect for keeping the documents flat and dry.
March 19, 2014
Rated

5

out of

5
 by
CMinOK
Be Organized!
Love these boxes! I use these to hold arts and craft supplies, flash cards, Legos, paint, etc! These boxes have locking clips on the front closure that you have to physically flip up, not slipping!
March 15, 2014
Rated

5

out of

5
 by
Tonka
Perfect storage containers for the closet. You see the contents and they stack nicely. Much more practical and attractive than ugly bankers boxes. I got them on sale for 5.99 each, which is well worth it.
March 13, 2014
Rated

5

out of

5
 by
Semigeek
Perfect size for office supplies
The medium case is perfect for organizing and storing office supplies in a limited space. They are also stackable.
March 1, 2014
Rated

5

out of

5
 by
ydls
Excellent
Love this product, especially the size. I use it for scrapbooking---I use one for storing my 8x8 papers and another for carrying small projects. THe quality is excellent as well. I also purchased some as gifts for my friends who scrapbook as well.
December 27, 2013
Rated

5

out of

5
 by
GingerB
Really worked!
Perfect for storing my son's graphic novel series!
September 3, 2013
Rated

5

out of

5
 by
TheGrammarBelle
Schoolwork Storage
Each August, I buy each of my daughters one of these large cases. It sits on the high shelf in their closet and is the perfect size for putting the keepsakes for that school year. They stack beautifully in the attic and have kept my girls' special mementoes looking great for many years!
April 26, 2013
Rated

5

out of

5
 by
RP2chil
I love these cases
It is quality, sturdy and well made. it keeps my scrapbooking supplies safe and tidy.
April 26, 2013
Rated

5

out of

5
 by
BJill
Best Way to store Must Save Documents & Magazines
Sturdy& stackable can view contents w/o rummaging!
April 26, 2013
Rated

5

out of

5
 by
NailGal
Sturdy Storage
I bought the small document case to hold extra nail polish that I needed. It works well for that purpose, though I need to lay the nail polish on the side- which is fine because I know that wasn't the purpose of this storage. It worked well anyway, though!
April 23, 2013
Rated

5

out of

5
 by
Tobias
Just what I was looking for
There is a HUGE family bible that was sent to me & the outter binding is falling apart. I wanted to keep it from damage, but I live in a very humid climate. Fortunately, I found this & it fits perfectly! I'm so glad that I found a way to keep it from further deteration.
April 20, 2013
Rated

5

out of

5
 by
Artsy123
Great Product
Being a Fine Artist, I was looking for a box to transport my oil painting tubes so they would keep organized and not get punctured in my traveling plein air back pack. This box is very well made, nice solid plastic, but light in weight and not too big. The perfect fit for my back pack. The clasps are nice and solid, too so I know they will not break over time and with lots of use. Extremely happy with this box. The handle on the case is well placed for ease in carrying.
April 1, 2013
Rated

4

out of

5
 by
Catlady02461
Purchased the Medium-size document case to store & organize my important bills/major purchase, taxes,---documents that I need to hold onto for a few years. It's see-through & stackable to make things more organized-looking.
March 24, 2013
Rated

5

out of

5
 by
rwhorn
Really solid containers
I use these to archive my comic book collection and these stack very nicely and protect very well. Very sturdy and well-made. I wait for these to go on sale every year and then buy them in bulk.
March 18, 2013
Rated

5

out of

5
 by
AnnZ
great size container
This is a document case but it works great for other things too. I am using one as the sew kit and another as a storage for needle point. They stack nicely and you can see what is in the storage container.
March 18, 2013
Rated

5

out of

5
 by
ElfaAddict
Great Scrapbook and Document Organizer
I just love this box! I collect all my scrapbooking items - photos, programs, momentos, etc. and place them in this box before I begin a new scrapbook. It provides a convenient way to store items until I am ready to start my project. If you need to sort and organize documents, it is a great tool. I have used it to sort old family documents (letters, certificates, baptismal records, birth certificates, etc.) My family documents are now sorted and no longer shoved into old cardboard boxes to be lost or damaged.
March 16, 2013
Rated

5

out of

5
 by
LinaP
Excellent Product
My one regret was I didn't get more of them! They stack so nicely and love you can see through them.
March 14, 2013