< Return to Product Page
Customer Reviews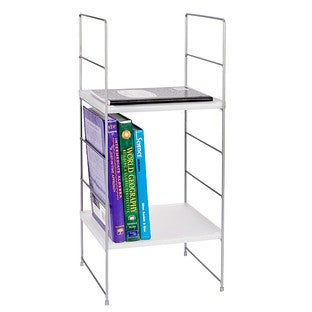 Janus Locker Shelf
Overall Rating:
Customer Reviews
Janus Locker Shelf
is rated out of
5
by
20
.
Rated

5

out of

5
by
Indigo323
from
Does the job!
I needed a locker system for my gym locker at work. This def was the best option and I searched high and low. My only complaints are that I wish it came with 3 shelves and it was a little finicky to snap together (but that may have been user error). I would absolutely recommend this product - brings order to a tight space.
Date published: 2015-03-29
Rated

5

out of

5
by
Mn1234
from
Super Sturdy Shelf!!
Very sturdy shelf and it fits nicely in my daughter's locker. Added a lot of usable space to the locker and is easy to assemble.
Date published: 2014-08-30
Rated

5

out of

5
by
kellymac
from
Perfect for Full Size Lockers
The two shelves make it possible for my daughter to organize her binders and books in her new full size locker. Without it, you may as well have a small locker!
Date published: 2014-08-28
Rated

5

out of

5
by
Astrocat
from
Awesome locker shelf
Sturdy and holds all my books. Easy to assemble. Can't wait to move in to my locker!
Date published: 2014-06-23
Rated

5

out of

5
by
xiandi
from
THE BEST locker shelf
So far, it's outlasted many others in our Middle School lockers and very heavy books. We only used one of the shelves, so if the first one DOES ever bend or break, there's another one ready to go.
Date published: 2013-09-10
Rated

5

out of

5
by
E3Mom11
from
Excellent use of vertical space!
My daughter's locker is taller than she is. The Janus Locker Shelf provides two shelves at the base of her locker, where she can easily access her books and supplies.
Date published: 2013-09-02
Rated

5

out of

5
by
Berk
from
Best Locker Shelf Around
This is by far the sturdiest and best locker shelf I have come across in years. I work in a middle school and I see tons of wobbly, unstable locker shelves that do little for the student. This Janus locker shelf is completely stable and sturdy. It doesn't wobble, it has two adjustable shelves and can be used with just one shelf, if desired. When assembling it for my son's locker, I had to put the shelf on one of the wire stands, then insert it into the locker and attach it to the other stand once inside. We tried to assemble the entire thing and then put it into the locker, but it was too wide. It fit perfectly when we only put in half at a time. I will never go back to the other locker shelves. This is by far the best one the Container Store carries, hands down....
Date published: 2013-08-30
Rated

4

out of

5
by
Kmacbrad
from
Very nice
I took a chance on this purchase as I did not know the size of my sons locker. Luckily it fit and was easy to put together and adjust. The locker is old and the bottom is dented, so the shelf does not sit flat or steady. It will certainly serve it's purpose and I think last for many school years as long as his locker stays the same size.
Date published: 2013-08-23
Rated

5

out of

5
by
kaypay153
from
Best Locker Shelf Ever!
Let me start off with saying this is the king of locker organization! I am an 8th grader who is taking A LOT of accelerated classes, and i knew my single locker shelf was not going to be enough to keep my textbooks and my binders organized. This locker shelf separated my locker into now 3 sections: 1 for binders, 1 for textbooks and notebooks and 1 for my jacket, backpack and other school essentials. The day i came in to put all my stuff in my locker before school, my friend (who always has an unorganised locker) asked me where i got this, now she has this shelf and her locker is so much neater and she doesn't have an avalanche of school supplies coming out of her locker every time she opens it. Thank you for this amazing product!
Date published: 2013-08-22
Rated

5

out of

5
by
Veri
from
Fits just right
I wasn't using these for a locker, but instead a computer cabinet. They fit perfectly in the space! I would recommend them to anyone for lockers or other spaces.
Date published: 2013-08-13
Rated

5

out of

5
by
tchanslor
from
Great fit in locker and keeps it organized!!
I originally purchased a wire single shelf for locker for my son... His locker door wouldn't shut because of the backing of the combination lock in the door (hitting top of wire shelf)... This shelf is adjustable so can be adjusted so that locker door closes. In addition is VERY sturdy and nice having the 2 shelves... My son likes it much better than wire shelf... Would highly recommend!!
Date published: 2012-09-07
Rated

5

out of

5
by
Deberly
from
Worth the Money and Then Some!!!!
Ok so I never write reviews but this product has caused me to speak up. I volunteer at my kids school and do High School and Middle School ministry to boot....so to say I talk to tons of MS and HS teens is putting it lightly. I happened to have been given a USED one of these shelves from a graduating senior (over 6 years ago) and I have used it without fail in my daughters locker ever since. The fact that you can ADJUST the shelves is MAJOR since textbooks are the size of College books and Notebooks are HUGE. Its possible in a half size locker to set this shelf to allow for a lower and top shelf for LARGE books with a center for lunch box or even your gym bag (that's right one year we got in all the books an a bulky gym bag). This shelf takes a beating and continues to hold up (again I started with a used shelf and I'm on year 6 myself). I have purchased so many of these as gifts and recommend them to complete strangers!!!! Everyone I have ever insisted buy this is thanking me and telling me how they have NO IDEA how they lived without it!!!! The price gave me pause, at first, and I'm not sure had I not been gifted the fist one if I would have taken the leap....but I promise you LEAP AWAY!!! The only complaint I have at all is this shelf is a seasonal item so if you don't get it during June-Aug you will have lost your chance until Next Year!!! To give you an idea how committed I am to this shelf I just this year purchased 2 more (one for my son who is just getting his first locker in 5th grade...and I know this shelf will see him through to 12th grade) and I got an extra for the person next to my daughter or son who will cry when they go to purchase one and they are sold out....I will be there hero!!! I PROMISE BUY THIS SHELF, BUY AN EXTRA and BUY ONE FOR THE STRANGER WHO WILL BEG YOU FOR YOURS!!!! These are the BEST things EVER!!!!!
Date published: 2012-08-20
Rated

5

out of

5
by
SuperChic
from
ESSENTIAL!
I am a high school student and I share lockers with my best friend; we're both IB students so we have a LOT of binders and things and not only does this organize our locker but it gives us more space because then we can start stacking vertically. My only complaint is that it's 1-2 inches too small so it doesn't fill the whole locker up but that's a minor issue, we stuck text books in that crack too. All my friends asked where we got it from. :).
Date published: 2012-07-09
Rated

5

out of

5
by
MSMOM
from
Adjustable locker shelves
We have bought adjustable locker shelves previously and been so disappointed. I bought 2 types of shelves in case these were not what they appeared to be. My son is thrilled and his locker looks organized and the shelves are very sturdy. I wish I had ordered 2 sets, one for each child.
Date published: 2011-08-24
Rated

5

out of

5
by
AZmomof4
from
Waited a whole year for this shelf and so worth it
Tried to get this product last year after school started but was sold out. My daughter had seen it in a friends locker after school started, but we were too late. This summer we went on-line to check if they got them back and sure enough they did! Bought three this year, one for each child. Best locker stand ever as it fits the whole width of the locker. The shelf doesn't fall like other ones and is well worth the price tag of $24.99. My kids will use these all through high school now. No more wasting money on the other inferior locker stands out there. Thank you for offering a solution to our locker trials. I have already recommended it to others.
Date published: 2011-08-16
Rated

5

out of

5
by
sandicheeks
from
Best Purchase Ever
Ever other shelf we have bought doesn't fit well, is unsturdy, has only one shelf, etc. THIS one allows you a shelf for notebooks, one for supples, and one for your bookbag or coat.
Date published: 2010-08-12