< Return to Product Page
Customer Reviews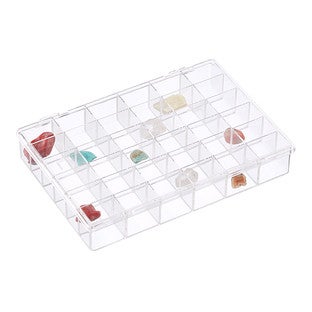 36-Compartment Clear Box
Overall Rating:
Customer Reviews
Rated

4.7

out of

5

 by

15

reviewers.
Rated

5

out of

5
 by
TXAnnette
So handy!
I love these compartment boxes! I use them to store my earrings. The box keeps them so organized and I can easily find them, plus they don't get tangled up in other earrings.
May 27, 2014
Rated

5

out of

5
 by
Arsonor
Perfect for game components
I purchased the 36 compartment container for my Zombicide board game survivor miniatures. Of all released figures (100+) only 4 with large extended weapons won't fit. If you don't mind modifying the case you can easily Dremel or cut out part of a divider to fit them in. The crystal clear covers allow me to quickly find the correct minis and the cases are sturdy enough to protect the minis or any other game components. If you store painted figures the hard plastic case might be a drawback.
April 13, 2014
Rated

5

out of

5
 by
CrzyBuffaloMama
Gets the job done!
I purchased these to hold pieces of our phonics curriculum. Perfect size and can see through easily to identify the pieces we need quickly.
April 10, 2014
Rated

5

out of

5
 by
Slotcarcollector
11 x 6-3/4 Compartment Boxes
These compartment boxes are excellent for storage or display of small items. They are particularly nice for toy cars / slot car collections due to their extremely clear nature.
March 24, 2014
Rated

5

out of

5
 by
Lascolinasmom
Great buy
Great item for ponytail holders and barrettes. I use several of these in different sizes for my 2 little girls in their bathroom.
March 9, 2014
Rated

5

out of

5
 by
annml
These boxes are perfect to store my bead collection which is organized by color; easy to see the beads through the acrylic without opening the lid. Other plastic organizers are hard to see through and you have to open the lids to see the beads.
January 31, 2014
Rated

5

out of

5
 by
Nightnurse1
Compartment boxes
These are absolutely perfect for my needs. I am organizing my sewing notions and thread, and the larger compartments are perfect. I did order one that will not work for my needs at all, and that one is the one with quite tiny little compartments. They are much too small for thread or most of the other things I need to store. This is my fault however...had I divided the dimensions by the number of boxes I would have known they were too small. The larger compartments are perfect, and I will be ordering more of them to complete my storage needs.
November 19, 2013
Rated

4

out of

5
 by
AnnieMo
Best Cuff Links Organizer
I needed a way to organize my husband's collection of cuff links. Traditional jewelry boxes didn't have enough spaces so I bought this case to hold them. They fit perfectly in the spaces. Since the links stand on their head, sometimes I have to flip it over to choose. For my use I'm thinking of putting a mirror underneath it so I can see the links better without flipping the box.
October 12, 2013
Rated

2

out of

5
 by
CrisC
Not indestructible
The box was called the Indestructible box but before we even made it home my 4 year old had cracked the corners of it.
September 17, 2013
Rated

5

out of

5
 by
Katrin
works for me
I use this for storing my mineral eye shadow containers. They fit perfectly.
August 19, 2013
Rated

5

out of

5
 by
jjewelry
Great purchase
I use these boxes to store beads, and have loads of them.
July 12, 2012
Rated

5

out of

5
 by
notpollyanna
Awesome
I have two of these to store alphabet letter beads, sorted by letter. It does the job quite well. It is attractive and it stacks well with itself and my four boxes of embroidery floss. A+
March 20, 2012
Rated

5

out of

5
 by
coastalshooter
Great Storage Box
Very well made box. Small parts do not get mixed. I use it for separating small jewelry repair items and also for gun repair parts.
October 6, 2010
Rated

4

out of

5
 by
simpleheart
Love this box!
I'm moving and I love jewerly. I've been collecting since I was a little girl and that was awhile ago :) This box is a great place for storing my pins and some of my chunky necklaces. Now when I move I don't have to worry about them getting tangled up and since this is a clear box I can easily find everything. I got a smilar box from the container store but the squares are smaller. So it is perfect for earrings and skinny necklaces. check it out for yourself. Thank you container store!
April 11, 2010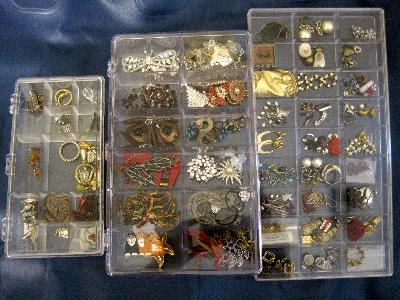 Rated

5

out of

5
 by
MVP18
good for lego minifigure display
This is the best box for lego minifigures and other small collections
March 1, 2010