< Return to Product Page
Customer Reviews
Deluxe Acrylic Plate Stands
Overall Rating:
Customer Reviews
Rated

5

out of

5

 by

16

reviewers.
Rated

5

out of

5
 by
Lex11201
5 Star Hack - Use it as an iPad stand!
Makes an elegant and totally functional iPad stand!
August 11, 2014
Rated

5

out of

5
 by
WhitsMom
Perfect for What I needed
I looked everywhere for a plate holder to display a decorative plate that wouldn't compete with the looks of the plate. I only found very decorative and ornate plate holders or ones that weren't sturdy enough to hold the plate up. This was perfect.
May 27, 2014
Rated

5

out of

5
 by
rayt
sturdy
Very sturdy stand for plates. I like the fact that it is clear as well so it does not distract from the beauty of the item displayed.
April 25, 2014
Rated

5

out of

5
 by
Maxine35
Versatile and resilient
I have more than one size of these plate stands. And they are very versatile and sturdy. I use them for 'plates' but also as a book stand for books I display, iPad mini stand, framed photo stand, and for CDs I commonly use in my office. And I am sure you can think of even more uses. Try one - and like me, I am sure you will end up owning more!!
August 24, 2013
Rated

5

out of

5
 by
actokim
More Than Just a Plate Stand
I bought this as an alternative to other tablet-specific options for my iPad Mini because I prefer to keep my case with cover on it most of the time. It works great in both portrait and landscape view.
August 13, 2013
Rated

5

out of

5
 by
AzAFR
The Best
These acrylic stands are the best ones for displaying plates and platters. They are strong and very stable. They cost more than the picture easels you buy from a crafts store, but worth it if you are displaying something fragile and/or valuable. We also found out, by accident, that they are wonderful IPad stands!!
July 3, 2013
Rated

5

out of

5
 by
VintageDiver
Unusual use for great product
Those of us who scuba dive with vintage double hose regulators, use your stand to display the regulators. They work great!
March 15, 2013
Rated

5

out of

5
 by
Lucky100
A surprising convenience
I bought this dish stand to use with my iPad. It is marvelous. It holds the machine in either direction, is sturdy (no tipping), looks attractive, and the priceis quite reasonable.
January 8, 2013
Rated

5

out of

5
 by
autoshowcase
Best All Purpose iPad Holder Around & Great Price!
I use my iPad for recipes and found this on a Martha Stewart Tips email. It is great! I also use it for a book stand when I'm not using it for my iPad. Highly recommend!
January 7, 2013
Rated

5

out of

5
 by
SjazPhoenix
Double Duty Stand
I use this stand to hold my iPad while I cook. It is heavy and substantial enough to hold it safely and at a good angle for easy reading. I highly recommend this product.
January 6, 2013
Rated

5

out of

5
 by
CYplays
Excellent!
This works so well as an IPad holder! I didn't know which size to order. So I ordered both. And they both work beautifully. I keep the smaller one on the counter now. Being acrylic it is is invisible when not being used and so very handy. Love it!
January 3, 2013
Rated

5

out of

5
 by
displaysalot
Best display stand
I have found the best display stand for collector plates. The acrylic stands are great, as you can see through them, their base is sturdy and they make no marks on the item. Also, the price is great!
December 20, 2012
Rated

5

out of

5
 by
pcjj
Great IPAD stand
I saw this on the Martha Stewart site and have tried it, really like it, use it a lot. I will also keep it in mind the next time I am wanting to set up a plate. Simple, light weight, often carry it in my electronics bag. Would probably hold books for students that are studying. The only suggestion is that I would put some in the store near the kitchen items, had to ask where it was. pcj
April 27, 2012
Rated

5

out of

5
 by
INTDesigner
Perfect Plate Stand
This acrylic plate stand is so well designed it is invisible and allows the plate to shine.
March 6, 2012
Rated

5

out of

5
 by
Beryn
Fabulous as a stand for iPad and other tablets
I've searched for the perfect stand to use with my iPad when I want to read in bed, on the couch, or just use it standing on a table. This is the perfect solution. Because it's so perfect for this application, I'm writing a blog about it on Design Tech Tonics.
April 14, 2011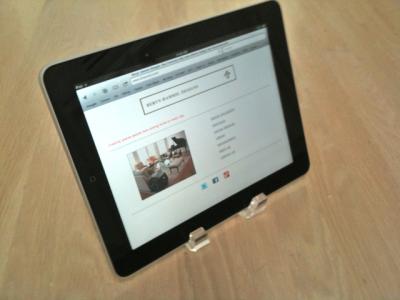 Rated

5

out of

5
 by
Renovator
Sturdy and sized right
These are great for holding up decorative objects in kitchen cupboards with glass doors.
September 18, 2010