< Return to Product Page
Customer Reviews
Grey Storage Bags
Overall Rating:
Customer Reviews
Rated

4.1

out of

5

 by

173

reviewers.
Rated

5

out of

5
 by
Crochetcat
No More Heavy Crates
I hand dye T-shirts and store them in these storage bags. The bags add no extra weight to carry and can easily fit into irregular spaces. Makes it easy to pack my car and get my stock in and out of a gallery or show. I use a cane and can't handle heavy crates and totes. The zipper pulls have been improved and I no longer need to add my own.
February 5, 2016
Rated

5

out of

5
 by
finder211
Storage Solution
I have all my winter clothing's like sweaters or Christmas sweaters and I use the vacuum bags that reduce the size but then you have all of these bags that have to be stored usually on a shelf so I bought this bag and everything fit in there perfect and have it stored out of the way on the bottom of the closet and then it leaves my shelves free for other things. I am going to buy some different sizes for different thing to store in them out of the way.
June 15, 2014
Rated

5

out of

5
 by
mrabit2
AMAZING STORAGE BAGS!
I bought about 10 of these bags after I got my first one in the mail! In the process of moving, and they have helped me so much to keep things organized! The zipper is great and the material is flexible to squeeze as much as you can in them! GREAT BARGAIN!
April 25, 2014
Rated

2

out of

5
 by
Spoo4me
Terrible handles
Shortcuts were taken with the black 'pleather'. They rip easily and the tab on the zipper also ripped. This happened on two bags. It would not have cost much more to put a durable handle on these. I did not overload these bags and the handles broke on two out of 3 of my bags. It did not make it through 3-4 uses.
November 1, 2016
Rated

5

out of

5
 by
617Karen
Great investment
The perfect underbed storage solution. It's flexible and keeps bugs and dust out!
October 12, 2016
Rated

5

out of

5
 by
jwash
Easy Storage Container
I was completely surprised how much could fit in this container. I had clothing that no longer fit after losing weight but did not want to get rid of. It took up a lot of room in a large black garbage bag and more. I purchased one of these thinking I might need another one at least. To my surprise, I fit it all in here! I purchased more in different sizes to do blankets, bedspreads, etc that are not used year round. At least it looks neater and takes up less room other than trying to use those vacuum storage bags which I have not had used satisfactorily.
August 27, 2016
Rated

4

out of

5
 by
Luli
great
strong material I highly recommend it. Although mine came with a broken zipper, my review its based on my past purchase
August 8, 2016
Rated

5

out of

5
 by
Jcsf
Great storage
My sister made me buy these bags. She did her closet & was thrilled with them. Now she is doing my closet & it's looking so organized. You can write on a card what is in bag & put it in the slot for that purpose.
June 17, 2016
Rated

5

out of

5
 by
Ms1988
Durable
I've had mine for 5 years. I used them to store my linens, I love this product so useful and makes my linen closet look so neat.
June 11, 2016
Rated

5

out of

5
 by
Kfox
Fabulous
I just moved into a new house and needed something to store off-season clothes. These bags are very large and sturdy. They also have handles on the side which makes it very easy to move. They don't have a "stiff" underside, so I put some cardboard down in it first so it wouldn't sag
June 9, 2016
Rated

2

out of

5
 by
VickySS
So so
It doesn't have a structure inside so it doesn't look like the photo. It should have some wire in the inside. I had to put some cardboard for it to look structured. The color is nice and the zipper is awesome.
February 14, 2016
Rated

2

out of

5
 by
KTBR
Not as pictured
This is one of the only things I've ever gotten from Container Store that I feel was a waste of money - the storage bags are just that - bags - and they are limp and floppy. The photo shown on the website definitely has a hard-sided box inside to make it look structured. The actual bags have no structure whatsoever. So unless you fill them right up, they're limp and difficult to push/pull around under a bed. I'm going back to using boxes instead.
October 15, 2015
Rated

2

out of

5
 by
lionfan1991
Deceiving photo
From the photo it looked like this is a hard-sized box - it isn't. It's basically a grey square cube-shaped bag. While the material seems durable, we expected it to have hard sides. My wife wants to store scrapbooking paper in it and the soft sides won't offer the needed protection. Definitely disappointed.
September 22, 2015
Rated

2

out of

5
 by
divideintoparts
Great Bag, Terrible Handle
These bags seem extremely durable. The medium weight of the nylon is great. They are soft bags, so don't expect a rigid box. They're great for linens and clothing, anything that can be folded into a square shape. The handle, on the other hand, is an embarrassment to design. The stitching literally perforates the handle so that the first time you put any stress on it, the handle rips off the bag. I would expect more durable products from CS. I will be replacing the handle with a better one, because I like the bag, but getting a new bag wouldn't solve any problems because the handle will break again.
September 18, 2015
Rated

1

out of

5
 by
550ew
Grey Storage Bags
These storage bags/totes do not look like the photo images on the Container Store website. Instead they are not smooth as they've been photoshopped for the site. The bags/totes come collapsed in a neat fold therefore there are creases. Nor do they come with stiffeners to hold the bottoms flat and straight or the sides up. You'll have to be skillful to custom cut corrugated board or foam core for this. This is an extremely time consuming process and project. Wished they came with these stiffeners if even to purchase separately.
February 1, 2015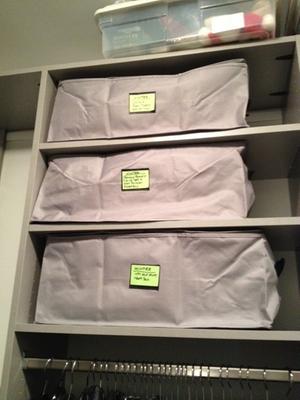 Rated

5

out of

5
 by
Bee36
Just what I needed!
I recently moved from a suburban home to a retirement complex and found I needed storage units for under my bed to save on closet space. These containers are perfect.
January 23, 2015
Rated

5

out of

5
 by
grc0520
Fantastic - Just what I wanted
I have at least a half dozen old wool blankets which I did not want to store in an old dresser drawer (not large enough) nor did I want to put in a plastic storage container. This container will work great. I have washed, hand wash cycle, and dried most of the blankets and placed into the box. It will more than handle the 6 or so blankets. In the picture the box looks self-supporting, it is not. Your contents support the sides. This is just info~~
October 1, 2014
Rated

4

out of

5
 by
aplaceforeverthing
Good size but be careful lifting from handles
I bought these to store winter clothes. The sizes are good and the materiel holds a bit of its shape, which I like. But when I lifted by one handle it tore where the stitching was. So be careful lifting them.
May 18, 2014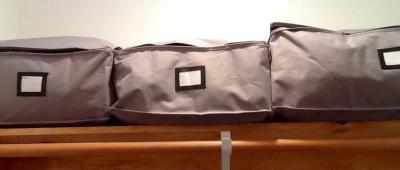 Rated

5

out of

5
 by
notthedaddy
The big cube for storage
I am amazed at how much I can fit inside these cubes. They look good and seem quite durable. I plan on getting a few more and really get my closets organized.
May 16, 2014
Rated

4

out of

5
 by
ItsIvy
Good Value
This storage item meets all expectations. It would be great for any non-structured item...pillows, blankets, linens, towels. However, I am currently using it to store a small hard plastic studio for photography. Although I could use a little more structure on the sides, it is great for keeping the 24 x 20 x 15 hard surface piece dust free.
May 13, 2014
Rated

3

out of

5
 by
lou1
floppy sac bag
This bag is not as shown. It has no support along the walls. It is entirely floppy and without structure. It will only look like the picture if it is completely filled. Quality of seaming fine but beware it is monstrous in size and hard to manipulate because of the lack of structure.
May 6, 2014
Rated

4

out of

5
 by
jbernst1016
Nice storage bag
The picture of the product makes it look like more of a storage box that has some structure to it. In reality though this is a storage bag with no structure. It will take the shape of what you put in it. It worked well for me and will work well to store towels, clothes or blankets. It will also fold down nicely to an easily to manage size when you are not using it.
May 3, 2014
Rated

5

out of

5
 by
frank55
A very good buy
A very good storage bag and very large. And take punishment.
April 28, 2014
Rated

5

out of

5
 by
EmmaSimone
Great Storage
I am using two of these to store my goose down comforters for the summer season. They are keeping my comforters clean and fresh.
April 28, 2014
Rated

3

out of

5
 by
2joyful
Smelled
This product does do the job of storing things but it has no shape and when I first received it it smelled bad and it smelled for a while. Now it doesn't smell but I just really didn't like how long it took for the smell to go away. But it is big and you can store a lot of things.
April 26, 2014
Rated

5

out of

5
 by
clutterbusters
great storage
This underbed storage bag hides the things that need to go under the bed. It is sturdy and fits the bill
April 25, 2014
Rated

5

out of

5
 by
texas123
Awesome!
The bags are sturdy and the material is very durable. Love the neutral color and the useful handles. When not in use they can fold up flat until next time they are needed.
April 25, 2014
Rated

5

out of

5
 by
clean14
Stylish & Practical Storage
Offers lots of storage space (more than I thought) and looks stylish under the bed.
April 23, 2014
Rated

5

out of

5
 by
MultiTasker
Good protection
Great way to protect out of season clothing from dust and fading. Neatly stacks in closet and I like the label slot on front. Helps me find thing quickly.
April 20, 2014
Rated

4

out of

5
 by
Oshi03
Excellent Storage Bags.
I'm not big on letting others know what I have. So the grey color bags were everything I was looking for. They hold well and seem durable . I bought them in every size. The only reason I'm not giving it a 5 star is because as I was taking one of the under the bed ones out the zipper broke. Lesson learn Do Not Over Packed them leave a little room for the under the bed ones. Besides that, the bags are pretty awesome and the price is just right.
April 19, 2014