< Return to Product Page
Customer Reviews
Heeled Shoe Boxes
Overall Rating:
Customer Reviews
Rated

4.3

out of

5

 by

23

reviewers.
Rated

5

out of

5
 by
Creek
Great purchase!
I love that I can see all my shoes at a glance to know which box to pull down. They stack so well. Nice and neat and organized.
January 19, 2017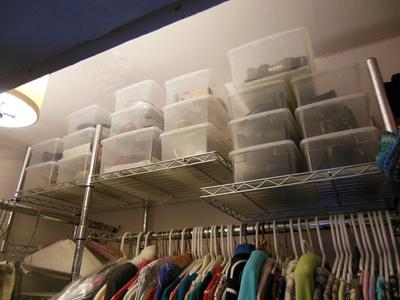 Rated

5

out of

5
 by
Court1989
FABULOUS ITEM
I purchased 7 of the heel boxes in different sizes and absolutely LOVE them. They are made very well and can hold quite a bit of items. Even though I don't use these for shoes, they are great for organizing drawers and everything looks chic and tidy. I highly rec. these boxes and will def. be purchasing many more.
February 9, 2016
Rated

2

out of

5
 by
Lisgmck
Didn't fit sandals
I bought these for a client instead of the other line of plastic shoe boxes because they seemed more durable and they were a little less expensive. They didn't fit any of her shoes. She is a size 7 but her shoes are mostly good quality, well padded walking sandals. They wouldn't even fit one shoe! Ended up using them to contain other items such as belts, jewelry and accessories.
January 17, 2016
Rated

3

out of

5
 by
sunnydaze97
Small Box
I bought the medium sized box (with a height of 4.3in) for my 3.5in boots. The box was too small. The boots didn't fit in standing next to each other, or lying down on top of each other. I think that the boxes could stand to be wider and taller.
December 8, 2015
Rated

5

out of

5
 by
Organizer4ever
Great for shoes
Good quality container for shoes. Not for for the very high heeled shoes. Order the higher container for those. I don't wear the high heeled ones.
July 2, 2015
Rated

5

out of

5
 by
Terry107
Heeled Shoe Boxes
This is just what I wanted and it is perfect for my heels. Plus I can see them and pick out which one I want for the day. Great Purchase!!
May 25, 2015
Rated

5

out of

5
 by
CleartheClutter09
Show me my Shoes!
I am an admitted shoe-aholic, yet through all the years I had not found a shoe storage system that met my standards. I wanted a way to store off-season shoes, yet with Texas weather and traveling one never knows when you'll need a pretty little sandal. Clear shoe boxes was the answer! They are sized a bit on the small size for my sized heels, but are a great fit for 3.5-4" heels and wedges. I need about 20 more of these amazing little shoe boxes!
November 6, 2014
Rated

5

out of

5
 by
TheGeek
Awesome for terrestrial tarantula enclosures
I use these for my ground tarantulas work like a charm.
October 26, 2014
Rated

5

out of

5
 by
Lividium
Not what it's meant for but...
These make AMAZING terrestrial tarantula cages, even have the air holes drilled for you! I would highly recommend these for anyone who wants an extremely attractive, functional and well priced cage for any medium size ground dwelling tarantula!
April 26, 2014
Rated

4

out of

5
 by
LisaHou
Fits only very narrow sandals; flip flops
My 8-1/2 Borns were too wide for this box. I would still recommend it for others.
April 7, 2014
Rated

5

out of

5
 by
ww27
Perfectly clear
Why can't crystal clear storage bins be easy to come by? I'd imagine that everyone would prefer glass-clear containers over the typical more opaque bins available everywhere else. The Container Store is the only place I can find these clear boxes and I have several, they are wonderful and everything I need them to be (except cheaper). You pay a premium for these particular bins, but in my opinion they are worth it. I like how my closet looks with organized, dust-free shoes clearly displayed in stacks on the shelves.
March 31, 2014
Rated

4

out of

5
 by
laughlic
My system of choice
These are the only shoe boxes allowed in my closet. They are clear and see through. They stack easily. I also have a one in one out policy on the shoes so that I don't buy more than fits in the closet. Most of my 9 1/2 and size 10 shoes fit snuggly in the box. I really wish they still carried the men's shoes box which would fit my hiking and gym shoes. I even use the small box for flipflops. It's really great. They do crack so I am always looking for replacements.
March 27, 2014
Rated

2

out of

5
 by
Bunner6
Not Big Enough for High Heels
Dispite the nice solid build and high quality of the box, my high heels (4in+) do not fit.
November 29, 2013
Rated

3

out of

5
 by
OpalSun
Arrived Cracked, too small, and expensive
The flip flop size are too small for anything but the flattest, flimsiest flip flops. The Low Heel size was a good size. I ordered 3 boxes, and 2 of them arrived with multiple cracks, even though they were wrapped in bubble wrap. They are nice and clear, but brittle. The lids just lay on top, do not click to hold secure. The 20 for $36 shoe boxes are not as clear, but a better plastic, seem more durable, and the lids clicked on.
October 27, 2013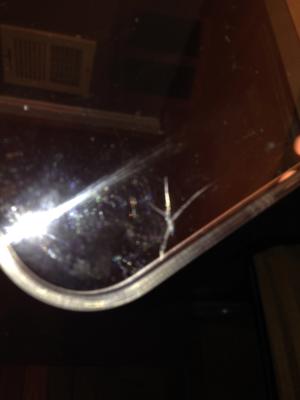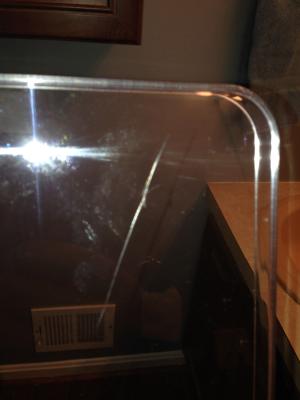 Rated

5

out of

5
 by
Lolakitty
The Ultimate in Shoe Organization
These clear shoe boxes allow you to see what's in them. They are meant to hold up to a size 8 1/2. I am a 9 and was just barely able to get them in. If you are a 9 1/2 or larger, they won't work for you. The only problem I have is they are WAY to expensive! I've been buying a few at a time. If I were to buy enough boxes for all of my shoes it would cost close to $1000.00.
October 25, 2013
Rated

5

out of

5
 by
heartlady
Really Nice Box
Extremely good quality shoebox. I highly recommend this product.
March 26, 2013
Rated

5

out of

5
 by
Pandas
Perfect
The tall ones are perfect for medium-sized terrestrial tarantulas. Great visibility for display and just the right size! The holes are a pretty good size, too, but I would add more for ventilation.
March 20, 2013
Rated

5

out of

5
 by
cocobambam
Airtight & high quality plastic
perfect for storing my heels. Seems air tight and of high quality.
March 12, 2013
Rated

4

out of

5
 by
TheSpiderQueen
Great Housing boxes
I use these for various sizes of tarantulas. They need a few more holes drilled, and the lids may need to be weighted down for bigger animals, but overall they work really well. Clear viewing, easy cleaning, stackable.
December 4, 2012
Rated

5

out of

5
 by
capybaramom
Just what I was looking for
I needed clear containers for my son's reptile presentations. These are perfect for viewing the animals without having to remove them from the containers, and they come with pre-drilled holes for air circulation.
October 29, 2012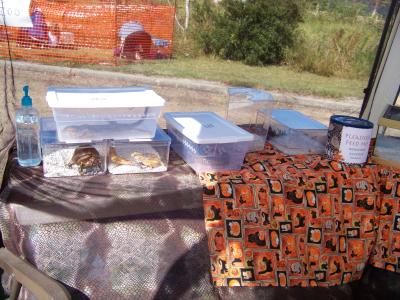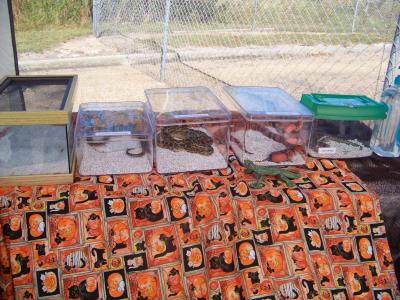 Rated

4

out of

5
 by
seeart
Easy to see
I have many of these low heal shoe boxes,its easy to see the shoes inside and they take up less space than the regular shoe boxes. Their great for flat sandals and kitten heal shoes!
March 1, 2012
Rated

3

out of

5
 by
Tiffany946
Awkard size
These are an awkard size. Anything that I can fit in these, I can fit in the cheaper, smaller 20 for $20 shoe boxes. I was not impressed with the size, and the lids do not click into place, they basically just lay on top. You still can't fit ankle boots in these.
April 25, 2011
Rated

5

out of

5
 by
Doseedo
Great shoe storage option. Very sturdy, stackable and three sizes to choose from (with regard to depth - flats, mid and high heeled). I like that there are air holes - which is especially good for leather shoe storage.
May 13, 2010